Entries Tagged 'County Commission' ↓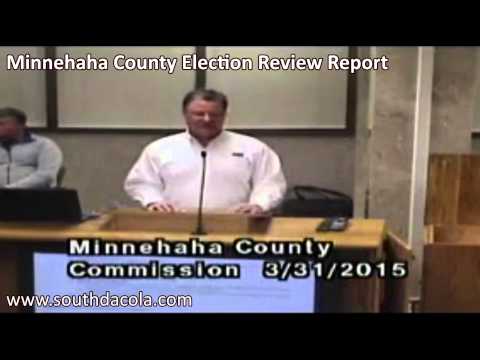 Transcript (DOC: MCRC Commission Report by Danielson)
It's Sunshine Week, or at least that's what our local newspaper is telling us. They have been having fun setting up 'scenarios' when it comes to closed government in our state and city, but scenarios are not necessary, our closed government is all around us and not something to pretend about;
City of Sioux Falls
– The city council and public still have not received a contractor list of who built the Events Center. The council has been asking directors and the mayor for this list for almost two years.
– The Event Center siding consultant report has still not been released to the public or the council. In fact we have been told very little with the year deadline for a resolution looming in August. Officials with SMG and the city building department have said that the building is 'water tight' and the bent up siding makes the building look 'interesting'. What will be 'interesting' is to see who will pay to fix the mess.
– Nobody is quite sure how many developers have been denied TIF applications (by the mayor's office) over the past 27 months. Speaking of TIF's one wonders if the mayor is picking winners and losers based on his personal investments with developers? Good luck finding out, the mayor doesn't have to disclose his development investments with the public.
-The city council was asked to vote on the ambulance contract without seeing the scoring procedures or criteria and essentially created a monopoly in the city limits with little transparency in the process.
-We have NO idea what is going on with the RR relocation project, a project that will potentially cost Federal taxpayers $30 million dollars.
-While a proposed indoor aquatic center gets smaller and gets more expensive there has been no word as to why and where all the amentities promised before the election disappeared to AND we still don't have and MOU on the Quit Claim deed from the VA, but the city attorney says he is 'working on it'.
Minnehaha County Commission
-Besides the fact the appointment process for John Pekas' replacement was behind closed doors, the appointee comes into question, Jean Bender, wife of major Sioux Falls developer, Michael Bender, and conflicts of interest. Especially after the joint city council and commission recently denied a CUP for a solar development farm that Mr. Bender and his group were appealing. Jean was not in attendance to the meeting, but one wonders about future zoning issues concerning her husband's business? This isn't like a county sheriff's wife is running a city owned café, there is a heckuva a lot more at stake here then ice cream cones and turkey wraps.
Sioux Falls School Board
-Now that they have the future Superintendent list down to six finalists, the public still is not able to vet the finalists in a public forum. This coming from a school board that only listens to the public when a referendum is threatening them or if they are getting death threats. And even with the looming election they are skating on thin ice with state election law by promoting opposition to the late start date using teachers and administrative staff during business and school hours which is against state campaign laws.
As you can see from these 'few' examples, there is no reason to setup scenarios of the lack of transparency. It's very dark in Sioux Falls, and the sun isn't coming out anytime soon and neither is the truth.
I started thinking about this the other day, and not to beat a dead horse, but I noticed that my rejection letter I received for my attempt at being on the county commission was signed by the chair.
So I wondered, if the county commission didn't have a part in picking the five finalists, how is it that the chair was privy to the 29 applicants, apparently she knew who they all were (which is fine) because she signed the rejection letters.
My point is, if the commissioners (and another commissioner confessed to me that they did know who all the applicants were) were privy to ALL of the applicants, why wasn't the public?
We can cry all we want about running transparent and accurate elections in the county, but when we appoint someone, that process should be transparent also.
There has been some discussion about whether the denial of the solar farm CUP permit last week during the Minnehaha County & Sioux Falls city council joint meeting was even legal? Why? Some motions were not voted on.
Not sure what will be done, but will be interesting to watch.
I'm not the only one asking the question. Several public officials asked me if I had any insight
Besides Mike, Commissioner Bender was the only one that was not present with the two boards. Jean had a conflict of interest because her husband's company has an appeal pending with the solar farm land, or something like that, ironically something I warned the Commission about when they were considering her for the commission, but hey, what do I know, I'm just a cranky blogger.
The mayor often calls himself a city councilor, and he should be available for tie-break votes. So why was he a no-show? Did he have a conflict of interest also? Bender fessed up with her conflict, will the mayor?
I know what you are thinking, not any more than usual in South Dakota, which really doesn't have that many laws protecting the citizen's right to information, heck, and even if government is found doing something wrong our recourse with ethics law is non-existent.
So that best I CAN do is point out the latest assault on South Dakota Democracy and lack of transparency;
STATE LEGISLATURE
SB166 was 'tabled' after Sen. Corey Brown 'claimed' people were cursing at pages. I guess my question is "Why were they answering your phone anyway?" But the worst part about the situation was that several people showed up last Friday and sat through hours of pointless testimony so they could speak about the bill. But Senator Brown didn't allow it, he felt there wouldn't be an 'intellectual' conversation about it. Yeah, the two main opponents of the bill who showed up to testify were former state legislator and current Minnehaha County Treasurer Pam Nelson and Sioux Falls Petition Queen, Theresa Stehly. I have a feeling Brown feared an 'intellectual' conversation. (Bob Mercer wrote and interesting article about the I & R process: I&R History – Bob Mercer
SF SCHOOL BOARD
I really think they strive at looking more ridiculous by the day. For years parents and teachers have tried to work with administration and school board members on a school start date and have been IGNORED. Now all of sudden after thousands of signatures have been collected and the measure being put on the ballot, the school board wants to 'compromise'.
This isn't the first time the school board has pulled this (sick leave graduation, pledge of allegiance and substitute teacher pay come to mind).
You look foolish, childish, hypocritical, out of touch and quite ignorant. Morrison's comment today in the Argus Leader says it all when he exclaims, "It isn't transparent enough, apparently." You think? DUUUUUHHHHHG?!
Let voters decide in April because after wasting 5 years of their time trying to work with your body they have decided it is easier to collect 6,000 signatures and have an election.
MINNEHAHA COUNTY COMMISSION
After 29 applicants come forward to apply for the empty commission seat to be appointed, the county administrators (non-elected) picked the five finalists (for the commission) and shred the applications. Then the county commission picks (in private) the appointee and votes for them in a poorly publicized public meeting where no questions from the public were asked. It was the worst display of closed government I have seen with the county in years. If I was Commissioner Bender I would be embarrassed of how I was chosen.
SIOUX FALLS CITY COUNCIL & MAYOR
I know, where to begin on this one? So I will narrow down to three;
-We have no idea what is going on with the EC siding. Who will pay to fix it? Will it get fixed? Nothing. In fact every time they do release a little information about the project, they go back on the promises made.
-Ambulance service provider contract. This has been handled so poorly I think the whole process should be scrapped and start from the beginning. If you have a little free time before the meeting tonight to approve the contract I suggest googling some names involved with the selection committee, Paramedics Plus, Fitch, etc. etc. It is so insidious you would think we chose a Hueterrite colony to run our ambulance service.
-The indoor swimming pool cost overruns. Besides being lied to over and over again about the project, starting before the election, there are a ton of unsolved mysteries here. Has the VA given the city an MOU about using the park for indoor aquatics? How do we plan to pay the levee bonds back in a few years since we are using the Federal repayment for the 'cash'? If I was a city councilor I would vote against the cost overrun based solely on the lack of transparency. Why vote for a budget that you have been lied to about?
As a citizen and a blogger I will continue to watch my local government, but with them all misbehaving, it is getting harder every day to keep up with the secrets and rumors.
UPDATE: If you were following the live tweets from Huether's YPN luncheon today, he makes some interesting statements about people who question the transparency of the city (click to enlarge) he also talks about the Super Walmart that WILL be built on the Southside of town.
(starts at 20:30)
Funny how the commission gets to see this presentation before the council – or at least I can't recall the council getting the presentation yet?
Darrin explains TIFs before the new TIF presentation. While he is correct that TIFs don't cost taxpayers up front (even though we are footing the bill to administer them) we are losing property tax revenue for several years. Basically the developers are paying themselves property taxes and using the money to pay for the development.
While we are talking County bizzo, I was told the other day that assistant Minnehaha county administrator, Robert Wilson told the chair of the election commission that he didn't want bloggers on the email press release list. His reasoning was we 'have a point of view'. Damn right we do, and you are going to hear that view right now.
The chair submitted the email contacts of three important blogs in the state, South DaCola, Madville Times and Dakota War College (well at least two of them are important
I found this odd, because we are all different, and as we would all attest, we are on several press release email lists (I often get chastised when I don't post something from these peeps). They range from ag, art, party politics, candidates, medical, homelessness and several other non-profits and government entities.
We are not monsters in the closet. But after the appointment of Jean Bender today, I'm finding out more and more that the county likes to operate from the view of information lockdown.
Speaking of that, I guess at the election review meeting today the new machines locked up on the ES & S techs as they were bragging about how great of machines they were.
Image: John Hult, Argus Leader Twitter feed
Priceless. Nothing better then a car salesman telling you how great a car is and it won't start.
There was also a diatribe from (an elected official) defending Bob Litz because he doesn't have enough cold storage space (Hey, Bob's house is big enough to store his beer, free weights and deer jerky).
During the meeting, Pearson didn't hold back. She says the commissioners aren't providing adequate amount of space needed to work on election day. Pearson says they need enough space to keep the ballots secure. Ballots need to be in a temperature controlled room, otherwise moisture can effect whether the counting machines will read them.
As commissioner Kelly recommended from the beginning, there should not have been any other elected officials on this commission, and in my opinion, public employees. They are only going to defend instead of fairly review. I recommend the rest of the commission purge these members now and reappoint.
It may be legal for the newly appointed Minnehaha county commissioner Jean Bender to serve as commissioner, but I was disappointed that the public didn't have an opportunity to question her on how she will handle votes when it relates to her husband Michael's business, Bender Realty.
While I think as an attorney, Bender will bring a lot to the commission, she has incredible credentials, but I worry that big development in this county has just squeezed their way into the commission.
And as I have stated before I found the process to be extremely non-transparent;
• The 29 applicants were kept secret besides the 5 finalists.
• In the above meeting they admitted that 'commission staff' chose the 5 finalists and not the commission.
• The commission interviewed the finalists in private and when they finally decided to appoint someone they called a special Friday meeting and didn't allow the public to voice their opinion on the finalists or ask questions.
A gigantic thumbs down to the Minnehaha County Commission today for a very 'secretive' process in picking our new commissioner.
Either way, I wish Jean Bender luck.