Entries Tagged 'Mike Huether' ↓
I have often shaken my head when Huether suggests this. They are not the same, for several reasons.
To my surprise I found this page in a booklet I was reading from the SD Association of County Commissioners. The booklet is called 'So You Want to Be A County Commissioner'.
I thought the one page was very concise in explaining the differences.
The middle part that I highlighted actually intrigued me the most. While they are referencing County Government, I think Municipal Government would apply. Notice 'Sharing decisions', 'Public involvement' and 'Public Eye'.
Huether prefers to run the city like a business because he doesn't like to share the ball with the city legislators, the council, or the general public. He acts as the CEO of the city instead of a fellow lawmaker.
I want to remind Mike, once again, that government and business ARE not alike.
Maybe it is because I live under a rock, or don't really give two-schlizts about sports (especially local private university sports) but I have never heard of the Mayor's Cup.
So he has a tennis center named after him (after bilking $500K from the taxpayers for the facility) and a 4th a July parade (with more public works vehicles then you can shake a stick at) and now a sports competition? Pretty soon Raven Industries will be able to use an image of his head to make a life-size replica balloon for the Macy's day parade.
Wait, I shouldn't give him any ideas.
Man, this guy really doesn't get the whole 'Freedom of Religion, Establishment Clause' thingy;
Mayor Mike Huether's office was informed yesterday that the Becket Fund for Religious Liberty was planning to acknowledge the City of Sioux Falls and also Mayor Huether in a news release issued today. This relates to the City's Paint the Plows program, which uses student artwork.

"Sioux Falls is becoming more and more diverse every day, and that is something we celebrate here. We value diversity and differing opinions. Everyone is important in our town," says Mayor Mike Huether.
This year, inspired by the good cheer and common sense of the Mayor Mike Huether of Sioux Falls, we are bestowing the city of Sioux Falls the (momentary) Ebenezer award but promptly toasting the mayor.

Sioux Falls was our #1 contender for the Ebenezer award after it notified a private school that the city snowplow blades its young students had labored over and decorated would be repainted and censored. Why? Because the students had decided to celebrate the season with—gasp!—artwork celebrating the religious nature of Christmas.

The city, which had previously accepted religious art, momentarily lost its way when one lone atheist claiming to be part of the Siouxland Freethinkers filed an informal complaint.
The irony of this is that the Mayor is using city resources (Website, IT and Communications public employees) to applaud an award from a Religious Organization that promotes religious liberty (infiltrating government with theocracy). He demonstrates he still doesn't understand the US Constitution OR the Establishment clause, and further uses tax payer resources to promote a specific religious view.
Mike, if you want to brag to your friends at church or to your co-workers about the award, go for it 'Mr. Wear My religion on my sleeve' but stop using tax dollars to promote Christianity.
I just finished reading American Lion, the book about President Andrew Jackson, here is passage from the book that I think Mayor Huether should read;
A third early president—Andrew Jackson—was similarly convinced that the Establishment Clause prohibited presidents from declaring a national day of prayer. Though a devout Christian, Jackson was prepared to veto a proposal by Senator Henry Clay to declare a day of prayer and fasting. His veto message would have explained that, although he personally was convinced of the "efficacy of prayer in all times," the Constitution "carefully separated sacred from civilian concerns," and accordingly he believed it his "duty to preserve this separation and to abstain from any act which may tend to an amalgamation perilous to both." Jon Meacham, AMERICAN LION: ANDREW JACKSON IN THE WHITE HOUSE 207 (2008) (quoting draft veto message). Once his opposition was made known, the proposal died without the need for him to veto it. Id.
The 'official' L & L logo from the Twitters on the Internets, interesting reverse drop shadow.
Mayor Mike Huether's December Shut Up and Listen Session for the public will be held at the Roll'n Pin Bakery & Café on Saturday, December 13, 2014, from 9 to 10:30 a.m. Roll'n Pin is located at 3015 West Russell Street.
"The Listening and Learning Sessions are one of my favorite things to do as your Mayor," says Mayor Mike Huether. "Please join me on Saturday for great conversation!"
Besides talking about how having the flu is awful (Yah think?!) And not being able to solve the problems of bad drivers in Sioux Falls, even if he is one of the (greatest) mayors of Sioux Falls ever.
He brings up that Sioux Falls is one of the best places in America to retire. He seems to be dumbfounded by that. Well, let me explain it to you Mr. Banker(?) Business acumen. We have no state income taxes. I wonder what percentage of those retired folks who have a SD mailbox actually live here all year long?
I waited on a retired couple this last year that was celebrating their new 'residency' in SD. They were from Oregon. They admitted to me that all of the paperwork was finished, and they couldn't wait to get in their RV and leave. They also told me they would only vote in National elections since they didn't have a clue about local or state politics.
The Mayor also touched on building permits and said, "We are having another good year and the Southside Walmart isn't even in those numbers."
Lots of Laughs. I wouldn't hold your breath on that one Mike.
Lastly, Mike discusses the consultant LMI who is doing a review of our city government and procedures. He said when he brought this up to a retirement home at a Shut Up and Listening session, he got the greatest applause ever. He brings up again that he wants to run the city more like a business. You know, virtually NO transparency, top heavy salaries to do nothing upper management, a massive legal and consulting budget, etc. etc. It would be interesting to get my hands on the first report from them. I have a feeling it's not all going to be glowing, kind of like that mysterious Events Center siding report that is probably in the same place as the Spellerberg Park VA quit claim deed.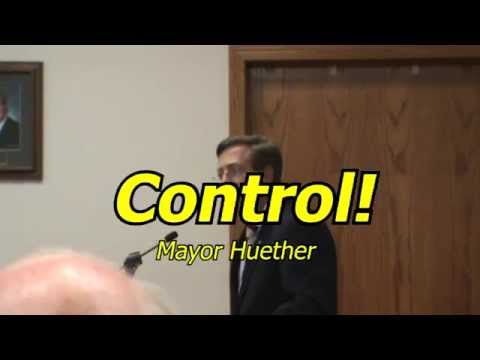 HERE is a document from last night: Mayor Huether Brandon Wastewater talk
Let's start out by saying I missed Jim's presentation, but was there for the Q & A. I have read enough about Jim's work, that I'm sure I wouldn't have heard anything new. BTW, the pallet garden is super cool.
I missed it because it was advertised online that Jim would not start until 9:45, so I slept in. The Mayor went on one of his mini-rants about how there should be more people there. One attendee pointed out that he would not have came if it weren't for one of his friends telling him about it, and he encouraged the city advertise on social media more. He pointed out he doesn't watch cable, listen to local radio or read the Argus, probably like 60% of our community.
Another attendee actually scolded city staff about the miscommunication about Jim starting his presentation at 9:45 because when he asked about it a day earlier he got the run around from them. He also pointed out the prejudice towards Native Americans and how that needs to change in our community and state in reference to Van Eps park.
ODDS & ENDS
Jim made some good points during his presentation;
• He remarked that a community should not only focus on infrastructure but building a better 'democracy'. I loved that comment. He pretty much was talking about how a whole community should get involved with the democratic process of running a city, not just paying your taxes and hoping government will take care of everything.
• He talked about the difference between "taxpayers" and "citizens". In other words actually contributing to your community in activism not just taxes.
• He is opposed to TIF's. Which I found ironic, because the sponsor who brought him in to speak was the Lloyd Companies, the welfare queens of TIF's. (I will expand on this more later).
Now to our mayor
• Huether mentioned that he was going to be hiring a 'Diversity Director' for our city. Mike just had to bring this up, because during the Q & A he was consistently stealing the microphone from the rabble rousers and giving it to the immigrants. He actually gave a response to them that kind of disgusted me. He talked about how some of these immigrants come to his office and ask for things, and he mentioned they asked him for a community center (The African immigrants) and he talked about how he wasn't going to give them the money for it and they needed to organize to raise their own funds for it. While I partially agree with Mike on this one, he was being incredibly hypocritical. This is a guy whose wife got $500K to build a tennis center (Named after him) from the city, a blatant handout to the 'Haves'. And if that money wasn't enough, she tried to get marketing funds from the Hotel Tax fund. If you want to help 'fix' the diversity issues in this community, building a community center like that would go a lot farther then an indoor tennis center.
One of the more interesting parts to the presentation was when Jim brought up the "Grim & Determined" the mayor was quick to throw people like me into that category and praise our local sheeple media. Jim says they are people with big mouths that have 'little' community support. That is fair, but it gets more interesting. He said these people need to 'organize' better. You know, like having a successful petition drive to get snowgates and passing with over 70% of the vote. A prime example of how the "Grim and Determined" got community support for something the city council or mayor could not have or would have achieved on their own. But towards the end of the session, Jim kinda contradicts himself and admits that he was once "Grim and Determined" and admitted that he became a community activist because the government wasn't listening to his concerns and needs. So which is it Jim? Do we need to be 'big mouths' to get things done in this town? Or do we need to just shut up? As a friend said to me when Jim was talking about this, "We have people afraid to get involved with city issues because of city retributions." Which brings me to the questions I asked Jim.
Katrina Lehr-McKinney (Head of the All Saints Neighborhood group) suggested we do more for the smaller landlords in this town and how we should 'celebrate' them, because there are many good ones. I agree. I have suggested for years that TIF's should be given to central and proper homeowners and small apartment complexes that are helping to provide affordable housing and fixing up the core of our city, and stop giving them to the 'big guys'. I asked Jim's thoughts on that, Jim's first response, "I am opposed to TIF's." Well as am I, but if we are going to use them, let's get the best use from them. I mentioned that the 'little guys' provide the most affordable housing in the city.
I had a second part to the question about code enforcement and how anonymity has set up a system of using the city to harass your neighbor. He said he liked the anonymity because you could have a drug dealer living next to you. Jim missed my whole point, I tried to interrupt him to say it was about minor infractions such as mowing your lawn, not criminal, he didn't let me expand and the microphone quickly got moved to some elderly lady that talked about how we have a wonderful mayor. We already have a crime stopper hotline in SF that you can give anonymous tips to. If your neighbor has a meth lab, I suggest you talk to crime stoppers instead of code enforcement. I was kind of disappointed we could not have had a more in depth discussion about it.
During the Q & A you could tell that Huether was constantly trying to prove to Jim that he was a good city manager. As I have said before, Mike has done some good things for this community, and if I had to grade him, I would give him a B-. But this constant sales job and grandstanding is getting old. You brought in a world famous community activist, let him speak. Maybe the reason attendance was low Mike, is because people are tired of listening to you blab. Somebody commented on DaCola the other day that you should have a disclaimer. I would agree.
And if you didn't get enough of a city official blabbing, you can attend this tonight;
"Join Sioux Falls Sierra Club this Saturday, November 8th at St. Lambert's following the 8:30AM Mass. Our guest speaker will be City Councilman Dean Karsky who will talk about his Catholic faith and the role it plays in his civic responsibilities and actions."
And people wonder why I don't attend church services anymore . . .
After listening to the podcast version of Mayor Huether's interview on Belfrage's show yesterday, I noticed that the mayor said some interesting 'OTHER' things.
When he was talking about the snow plow issue he mentioned that the city doesn't want to become 'lawsuit happy'. I about chocked on my water. This is a guy who is having his attorney's office criminally charge and arrest people for storing building materials in their yard. I would have to say the city is VERY lawsuit happy.
He then talks about how the Events Center has had 'record sales' since it has opened. Huh? How do you break record when there is no record to break. While I think it is great the place (mostly contractors and promoters) are making money, I think saying we are breaking records is a little far-fetched. Beating projections would be a more honest statement.
He also mentions the city has big plans for Van Eps Park now that it is a dry park, but he didn't expand, just told listeners to be watching for them next year. I heard he is erecting a large Coca-Cola bottle in the park with a crucifix floating inside.
Lastly, once again he can't resist taking credit for snow gate implementation. Mike, the voters of Sioux Falls implemented snow gates, not you, get over yourself. He also mentions that snow gates may not always be used depending on the snowfall, around that 6-10" range. As I understand it, if we get a heavy wet snow, they don't work well, and it would probably be wise NOT to use them. But if it is a normal dry light snow, they can be used up to 20-30". I also heard not only will they not be used on emergency snow routes, that the secondary routes may be ignored to.
BUSINESS AROUND TOWN
I noticed in the Sioux Falls Business Journal a blurb about Lloyd Companies and Hegg teaming up to build a $45 million dollar apartment complex in Minot, ND in the Bakken Region. Surprise! Surprise! I wonder who will be investing with them and if they got any TIFs?
Arc of Dreams
I see the Arc of Dreams has raised $480,000 so far which is great! I hope they fund this project totally privately, and pass their fundraising skills on to the mayor's wife so she can pay for own damn indoor tennis center.
As I understand it the project is being built on private land. But I found it a little strange that they have already hit half their fundraising goal and haven't approached the Planning Commission or the CORP of Engineers for permission to build. As I understand from an engineering standpoint, the counter balance in the ground will have to be enormous. I will be shocked if 1) They can build this for $900K and 2) that they don't ask tax payers to contribute. Stay tuned. The two guys heading up this project are behind BibleWalk, uh I mean SculptureWalk downtown, I expect them to be extending their hands at a council meeting very soon.