Entries Tagged 'Minnehaha County' ↓
The commission, auditor and SOS are going to pick the panel. Pekas' comments on precincts are right on!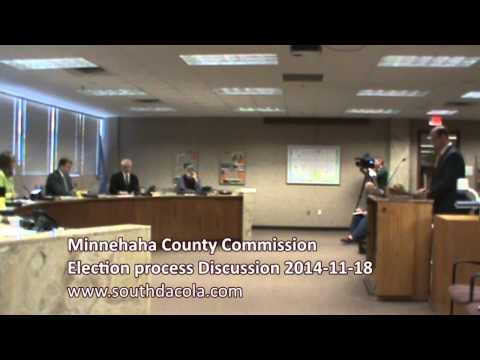 I attended the CC meeting today to tell them about my intentions. I commented during public input portion of the meeting (FF: 25:00). I know my appointment is slim, because I don't belong to a political party, and I have a 'reputation'. But I figured since this is an appointment and not an election, it was worth trying.
I do know there are several people interested, and I heard another name today.
Here is a transcript of what I read;
I am here today to share my interest of being appointed to the Minnehaha County Commission. 11/18/14
A little brief history about me;
I moved to Sioux Falls, South Dakota in the early Fall of 1991, I was enrolled at SE Technical Institute after graduating from Parkston High School.  I studied Graphic Communications and Printing Production and have an Associate Degree of Applied Science from SE Tech. It was a great school then and even better today, and I consider it an asset to our community, state and region. We are fortunate to have such an institution.
I currently work as a printing estimator and national salesperson for a local printer and weekly newspaper. My focus is government printing for states and municipalities. It is a job that has given me a unique perspective on government spending and dispersing information to the electorate in a highly transparent way.
I also work as a server in the hospitality industry. Both of my occupations are part-time which gives me a flexible schedule to be involved in local politics and citizen activism.
I have also worked as a plumber, carpenter, radio personality, a freelance graphic designer, an artist (painter), a lead usher at a leading SF entertainment facility, a telemarketer, a cook, a dishwasher, a busser and a farmer. Hopefully I haven't confused you as our governor?
Growing up on a sheep and hog farm in Hutchinson county gave me a perspective far different then the current members of the county commission. Being involved in 4-H and open class competitions while growing up in a rural setting has taught me the struggles and success of rural South Dakota. I understand the rural issues of Minnehaha County and the state, I lived them and experienced them, and they have guided me through my life.
I also lived two years in a suburb of Seattle my sophomore and junior years of High School with my biological father, which gave me a broad perspective of big city living, crime, and diversity. I learned more about diversity and other cultures in those two short years then I have ever in my life. It taught me to treat every race and culture with an open mind and to always expect the best out of anyone, whether they are female or male, or black or white.
I am NOT like the current members of this commission. Nor would I ever pretend to be. I would bring an entirely different perspective to this board with my life experiences and my knowledge of local government.
There is not one single person applying for this position that has the depth of knowledge I do about our local government. I don't say this out of arrogance, my resume speaks for itself. I have not missed a recorded public meeting by the Sioux Falls city council for almost 10 years and have watched every Minnehaha county commission meeting over the past year. I have a passion for local governing. As I tell people frequently, 'All politics are local.' and the greatest change can be made in these chambers, not in the halls of Congress in Washington.
I know you have concerns. I maintain a controversial website about local government. It is my child. It's premise is simple, to inform and to entertain through political satire and activism. I often tell people, "If you can't laugh at politicians, you will only end up hating them." I am not a hater. I have often tried to use the blog as a catalyst for change and activism. Sometimes it achieves those goals, sometimes it falls on it's face. It has given me a very thick skin, but it has also made me aware of the public's sensitivities. If appointed to this commission, I would stop the blog or pass on the reigns to another author. I HATE conflicts of interest with public officials, and I would find it necessary to eliminate them by ending my authorship. I believe it is difficult to stop ALL conflicts as a public official, but also believe we have clear choices, and unlike other candidates applying for this position, I would CHOOSE to eliminate as many conflicts as possible.
I have also spent hundreds of hours donating my artistic and graphic design talents to local charities, non-profits, musicians and artists and have been involved with several art groups in the region. I have also dedicated thousands of hours of my own time being a citizen advocate in this community and county. I don't believe I need to belong to a club or fraternal organization to prove my involvement within these government boundaries and community. My work speaks for itself, and I wouldn't edit any of it.
What would be my priorities if I served on this commission? They would be simple and straightforward. I have been a registered independent for over 10 years and strongly believe in non-partisanship. I think all political parties offer good and bad solutions, and I prefer to look at the best solutions. I don't care where they come from. While I would consider myself a progressive on social issues, I wouldn't deny I am a prudent and fiscal conservative.
So what would I want to focus on for my tenor on the commission?
• TIF's. I think the commission has a legal and justifiable right to either approve or deny TIF's that the city of Sioux Falls proposes. I would make it a TOP priority to make this change in our state legislature.
• Consistent elections. As a good friend said to me, "Elections and ballots are sacred in a democracy." I agree 100 percent. I think there needs to be a concerted effort between the county, the City of Sioux Falls and the School district to make election precincts identical. I would champion this cause on the commission.
• A more progressive and prudent approach to law enforcement. I would push for shorter sentences and more rehabilitation. I would also work with the City of Sioux Falls to encourage less arrests and focus more on resolution in the field. I would also like to combat overcrowding at our jails. Not only would it reduce our number of re-offenders, it would would save citizens tax dollars.
• Engage our rural communities more in Minnehaha County. While our county government seems to be focused on Sioux Falls, our rural communities matter. I would like to put a re-focus on them, and bring them to the table.
• Promote logical development planning. There seems to be this disconnect between the City of Sioux Falls, the county and the rural areas. We need to get on the same page. We should face the facts, zoning isn't forever, and we need to be honest and transparent wit the constituents of this county.
• Funding. Let's face it, the county is getting the shaft on tax funding. So what can we do? We have options, but we must be creative. The same old proposals are just not going to fly and Pierre changes about as much as the Queen of England's hairdo. We must find a way within this commission's legislative body to make those funding changes on our own, and we must also look at ways to be extremely prudent, while maintaining services and paying a fair wage to our public employees. I believe this is the biggest challenge of the current commission, and I would LOVE to dig my heels in deep to solve it with a long term funding plan instead of an opt out.
I won't lie to you, I believe strongly in a 'Citizens First' government. The majority should always rule within the constraints of law while protecting the opinions of the minority. I don't want this job for money. I want it to represent the public fairly. While I may be easily tempted by Peanut M & M's or an Arnold Palmer on a hot day, I reject any temptation from special interests. I would do this job to serve the people, not the MAN.
Thank You!
As you may or may not know, Commissioner John Pekas got elected to judgeship this past election, so his term on the County Commission will likely end January 1st. This means the commission has to appoint someone to finish out his term.
I'm not sure of all the people interested in the job, but one name did come up today. Sioux Falls City Council Chair & Chamber of Commerce Board of Directors member Dean Karsky. Not sure if he is interested, but;
1) He made an appearance at the meeting today (I believe this is the first time he has ever appeared at a CC meeting).
2) He has mentioned in the past that he was interested in serving on the County Commission, and has expressed that when he is term limited in 2-years from the City Council he may run.
This would be a good opportunity for Dean for a couple of reasons;
1) If appointed now, he could appear as a 'fake' incumbent in two years when he runs for his 'fake' re-election. He pulled the same thing on the city council. He was appointed, then ran for the city as a 'fake' incumbent. Remember his signs? RE-ELECT Karsky.
2) If Dean is planning to run for mayor in 2018, he could stay relevant and in politics up until that date.
Not sure if Dean is angling for the job, but as you can see, a salesman never misses an opportunity, Dean has proved that to us.
This also presents an opportunity for Mayor Huether to appoint a yes man on the city council.
Prime examples in the past, McGovern School flagpole rezone, election precincts, law enforcement and jails, etc. Now the city picks a different ambulance provider;
The city's selection could jeopardize a recently renewed arrangement between Minnehaha County and Rural Metro to provide ambulance service in unincorporated areas around Sioux Falls.

Commissioners said last month that the contract might fall through if Rural Metro lost its contract to serve Sioux Falls.

Rural Metro Division General Manager Mike Stuhr said they were disappointed by the news and that they're evaluating what to do with its Minnehaha County contract.
While I am not going to question the city's selection OR the county's selection, I wonder why they couldn't come to an agreement together. Now the county has to revisit the situation. I'm not sure why the city continually has to poke the county in the eye. It's time to get over it. What the city doesn't realize, when you constantly screw with the county, it costs US money, the very people who pay taxes to both entities. Yes the ambulance providers don't charge tax payers, but there are other costs involved.
This tit for tat is getting really old.
That was at about 9:15 AM. How sad is it that the County buys brand new vote tabulation machines that cost $100K each and they just finish counting. I guess the problem was that the new machines wouldn't count ballots that had comments or spills on them, it would spit them out. There was a ton of votes that had to go through the resolution board. But hey, does it matter, the National Press called the election at 8 PM last night.
As I assumed it was a clean sweep for the Republicans, the Dems in this state really need to get their poop in a group.
Their was some positives though. The Dems had a great victory with the Minimum Wage increase, and I will give Zach Crago credit on that, it's just too bad he failed on party work.
Some other people had awesome victories last night.
Jeff Barth, Joni Cutler, John Pekas, Karen Soli all won.
I told Rick Weiland last night he ran the best campaign I have ever seen in years. You could tell that Rick was very proud of his campaign, and even if he lost, he should not have any regrets. None.
Now we will wait for our NEW senator to be indicted. Wanna make any bets on how long the Feds will wait?
This has been in my craw for awhile, as you may know.
The county wants more money from the state in alcohol taxes.
The mayor wants the county to have the power to raise sales taxes.
While I do agree with the county getting more alcohol taxes, I don't agree with the sales tax increase.
My solution all along has been, "Why not just cut a check to the county from the city?"
Local historian and all around clock repairman spoke at the council's public testimony, former county commissioner Bob Kolbe talked about county expenditures (and ribbed county commissioner Dick Kelly, which was well deserved), he also talked about sharing revenues.
So I cornered Bob after the meeting. I asked him, "What is preventing the city from cutting the county a check each year, for let's say 20-30 million dollars a year, for law enforcement and prosecutions? Is it against state law for the city to give the county money?" He felt it was not.
The irony of this is while the city spends a shit ton of money on attorneys employed by them to go after people criminally with fencing in their yards, the State's attorney is begging for money to help prosecute REAL criminals, you know, rapists, murderers, thieves.
If this mayor and city council had any backbone, conscience, or even an inkling of community spirit, they would budget a supplement to the county budget each year for crime and prevention.
But hey, we got 'toys' to build, and putting a rapist away isn't as fun as playing indoor tennis on a January afternoon.
The Minnehaha County Democratic Party will hold its regular monthly meeting  on Tuesday October 7th at the Minnehaha County Administration building at 7 PM.  
Volunteers are working hard on the various campaigns but every one  can always use more help. Our gubernatorial candidate Susan Wismer and her running mate ,our own Susy Blake, as well as Denny Pierson, Rick Weiland and our local candidates can all use as much time as you can give. 

Tony is first and most importantly a husband and father of two. His family is his strength and greatest joy. He has a beautiful wife Ashley, who is a successful Realtor. Two sons Nolan(6) and Lincoln(3). "There is always some sort of excitement going on at our house."
He was educated in the Midwest at Winona State University in lovely Winona MN. He has lived in Rochester MN and Minneapolis as well, but now calls Sioux Falls his home. "Sioux Falls is the perfect place to raise a family. Good schools, Good people, the town has everything you need, and family friendly."
"My goal I to make Sioux Falls an even better place to live. The longevity of the city and the county is important to me and my family. As auditor my goal is to help get the county back on track fiscally. We need to find new means of income that won't burden the home owners with more taxes, we need to spend wisely, and make sure every area of county governance is held accountable."
Why is Tony the best candidate for auditor?
He has years of experience in the financial sector. Working with budgets, credit, and finance is his day to day job. "The success of the county moving forward is going to depend on the financial stability of the county. Understanding finance is a must for this position."
Putting extra time and effort is a trademark for Tony. Each week he puts in extra hours to make sure his clients and customers needs are being met. This work ethic wont change when he begins working for the county. "Getting things back on track in the Auditor's office is going to take a lot of work, but for the citizens of Minnehaha County it's a job that needs to get done."
Tony believes that every ones' vote is important. " The mistakes in the election process need to stop. Confidence in the electoral process needs to be restored. Minnehaha County has the best people helping with elections, the leadership and vision is what is lacking." – Help me change this by voting in November.
Thank you for interest in my candidacy.