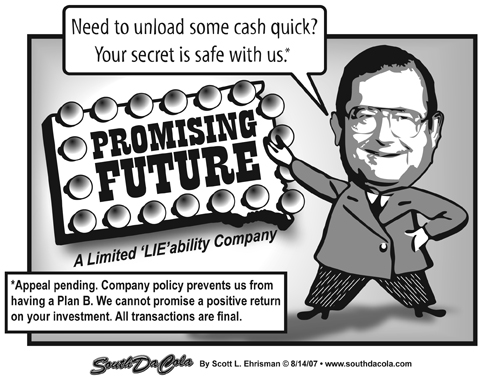 . . . but not in the way you would think.
Minnehaha County Circuit Judge Kathleen Caldwell said the state had no authority to file a lawsuit against Rep. Roger Hunt, R-Brandon, and Promising Future Inc. in an attempt to get him to name the donor.
While many of us in the 'Political Know' know who the secret donor is, it would still be nice to have that person revealed to the public. But, hey, when you are as rich as they are, you can buy just about anything, including, silence. I'm not saying that is what happened, but you never know in this fricking state when it comes to politics, Republicans and money. As a big First Amendment supporter, I don't have a problem with someone donating thousands of dollars to something they believe in, but they should at least have the gonads (or vagina) to own up to their convictions. If you truly believe abortion is 'murder' you would think you would be standing on a street corner telling everyone instead of sitting in a dark room cutting checks. What a coward and a hypocrite.