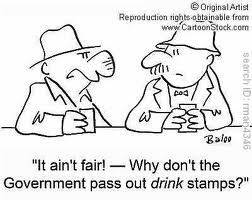 Peeps so poor in SD they can't buy food;
MITCHELL, SD – A new study shows more people in the Dakotas are enrolled in a federal program that provides food assistance.

Data from the Urban Institute shows enrollment in the Supplemental Nutrition Assistance Program increased by 58 percent in South Dakota between 2007 and 2010. North Dakota had an increase of 33 percent during that period.  Nationally, the number of people using food stamps increased 69 percent between from 2007 to 2010.

Congress adopted the Federal Food Stamp Act in 1964 to help needy people buy groceries. The program cost approximately $60 billion in fiscal year 2010.
I saw a guy the other day pull up to the C-Store in a brand new car, nicely dressed, in his 30's, grab a Mt. Dew and couple of candy bars and pay for it with his Food Stamp Card. I don't have a problem with people getting food stamps, but it should be reserved for those in need of FOOD! Yet the good ole state of SD thinks we need to increase the sales taxes (on food to) to pay for stuff we already have money for. I call it the 'stupidity cycle'.