This is the document (fact sheet) that the district is dispersing, (DOC: Combined Student Version with Calendar) notice who the author is and what time it was authored. Deeann is the district's marketing/communications person.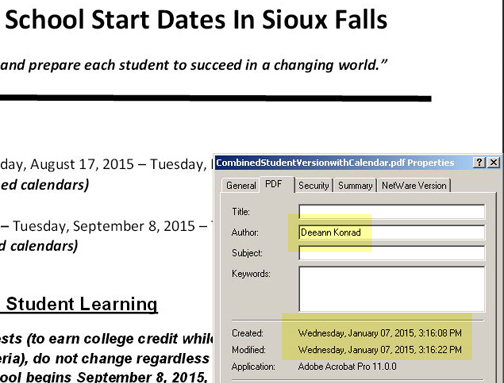 This is questionable in so many ways;
1)Â Advocate education being conducted by a government entity against its citizens
a)Â The schools and school administration is legally to remain neutral during the public debate
b)Â It is questionable if the Superintendent can even legally weigh in on this issue as a 24 hour staff employee
c)Â School Board members would be able to discuss this or be part of the debate outside of their official meetings
d)Â They cannot take part in the debate during school board meetings or during legally called school functions
e)Â School District employees during working hours campaigning for or against an initiative or referendum is unconstitutional and illegal under South Dakota state law
I. Teachers
II. Staff
III. Superintendent
IV. School Board members during official meetings
2)Â The likely use of publicly owned resources to print this document
a) A receipt showing payment for the printing would be required to prove otherwise (it will show the use of government resources to pay for anti-citizen campaigning)
b) What time was the printing picked up or the delivery to printer (shows use of government time to campaign)
3) There is time expense used during work hours to construct this document
4) There is time used to distribute the document.
Like I have said in the past, both sides have good arguments, but that discussion and debate shouldn't cost tax payers money. The school district needs to knock off their campaign, at least during business hours.