I will have to admit, I have only been to Chicago one other time, stuck in the airport for a transfer, so when Cameraman Bruce and the Good Shepard wanted me to join them over Thanksgiving weekend, I said sure. (those knuckle heads were going for beer – we will get to that in a moment).
I will start this out a little weird, this is an image of my favorite painting at the Arts Institute. (click on each image to enlarge)
But the first night we were there, Thanksgiving Night, we could find no place for dinner, except a French Bistro, in which I had Rainbow Trout.
Then we moved on for $13 Old Fashions at the Palmer Room, in which I enraged a bartender about art restoration. Stick to making drinks Stan.
We caught some blues, Jimmie Johnson's 87th Birthday party at the legendary Chicago B.L.U.E.S. Bar, then headed across the street to Kensington for Joanna O'Connor.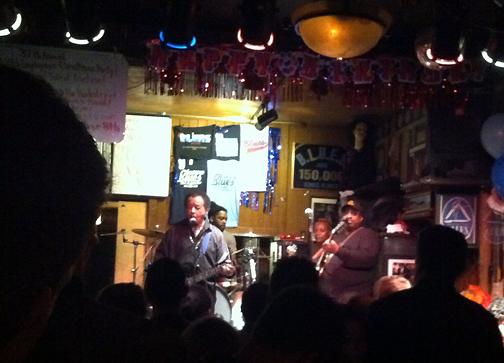 After our French Thanksgiving feast we headed to Chicago's best dive bar, the Ale House, in which we encountered some of the strangest political parody art by the owner's ex-husband. In stitches.
We of course hit the Art Institute where we practically got beat up by a docent about the double triangle (thanks Martha, but we had it figured out).
We of course went up to the 94th floor at the Hancock.
There of course was plenty of drinking, Timothy O' Tooles was our favorite stop. We enjoyed some California Dry Organic Pear Cider and Bourbon County 2010. Hello!
We also took a quick trip to Oak Park to see Frank Lloyd Wright's first home and studio in which he built in the early 1900's.
And of course the beer nerds that came along, couldn't resist to stand in line for 4 hours waiting for the release of BCS and some rarities. Binny's is a beer drinker's dream come true. The Goose Island Bar and Tap House? Joke. Horrible service, terrible food. They had a Quesadilla made with potatoes. POTATOES!