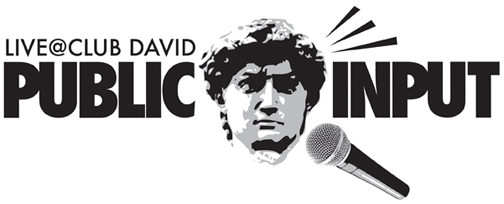 Public Input is a night of real-time rolling commentary on the style and substance of your City Council meetings at Club David, a mere stone's throw from the meeting's locale, Carnegie Town Hall; (please, do not throw stones).
Join host Patrick Lalley (KSOO, the Patrick Lalley Show), for a City Council meeting viewing party featuring drink specials, Council meeting Bingo, substance and comedy on the live streamed big screen.
Tuesday, August 7th, Patrick is joined by blogger Scott Ehrisman and Disgruntled Former City Commissioner Matt Staab.
Inappropriate language, angry outbursts, and blue material permitted, encouraged, and possibly rewarded.
We MAY livestream a livestream of us livestreaming, check HERE between 6:30-7 PM