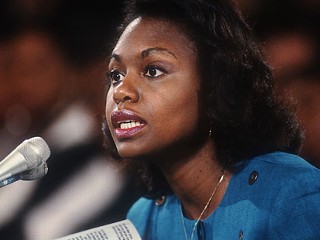 Remember this lady? They didn't believe her either.
I don't like Washington, I tell people all the time what happens there is of no consequence to us locally. It is an outer space circus land.
But, I have been following the confirmation hearings, at a distance. A Supreme Court nomination DOES affect our lives on a local level and I find it deplorable that Thune & Rounds support Mr. Kavanaugh. We will get to that in a moment.
The one thing I remind people whether you are a Conservative, Moderate or Liberal, shouldn't matter. We should be very concerned about this process because this is a life long appointment. We can't vote Mr. Kavanaugh out of office in a few years if he makes bad decisions. He may be there for 30-40 years. The highest level of scrutiny should be given about every aspect of his life. Besides the sexual assault accusations, I have many concerns.
First off, I don't think there has been enough study done about his years serving President GW Bush (one of the worst presidents ever besides Reagan). I also think he is way to conservative to be replacing Justice Kennedy. What we need is a strong, Constitutional Moderate. NOT a right wing ideologue who wants to put the Supreme Court backwards 60 years.
We must also remember that if the tables were turned and this was a Liberal appointment, the Republicans would be doing the same thing. That is just how Washington works. So when I hear Sen Graham chastise the Democrats on the committee I just shake my head.
But most importantly when we are trying to figure out who is telling the truth about the sexual assault, I remind people of a few simple things.
What does Dr. Ford have to gain by coming forward? What does Mr. Kavanaugh have to gain? He has all to gain, she has nothing but living with her memories of this assault. I guess I would give her testimony more weight based on this.
Maybe Mr. Kavanaugh has blacked this out of his memory, maybe he really doesn't remember doing it. That is a distinct possibility. But it doesn't change that it happened, and she is pretty sure it was him.
We already have a misogynist as president, hopefully he will be voted out of office and not serve a second term. But once Kavanaugh is confirmed, we can't turn back. Remember that when defending his appointment.