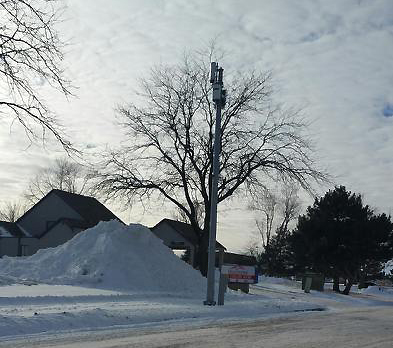 5G Antenna by Eastside Sioux Falls Target
In correspondence with the city's legal department, an advocate opposed to 5G, John Miller, received this letter from the city; (DOC: 5G-Letter)
I found this part interesting;
The taxpayers of Sioux Falls OWN the utilities and all of the equipment associated with the utilities.  The city has said that the poles are not strong enough to hold the 5G equipment and that Verizon is going to have to put cement under the poles.  That is a change that SHOULD to be approved by the taxpayers, thus it should to go to a referendum.  Legally, the changes proposed by the city council must be approved of first by the taxpayers in an election. But since no one asked, city hall didn't let the taxpayers know their rights. A little trick City Hall has played for many years – don't tell citizens what is going on, have only back room meetings with the major players, then tell the public once it is too late to do anything, or at least have time to organize. Could this be illegal? Not sure. Every city has a constitution (charter), a document of formation.  You will find that Sioux Falls probably needs public approval before doing something as fundamental as allowing a private corporation to change the way the utilities operate.
Can we stop 5G in Sioux Falls? Or is it too late because we 'missed the boat'?
UPDATE: Remember me telling you that the City of Houston, TX rolled out 5G the same way Sioux Falls did, which triggered the industry to give Mayor Turner a CITA award.
Let's talk about Mayor Turner and just how corrupt he is, TenHaken could be so jealous;
"More than 70 percent of the money that has been donated to this mayor comes from people doing business with the city," Buzbee said. "It spiked in the last six months. Do you know why it spiked? Because they finally figured out how they're gonna distribute the $1.18 billion that's coming from Washington and so now people are in — these engineers, architects, consultants —out of state entities."
Just go back and look at TenHaken's donor list.