UPDATE: I guessed a missed a major typo on the postcard. Jensen had the wrong address on the postcard for the location of the election center.
This is from Alex's latest waste of postage mailer. Not sure what this even means? There are only two council seats up for grabs. Even if both of those flip, not much would change. I have told people the major change is always in the mayoral election years. By pushing Stehly out and putting Jensen in, all we would have accomplished was creating a RS6 instead of a RS5.
But the strangest part was the message on the back of the mailer where Alex reaches out to 'progressives';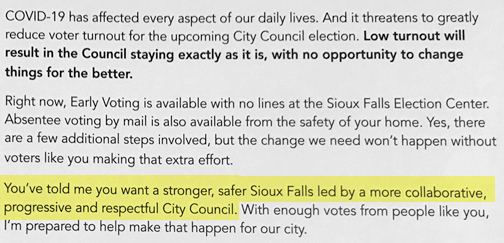 I'm also not sure what it means to be a 'respectful' elected official. I'm still pondering that. Also the word 'collaborative' in Sioux Falls city government is code for 'Big Rubber Stamp'. When you have a body of 8 with conflicting ideas, you come up with better solutions because you take the time to weed out bad ideas.
But I found the statement about being 'progressive' to be laughable. Not only does Stehly have the support of many Independents and Democrats (that is really how she won last time, because you know, a city council seat is non-partisan) Jensen's record on progressive ideals in the State House are less than exemplary. He voted for massive tax increases on the poor, voted against gun safety and supported discrimination. I guess every progressive I have met are not real keen on those ideals.
But I will agree with him on one point, a higher voter turnout could be a game changer. Not that it would get him elected, I actually think Stehly will get more votes. But you never know?
As I pointed out to someone today, all Alex Jensen is, is a prototype of Marshall Selberg. You can take that however you want to.