There has been some people asking me lately 'What's going on with the Sioux Steel project?' I have no idea. There have been rumors that since the land snafu was discovered there has been a state investigation. Don't know. Some also are wondering if investors have pulled funding due to Covid. Don't know. Either way, good times or bad, state land deal aside, TIFs are worthless and only benefit the developer.
This story shows after 30 years, and $500 million in TIFs there has been virtually NO economic impact.
The results were persuasive: the CTBA study found no evidence that the massive package of tax incentives made a long-term difference to the economic well-being of Hoffman Estates compared to that of other similar nearby suburbs that did not make such corporate deals.

Simply put, the study found that the Sears deal was the economic equivalent of an energy drink: It provided a jolt of caffeine and sugar that quickly wore off.

The truth is, Hoffman Estates and its neighbors were already primed for strong economic growth when the Sears deal was hashed out in 1989.
This has often been one of my biggest arguments against TIFs in Sioux Falls. The developers are already doing well (well at least up until Covid hit). We have had record breaking building permit valuations 6 years in a row even without all the public buildings and non-profit facilities that pay NO property taxes. Why would developers need an incentive? TIFs are, and remain to be developer welfare and little else.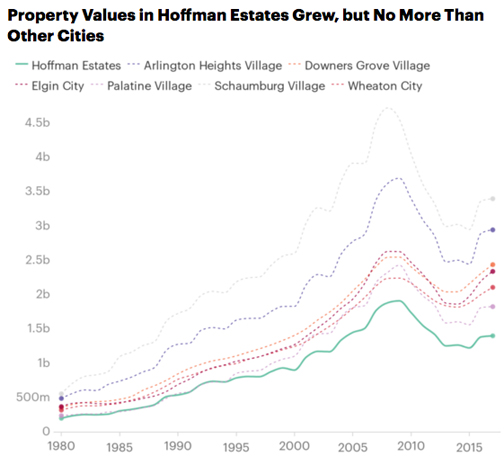 Hoffman Estates and Illinois provided $536 million in incentives to Sears to build its headquarters and other development projects. Despite the infusion of funds, Hoffman Estates' property values trended the same as other, nearby towns that did not spend nearly as much in tax breaks. (Chart: Lylla Younes Source: Illinois Department of Revenue)