As you know, I have been trying to find out why Superlative's contract with the city was terminated early (They did the market analysis for naming rights on the new EC).
I finally was able to attain the original contract with the city, and from all accounts, while I disagree with the city for terminating their contract early, I don't see that the city did anything wrong by this early termination.
SECTION TEN of the contract is pretty clear;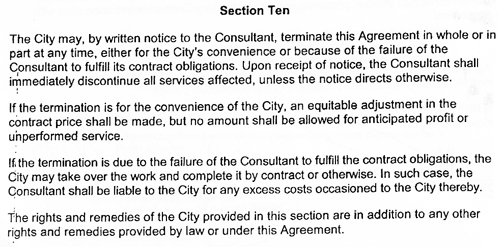 While Superlative has a right to be upset about the early termination, after all the work they performed for the city, they also got paid very well to perform this work. And hey, at the end of the day, who cares if Legends or Superlative announce the 'S' word Events Center?
UPDATE: I received this email today from SF Finance Director, Tracy Turbak about the bond sale;
Scott –

The City raised $102 million of the $115 million needed for the Events Center Project through a tax-exempt bond sale on March 13th. Â The bonds were sold by the City through a competitive bid process. Â There were eight bidders and the bid that resulted in the lowest overall cost to the City was submitted by a syndicate of 22 investment firms led by Robert W. Baird & Co. Â This syndicate, or group of investment firms, purchased the entire bond issue at an overall interest rate of 3.21%. Â These investment firms, called underwriters, then re-sell the bonds to either institutional or retail investors. Â The bond holders are free to trade the bonds on the open market, but that secondary market trading does not involve or impact the City in any way.

The balance of funds needed for the Events Center Project will be raised by a taxable bond sale later this year – the exact sale date has not yet been established. Â This second and final bond sale will raise $12.5 million for the project ($.5 million is being funded with City cash on hand) through the same competitive sale process.

Let me know if you have any further questions.

Thanks,
Tracy