Entries Tagged 'Art' ↓
You can apply HERE. I think the call for art at city hall is a 'paid' exhibit.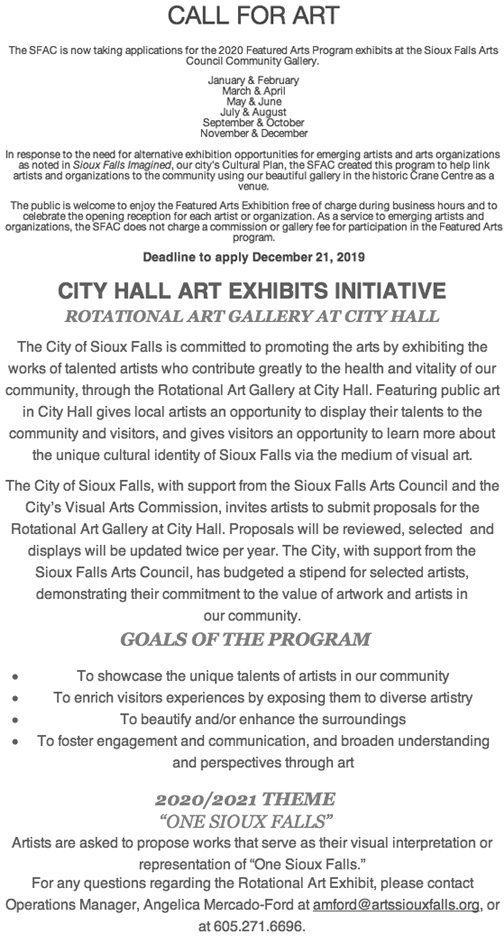 So today I decided to go take some picts of the new murals. Below are some pictures of the deer mural. The top picture was from last week, the bottom picture is from today. The third eye on the deer was painted over. I asked someone today associated with the project (not the artist) what happened to the the third eye, they didn't know, but I suspect they will be looking into it. I don't think the mural is finished yet – maybe it is?
The definition of a third eye;
The third eye (also called the mind's eye, or inner eye) is a mystical and esoteric concept of a speculative invisible eye, usually depicted as located on the forehead, which provides perception beyond ordinary sight.

One of the most powerful and important gods in Hinduism, Shiva is referred to as Tryambaka, or "the three eyed one" in the Rig Veda, a Hindu scripture from around 1500 BCE. In visual art, Shiva is often depicted with a third eye, and his worshippers believe he uses the third eye to manifest his powers. In the Sanskrit epic poem the Mahabarata, Shiva reduces Kama, the god of desire, into ashes with his third eye. Allegorically, this connects the third eye with wisdom and enlightenment—Shiva possesses the power to destroy the universe in order to recreate it.
I'm not sure if the eye was painted over due to censorship, or if the artist just said, "You know what, I really don't think it looks good."
As you may or may not know, the wall is owned by Mayor TenHaken, but I'm not sure where the funds came from to pay the artists – assuming they got paid.
Hopefully we will get some answers.
I had a family event yesterday and totally forgot to go to the 'Paint the Plows' event at the Mall parking lot. I did go over to the public garage today and saw a few of them parked by the fence.
If anyone attended, could you send me picts?
These were the schools that participated, 6 of them were private Christian Religious schools;
Anne Sullivan Elementary
Christ the King Elementary
Cleveland Elementary
Discovery Elementary
Edison Middle School
Eugene Field A+ Elementary
Fred Assam Elementary
Frontier Elementary
Good Shepherd Lutheran School
Laura B. Anderson Elementary
Lifescapes
Lutheran High School
McCrossan Boys Ranch
O'Gorman High School
Oscar Howe Elementary
R. F. Pettigrew Elementary
Roosevelt High School
Sioux Falls Lutheran School
St. Michael Elementary
I found out yesterday that the new murals being painted in the South part of the new Raven's parking lot may have gotten a fast track due to who owns the wall – the mayor.
While I have been literally bitching for years that more public art and murals should be downtown and across the city (in which I agree with Mayor TenHaken) I still think that the approval of these pieces should go through the proper channels.
For the record, the murals do follow the sign code ordinances and don't advertise a specific business, and the ones that are done so far are pretty cool. That aside, it seems there really wasn't a real process in getting these murals approved, and now I know why. The mayor still owns the building his former business, Click Rain occupies, so the murals are being painted on his property.
In all fairness to the process and openness I guess I would have let it play out like any other property owner asking for the same thing. Maybe it did, and if so, why not SHOW the public how this process works for educating others who want to pursue it?
I often tell people that government officials have a duty to not only delegate and lead, but they also have a greater duty of informing and educating the public on why they make decisions. It's unfortunate I had to hear this thru the grapevine instead of from the administration.
But this of course doesn't surprise me, just look at the 5G expansion.
Some people think great things get done in government if we keep it from the public. I have a word that describes those people; Dictators.
I first want to say that Nancy Halverson and crew knocked it out of the park. I think only 2 concerts had to be completely cancelled, and a couple, including Friday night's show had to end early due to weather. We expected that.
While they planned on 30 concerts this year, they plan to have 50 next year, I'm excited about it.
Here are some changes I would like to see made next year to make Levitt even better;
• Allowing people to bring their own beer or wine. I think it should be limited to that and NOT liquor. I also think that if people bring their own, they should have to get an ID badge. While JJ's did a fine job, I think the city council could change the very simple ordinance that says Falls Park West (where the Levitt resides) to allow this. It really is as simple as an ordinance change.
• Put in permanent bike racks. I think they could be easily be put in along the sidewalk on the West side of the restroom. I do know that FAB is working with the city to do something better and I appreciate it.
• Plant more shade trees around the grounds. I also think that they should get a sponsor to put an awning coming off the restroom to the East.
• Take down bag search signs. You can't search people's bags without a warrant of probable cause. Maybe a sign that says "Suspicious bags subject to search."
• No pets allowed. This of course would require a city ordinance that basically says pets are not allowed to the Levitt grounds area. JazzFest has NOT allowed pets for years. It's not good for their health and they don't want to be there anyway.
• Have Friday and Saturday night concerts from 8-10 PM. It was disappointing to see a concert end at 9 PM right when the sun was going down. As I understand it noise ordinance is 11 PM.
• Move the restroom drinking fountains to the Eastside of the building. Those fountains sit in the sun ALL day long, I have never gotten a cold drink of water from them, at best tepid.
• Don't bring a lawn chair if you don't need to. This of course will be something people who are attending will have to do on their own. I never sat in a chair all season long and only sat on the ground a few times. Dance and enjoy yourself.
I think with some minor tweaks (I think Levitt will propose some of their own) the 2020 season will be fantastic.
Kory & the Fireflies played the last show of the season last night.
Four great shows in a row this week.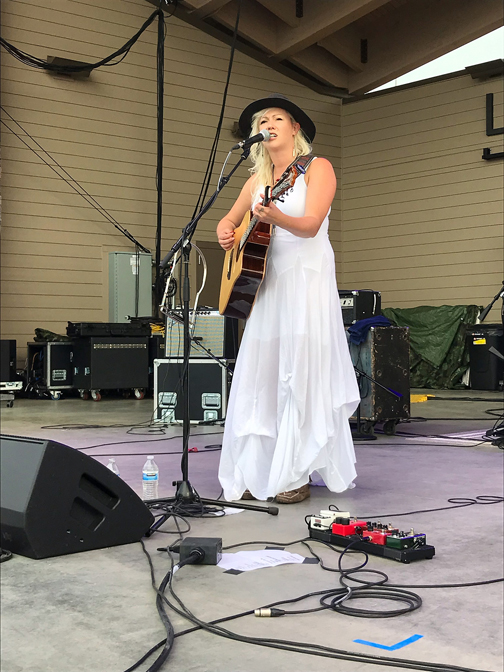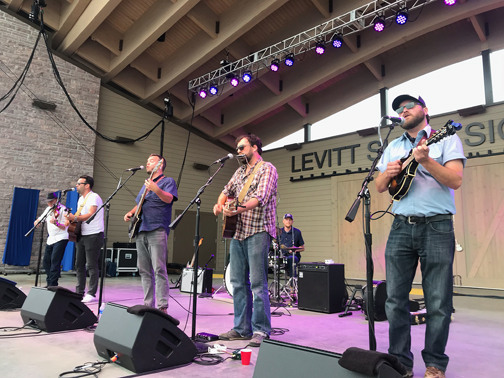 As a fine artist and graphic artist I have been asked to do some unusual projects. Most of the time, you are asked to sell something. I told a frequent SculptureWalk artist last year that was kind of the purpose of SW, to promote Downtown and sell more beer and pizza. He didn't take kindly to my words. I've gotten to do some fun projects like creating logos and t-shirt art for Jazzfest or designing posters for ZombieWalk and the SF Roller Dollz. Most of the time, these projects are not only fun, but for the betterment of the community, then I read this;
Erica Beck, chief of staff in the mayor's office, said the TenHaken administration is taking "more intentional focus" on culture and arts through all of downtown, including murals.
The south side of the city's new parking ramp, which faces one of the busiest thoroughfares downtown and sits on the busiest corner in the neighborhood, is an ideal candidate for a mural, she said.
I have been very vocal for years that DTSF needs to implement a public art/mural program. I have even went so far to say that spending millions on one sculpture was shortsighted and the money could have been more wisely spent on implementing hundreds of small art projects and murals downtown. Where I draw the line is when government wants to use the talents of artists to essentially cover up a massive mistake. If we paint a mural on one the most incompetent decisions our city government has ever made, what kind of message are we sending to the public and artists? When government screws the pooch, we'll just paint over it?
If the city chooses to spend a large chunk of money on a mural for the bunker ramp (something that could cost between $30-60K) we are sending the wrong message to taxpayers. What's next? A mural on the Denty to cover up the bad siding?
I think we should leave the ugly Southside of the bunker ramp 'as is' for a constant reminder of how badly things can get when our supposed leaders are not paying attention. In fact, I think we should paint the names of the city councilors, mayors, and city employees responsible for this huge mistake.
A more appropriate solution would be a temporary large scale banner wrap, you could even make it cost neutral by selling advertising on it or to put out important public service announcements, historical images or even just artistic in nature. While they used to be quite expensive, they are very reasonable these days.
I finally got up a site dedicated to my art.
I will admit, I have looked at the Arc of Dreams several times at different angles from far away and up close. Depending on how you look at it you find something unique each time. It is quite the structure and engineering feat. But one of the things you will notice is that the only place you can really get a good view of the entire structure is from the North standing on the 6th street bridge or river greenway. You would also miss it if driving in a car over the bridge unless you happen to look over at it.
Some have questioned it's location. First off, since it was privately funded they had to situate it on private property yet putting it in a public space. While the structure is mounted on private property, it crosses a public waterway.
As you can see below, most large sculptures, like the FLAMINGO in Chicago is placed in a large courtyard area so it can be viewed from 4 directions. I actually think a great place for the Arc would have been on North Minnesota Avenue coming into town from the airport, or others have suggested over the Levitt yard. Obviously the limitation was placing this on private property, but I think an easement could have been figured out.
It will be interesting to read reviews of it's placement over the next couple of years.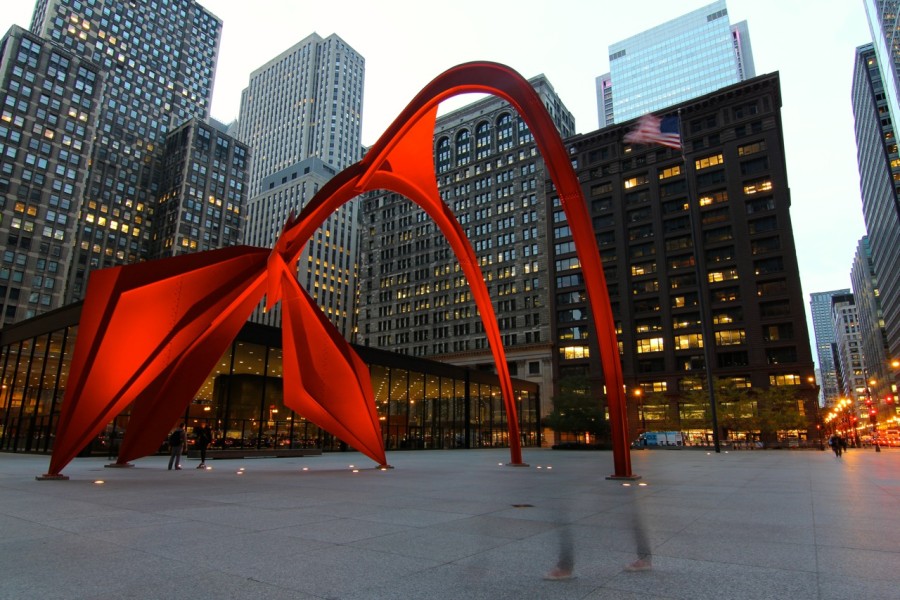 A foot soldier sent me this photo he took today of the Arc of Dreams and the Crane over the bunker ramp debacle.
Dreams not realized?