Guest post by Bruce Danielson (edited by publisher)
In the middle of a pandemic we're going to spend more money on the bunker ramp to cover up the mistake and the error.
A request for proposals issued today calls for submittals involving community art and site enhancements at the new Mall Avenue parking ramp at 110 S. Mall Ave.

Proposers should "consider opportunities to positively impact the experiences of all who may encounter their project, including visitors, residents and employees," the RFP said.
This is what a colorblind graphic artist does for leadership. How about, we cut a deal and fix the problem?
The downtown business people are so pissed off with how ugly this thing is, the color blind are now looking for sponsors to buy a big old huge tube of lipstick.
Will it be pink, purple or rogue? The optics are very interesting. What sponsors are going to do this and put their names on it?
We have people losing their homes, being food insecure and our administration decides we're going to find sponsors to put lipstick on a pig. There are only limited dollars in the community and once again we're having businesses line up at the cosmetics counter at Macys to see if there is enough stock.
Didn't anybody with a brain get the memo?
Apparently it got to the code enforcement office and this is why they're trying to change the mural ordinance? Can you imagine after the SouthDaCola story and Cameraman Bruce's recent City Council comments and photos about the parking ramp somebody in City Hall said "Let's find a way to paint or install murals on the bunker I mean, blunder, oops I mean, parking ramp and maybe we can hide it?"
Then an over anxious code enforcer reminded the color blinded "Our ordinance won't let us do it, we'll have to give the mayor a violation." Then he added, "Do we just put his ticket in a blue Shopping News plastic bag and tie it to the Mayor's Office door? Whose going to do tie it and then pay it?"
The brainiacs in City Hall got working, real hard, because it takes a lot to put lipstick on a pig. We should know by now, this town's administrations do not do anything without an ulterior motive. They are making it look like times are a changing finally but in fact they are dreaming of a pig wearing rogue lipstick while forgetting about the stink permeating around it.
This makes one think of the Dolly Parton line, "It costs a lot of money to look this cheap."
Once again Sioux Falls is using art to cover-up a disaster, 6 months at a time. BTW, where do we get lipstick by the gallon?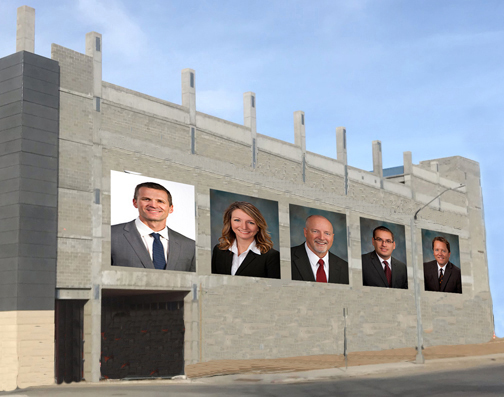 Publisher's note, I found this little tidbit interesting in the RFP;
• Evoking positivity and exemplifying a One Sioux Falls spirit.
I have been an artist and graphic designer for over 25 years, and over that time I have many people request irrational crap like this. I often just tell clients or commissioners, 'No really, what do you want it to look like?' 'Feelings' and 'Emotions' mean different things to different people. Use Rothko's work as an example. Many people think it is ugly, boring or meaningless while others look at it and have deep emotions.
And BTW, what does One Sioux Falls even mean? I am still baffled by this initiative that seems like something TenHaken cooked up after taking a Dale Carnegie course and listening to old broadcasts of Norman Vincent Peale. When will our local officials stop trying to sell us stuff?