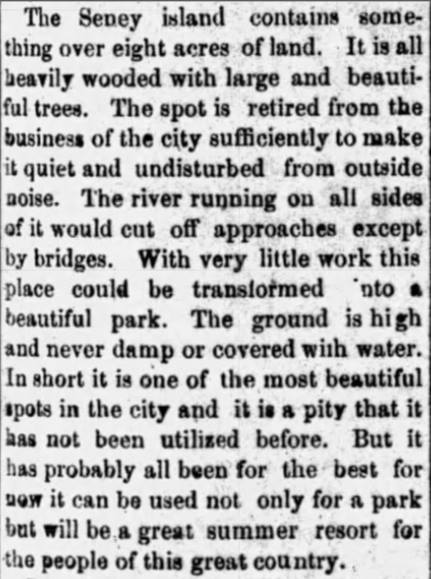 As we embark on this massive re-development of the Sioux Steel Property, let me take you back in time to when this chunk of property was like no other in this city.
Prior to 1930 – this land area was once a proud picnic area situated on the west bank of the Big Sioux River. Once known as "Seney Island" or Brookings Island prior, people used to walk along 4th Avenue, cross a little foot bridge, thuis crossing the West Channel that helped form the boundaries of the island. This was once a wooded area, with a two smaller islands off the northeastern side, a swimming beach on the southeastern side, while children once ran thru and played in the massive wooded area of Pine Trees, Elm's, and Cottonwoods, Evergreens, and Oak Trees.
During the 1930's, Sioux Steel, the St Paul and Omaha Railroad Companies purchased the land closing off the "West Channel" while turning the land into a massive Railroad Yard, Dumping Grounds, Steel & Lumber Yard, while on the northern portion of the property along Phillips you had Pitt's Steel a steel recycling center.
There is really no evidence let of the West Channel unless you know where to look and find the markers, all you need to do is find the boulders on the north end of the property, follow the water pipeline around the fence line, while 4th Street marks the apex of the West Side of the Island. This island was a "D Shaped" island.
This current development project may not be the greatest, it may not always be supported by those of us whom adore nature, but lets be honest here shall we, this is the perfect compliment to returning a piece of property back to the people. Gone is the West Channel, the Sand Beach, the Forest of Trees. That part of our history is lost in time, it exists only in our memories today. But – any project that attempts to the return the once proud property back to its glorious past, is a win in my park. Gone may be the beautiful island park, but in its place today we will have a wonderful Hotel, Retail, and Convention Complex, along with a beautiful river walk along the river. As I ponder this new found development, I wish to share a few pictures from our past, below – I provide you a few pictures that include a zoning map of the area, and an old news article of the island. In it – the dream by many was to establish a wonderful and beautiful City Park. Who knew, that nearly a century later, that dream would actually happen, just not in the way it was intended all those years ago. Instead of a nature resort as the article stated; we have a commercialized form of a resort. I present to you – Seney Island.
Sincerely, Mike Zitterich
(Sioux Falls)
Link to TIF presentation