Entries Tagged 'Elections' ↓
Monday May 18th, Downtown Rotary Forum • At-Large Candidates Stehly and Jensen • Online at NOON.
Thursday May 21st, Council Candidate Forum • All candidates • 5:30 PM
Tuesday May 26th, Argus Leader • At-Large Candidates Stehly and Jensen • 10:30 AM.
There was a SF Chamber Committee private forum this past week and I spoke with someone who was in attendance. They basically said, 'Theresa crushed it!" They also said Jensen knew very little about city government. Shocker!
My endorsements haven't really changed;
• Vote NO on both Charter Amendments
• Stehly for At-Large. Like her or not, she has the best interest of the citizens at heart. She is also a champion of transparency.
• Julian Beaudion for NW district. Neitzert has been a turncoat.
• Cynthia Mickelson for school board. I know this may shock some people, but I think she has tried to open the school district up to more transparency. I don't always agree with her, but I think she really works hard and tries to do the right thing.
• Crystal Johnson for Minnehaha State's Attorney.
I also encourage everyone to absentee vote either by mail (complicated and they are way behind on applications) or in person at the election center, directly east of the Minnehaha County Administration building. I voted a week ago, brought my own pen, and I was the only one there. As I was leaving I soaked my hands in hand sanitizer by the door.
First I will start with a plug, VOTE STEHLY! Unless you want to turn the RS5 into the RS6. And who needs TWO Marshall Selbergs on the council anyway?
These two endorsement videos on FB for Count Jensen were okay, but they lacked transparency. The first one is by the person who worked for Mayor TenHaken at ClickVain and took over the company when he became mayor. The second video is of a person married to Craig Lloyd's nephew who works for the family business.
I'm wondering why neither wanted to mention their 'deep roots' in the Sioux Falls community? Oh, that's right, because of the HUGE CONFLICTS OF INTEREST! If you want someone to endorse you, that is awesome, but they should be transparent about who they are.
Neitzert's political heros? TenHaken and Noem. Hilarious. He also said that he looked up to Paul's leadership because he has the ability to admit when he is wrong. Gee, Greg, when are you going to apologize for your votes on the auditor, the admin building and bunker ramp? Oh, that's right, you are a hypocrite. Nevermind.
UPDATE: I guessed a missed a major typo on the postcard. Jensen had the wrong address on the postcard for the location of the election center.
This is from Alex's latest waste of postage mailer. Not sure what this even means? There are only two council seats up for grabs. Even if both of those flip, not much would change. I have told people the major change is always in the mayoral election years. By pushing Stehly out and putting Jensen in, all we would have accomplished was creating a RS6 instead of a RS5.
But the strangest part was the message on the back of the mailer where Alex reaches out to 'progressives';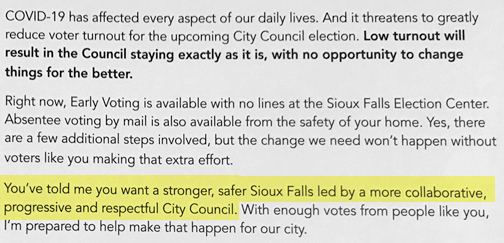 I'm also not sure what it means to be a 'respectful' elected official. I'm still pondering that. Also the word 'collaborative' in Sioux Falls city government is code for 'Big Rubber Stamp'. When you have a body of 8 with conflicting ideas, you come up with better solutions because you take the time to weed out bad ideas.
But I found the statement about being 'progressive' to be laughable. Not only does Stehly have the support of many Independents and Democrats (that is really how she won last time, because you know, a city council seat is non-partisan) Jensen's record on progressive ideals in the State House are less than exemplary. He voted for massive tax increases on the poor, voted against gun safety and supported discrimination. I guess every progressive I have met are not real keen on those ideals.
But I will agree with him on one point, a higher voter turnout could be a game changer. Not that it would get him elected, I actually think Stehly will get more votes. But you never know?
As I pointed out to someone today, all Alex Jensen is, is a prototype of Marshall Selberg. You can take that however you want to.
Before you think I'm against voting by mail, you would be mistaken. I fully support it. What I want to point out is the government waste in SOS Barnett's plan to mail everyone an 'application'.
Think about it.
Instead of just simply mailing every registered voter a ballot(s) to begin with, (depending on the election in your district) Barnett's plan is going to cause all kinds of extra confusion, extra work and extra money and postage.
His application plan does this;
• By sending everyone an application instead of a ballot, you are possibly doubling your postage fees.
• You are possibly doubling your printing costs by mailing an application than a ballot to begin with.
• If just a ballot is sent, this saves county auditors time in processing applications and stuffing ballots to be mailed back.
• No one's rights are being infringed upon. In fact, I would argue this gives you more rights because it makes the process simpler. If you choose not to use the ballot mailed to you, simply recycle it.
I use this analogy; it would be like Dominoes Pizza sending you a letter asking you if you would like to receive coupons by mail. They don't do that, for obvious freaking reasons.
By just simply mailing you a ballot(s) to begin with, it gives you an opportunity to make the decision at that moment. No one is forcing you to fill out that ballot. You can either throw it away or vote in person.
Make no mistake, this is about making it as complicated as possible so it encourages voter suppression and the worst part it is wasting our tax dollars. Something the majority party in this state thrives at.
Why do the people in Pierre work so hard to make our lives more difficult?
As someone reminded me yesterday, we were scheduled to have an election next Tuesday. Thank God that didn't happen as the city is starting to peak in covid cases. But if it would have happened, I still believe Stehly would have won by a landslide. The factors would have been a normal municipal election turnout of your usual 4% or so.
I think those factors have changed, and not sure how this will play out. The biggest thing that has happened was the SOS's decision to mail everyone a absentee voter application in the mail. You can pick the ballots you want (for instance in SF you could pick city/school & primary). I think this will be hugely popular as you see the numbers of covid cases rise. I'm putting at least a 30-40% voter turnout. I think you will see that many people will like to vote this way, and if anything positive comes from this crisis, it may be pushing for vote by mail, which I think is a great idea. It will increase voter turnout. The critics are on both sides of the aisle, but more heavily from Republicans who have depended on voter suppression for years. This levels the playing field, and it scares them. I'm not sure where their claims of fraud and abuse come from. We have doing absentee by mail for several years in South Dakota, and I think if there was a widespread issue with voter fraud, we would have heard about it already, not just from talking points coming from POTUS's butt. Remember he claimed millions illegally voted in California in 2016, something that has never been proven.
As you can see from these articles, it is pretty rare and the fines and penalties are steep if you get caught. I don't think people would be willing to risk it.
According to the Brennan Center for Justice, a law and policy institute which describes itself as progressive, "The consensus from credible research and investigation is that the rate of illegal voting is extremely rare, and the incidence of certain types of fraud – such as impersonating another voter – is virtually nonexistent."
I still think Stehly will prevail, especially since both her supporters and Jensen's will get the same applications in the mail. It will be a matter of who gets their supporters to fill out that application. Time will tell. Another factor is that voters will have more than a few minutes to study the ballot at their kitchen tables and discuss it with friends and do research. I'm not saying everyone will, but I think you will see more reasoned and educated voting by going this route.
This is going to be an interesting experiment in our Democracy. The results will be fascinating to study.
As people have been absentee voting, many have asked me how to vote on the amendments. Amendment 'A' is pretty easy to understand. Amendment 'B' is a little more complicated, but I will lay it out for you 1) VOTE NO 2) If this was as simple as following state law, the council would have passed this already, they did not, because it is more complicated than that 3) this would increase the number of signatures you would need to petition our city charter. It should be made easier to petition our local government not harder. This is simply an attempt to justify the questionable rules that were implemented on Triple Check the Charter. How can you apply rules to petitioning when citizens haven't approved those rules yet? VOTE NO!
HERE is all the information you need to absentee vote. I believe however the absentee vote in person moved to the election center east of the Minnehaha County Administration building on 6th street.
We still don't know if the State Legislature decided to postpone April municipal elections, they were debating it today.
And you know who to vote for . . .
The legislature is leaning towards a bill that will set the municipal elections in June during the scheduled primary election. It also looks that absentee voting would start on March 30th and be available for the next two months.
I look at this a couple of ways, I think it would have been virtually impossible to hold the election in a couple of weeks. I also think that two months of absentee voting is good, and safer. But I also think that many people are not thinking about a city election right now, and hopefully this clears by the end of May so there can be a little concentration on the election and the candidates.
Also, I have been thwarted by several folks over the past few days that the city council doesn't have the legal authority to change the election date. I believe they do, and I think it is as simple as practicing their right to change city ordinance under the Home Rule Charter. I also look at this as something the courts could weigh in on. How could the city possibly hold a public city election at the height of a dangerous pandemic with NO poll workers? Well, Sherlock they couldn't, and I think a judge would agree that gives them the legal authority to change ordinance on the fly. Remember, law isn't what is written on paper, it is what the courts and judges decide, it is all fluid. And if a governmental body is unable to hold an election, that body has the legal right to remedy the situation, and I don't think there is a judge in the land that would side on endangering the public because the legislature said a city MUST have an election on a certain date come Hell or highwater. Maybe what we are really saying is if the election can't be held on April 14th, there is no election, and candidates Neitzert, Mickelson and Stehly get to remain in their seats automatically for the next term? I have a feeling the same arguing against me would argue against that scenario also. Funny how that works.