Entries Tagged 'Unions' ↓
September 1st, 2013 — Food, Sioux Falls, Unions
September 1st, 2011 — Unions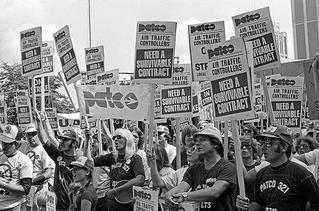 Credit: Flickr user labornotes
Michael Moore writes a great column, sad, but great;
From time to time, someone under 30 will ask me, "When did this all begin, America's downward slide?" They say they've heard of a time when working people could raise a family and send the kids to college on just one parent's income (and that college in states like California and New York was almost free). That anyone who wanted a decent paying job could get one. That people only worked five days a week, eight hours a day, got the whole weekend off and had a paid vacation every summer. That many jobs were union jobs, from baggers at the grocery store to the guy painting your house, and this meant that no matter how "lowly" your job was you had guarantees of a pension, occasional raises, health insurance and someone to stick up for you if you were unfairly treated.
Young people have heard of this mythical time — but it was no myth, it was real. And when they ask, "When did this all end?", I say, "It ended on this day: August 5th, 1981."
America, from now on, would be run this way:
* The super-rich will make more, much much more, and the rest of you will scramble for the crumbs that are left.
* Everyone must work! Mom, Dad, the teenagers in the house! Dad, you work a second job! Kids, here's your latch-key! Your parents might be home in time to put you to bed.
* 50 million of you must go without health insurance! And health insurance companies: you go ahead and decide who you want to help — or not.
* Unions are evil! You will not belong to a union! You do not need an advocate! Shut up and get back to work! No, you can't leave now, we're not done. Your kids can make their own dinner.
* You want to go to college? No problem — just sign here and be in hock to a bank for the next 20 years!
* What's "a raise"? Get back to work and shut up!
March 31st, 2011 — Unions
March 31st, 2011 — Uncategorized, Unions, video
"I struggle to meet my bills right now… The benefits that were offered to me as a congressman don't even compare to the benefits that you get as a state employee. I just experienced that myself. They're not nearly as good."

— Rep. Sean Duffy (R-WI), quoted by the Milwaukee Journal-Sentinel, defending his congressional salary and benefits to a constituent who responded, "But $174,000 — that's … three times what I make." 
GOPers Demand Sean Duffy Salary Tape Be Pulled From The Internet
March 16th, 2011 — Unions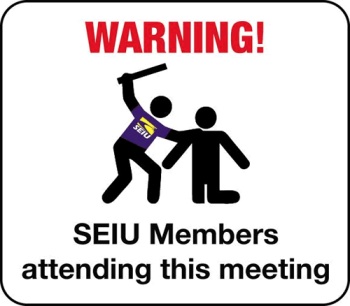 Back in the day, Governor Walker would either be missing a finger or some knee caps. Nowadays, all the Peacenik Union members protest in the street and sing Kumbyah. While I don't have a problem with non-violent protest, in fact I consider myself a pacifist, I often wonder when the Unions are going to wakeup and realize protesting isn't working, in fact, behind closed doors I'm sure Walker and his corporate buddies are laughing at you.
Am I suggesting you should beat them with baseball bats? While that probably remains an option, I would say probably not the best option. Remember, right-wing extremists are the one's who freak out and shoot people when they don't get their way.
You need to fight fire with fire. Hire lawyers. And lots of them. Block these greedy motherfuckers every chance you can.
It amazes me how people like Walker can paint middle-class workers as 'greedy' because they simply want to earn a living wage, while giving tax breaks to corporate giants who don't really 'labor' that hard for their money.
I guess I wouldn't have a problem with tax breaks if the middle class was prospering to.
Time to break some knee caps or at least some wallets.
March 2nd, 2011 — Unions
Wisconsin GOP Senator Glenn Grothman has to take the walk of shame after accusing union protesters of being 'slobs'
December 18th, 2010 — Sioux Falls, Unions
Apparently Mr. Bragg hasn't met Mr. Huether
All kinds of money for frivolous shit like monkey crappers, events centers, ski bunny hills, but no raises for the people who maintain our city?! I think this comment says it all;
In general, the municipal employees union was happy with the one-year contract and understands the economic climate. However, it does have concerns with some recent city spending, Magnuson said.

"We are starting to see other money spent in other places, and that's disturbing to us. We feel that the mayor may be putting money away for the events center and not taking care of employees," he said.
I wonder if the unions are now regretting their donations to the Huether campaign? Well? Are you?
June 25th, 2010 — Ethics, Staggers, Unions
March 3rd, 2010 — Employee Free Choice Act, Employment, Thune, Unions
WASHINGTON – With the Obama administration promoting efforts to unionize workplaces, Sen. John Thune warned business leaders Tuesday that they should be ready to mobilize against congressional efforts to help labor groups organize employees.
"We cannot let up. We have to be vigilant. We've got to stay on this issue. This is organized labor's No. 1 priority," the South Dakota Republican said to about 250 business and chamber representatives from eight states attending a U.S. Chamber of Commerce conference. "We have to defeat this. … We have to be prepared because this could happen on very short notice."
Why should we defeat this? Because it might require South Dakotans to have the chance to make better wages? It is blatantly obvious that Thune has his head shoved up the ass of corporate interests, Hell he worked as a lobbyist before running for Senate, and once he got in the Senate the first thing he tried to do is give his pal the biggest Federal Loan in the history of our country to a private industry. When are we gonna wakeup and realize this guy is a fraud?
"Chamber of Commerce people seem to think that if you keep giving money to corporations, that will fix the country," said Mark Anderson, president of the South Dakota State Federation of Labor, AFL-CIO.
Well, Mark, they are the largest lobbyist group in DC. Remember, Washington, and our very own golden boy, Ironic Johnny, only respond to cold hard cash. And the working class of South Dakota certainly are not sending it John's way. He knows who he works for . . .
"This is a black-and-white issue, and we need to keep it that way," Thune said.
I agree John, it is black-and-white, so why are you painting it red?
September 25th, 2009 — Employee Free Choice Act, South Dakotans, State Legislature, Unions
UPDATE: Joel Dykstra is spreading lies right now on KCPO (Sunday 10:30 AM – Cable channel 2)
Kind of sounds like someone is posturing for the Governor's race;
Two powerful Republican state legislators say they will fight a bill now in Congress that would allow unions to organize without a secret ballot. State Senate Majority Leader Dave Knudson, who also is running for governor, and House Majority Leader Bob Faehn of Watertown will introduce a bill in the next Legislature that would put the issue before state voters. The measure would amend the state constitution to require secret ballots in all political and labor organizing elections.
Only in SD, where we rank 50th in hourly wages, would legislators try to limit union participation and thumb their noses at Federal Law. I'm glad they want to put it on the ballot, because it will fail, just like the stupid abortion ban.
If their effort is successful, the state almost certainly would end up in federal court to defend its authority to require secret ballots in labor votes, Knudson acknowledged.
What's the point? Instead of trying to limit worker's rights, why not introduce legislation that actually expands worker's rights? Oh that's right, I forget SD's motto, "Big Business and Special Interests first, citizens second."