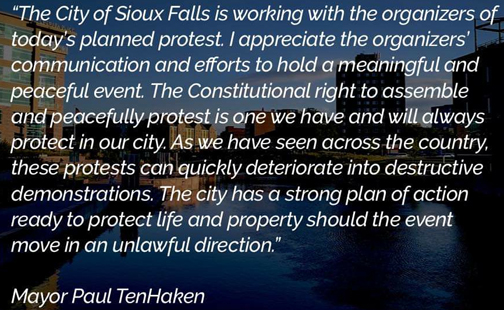 I agree with Paul that the protest in the afternoon had very little to do with the one at night. If the SFPD, Mayor and National Guard made any missteps, they should have broken up the walking crowd before it got to the Mall (and before it got dark). Many in attendance in the march towards the Mall agreed. I also think when you are telling people in the morning five hours before the protest even started that there will be violence, you are kind of inviting it. As I suspected police chief Burns admitted today that this supposed bus load of hoodlums from Fargo never arrived, it was just empty threats on FB, which I pointed out yesterday. Most of the rioters were local latch key kids that should have been home while their parents are working 2nd or 3rd jobs. This is one of my fears about the pools being closed this summer, a lot of these kids will be up to 'other' things besides swimming.
Sioux Falls really hasn't had this kind of violence since the scabs broke the union lines at John Morrells several years ago. From what I could tell it was just a bunch of young kids and hoodlums looking for something to do and very little to do with George Floyd's death.
I still think that some of this was overblown, but the reaction by the SFPD and Mayor was legitimate and they handled the situation pretty good, especially the swat department to calm the situation ASAP. I think people freaking out about BS on Facebook, especially elected officials, should really do some investigation before telling the citizens there will violence in the streets. Sure, kids throwing rocks at cops isn't cool, but it certainly wasn't a combat zone. Some times our local elected officials need to just be cool headed about these things instead of saying the sky is falling.
I commend our National Guard, police force and Mayor's office for calming the situation quickly. But next time, before you warn about potential violence in the streets, gather all your facts first. As I tell people all the time, Democracy dies in darkness, be truthful with the citizens and they will respond better next time. If anything I hope there was some lessons learned, and thank God no one was seriously hurt.