Entries Tagged 'Sioux Falls Parks and Rec' ↓
What: News conference to provide an update regarding planned improvements at Terrace Park
When: Wednesday, June 29, 2016 11 a.m.
Where: City Hall Commission Room 224 West Ninth Street
Who: Don Kearney, Director of Parks and Recreation
Why: Construction of master plan improvements at Terrace Park were to be completed in multiple phases, with the first phase to construct a monument sign, accessible pathways, and a centennial marker recognizing the 100-year history of the park to take place this year. Recently, the Board of Historic Preservation determined the construction plans would have an adverse effect on the historic property. Come to the news conference to learn more about the next steps for Terrace Park improvements.
5:30 at Spellerberg Park, 26th & Western Avenue.
We went with our camera and were not allowed in because they claimed that SF Construction has control of the site, and we are NOT media. We got the excuses part on video. We will be posting soon.
NOT the new Spellerberg Indoor pool.
Dixie Hieb lays out the job of the board, and what their decisions ultimately mean in reference to Terrace Park;
I have complete confidence that our City's Parks Department and Confluence, the landscape architecture firm involved with the project, will develop a plan that both improves accessibility and protects the historic integrity of Terrace Park. I believe the planning and approval process is an opportunity to serve both of these goals, but characterizing the process as a battle between opposing groups serves only to undermine these goals. All of the parties involved care deeply about Terrace Park, and together we will find solutions that maintain the historical character of the park for generations to come.
I couldn't agree more. This isn't about fighting the city, this is about preserving our city. That takes transparency and cooperation.
• I found this picture on the Googles of Hattie Phillips home that used to sit on the top of Terrace Park until the city goons tore it down. As I understand it is the ONLY known existing photo of the residence. Hattie's husband, Dr. Phillips founded Sioux Falls with RF Pettigrew.
• During the Sioux Falls city council informational meeting this next Tuesday, we will get an update on the RR relocation project, but don't expect to hear any updates on rail traffic (DOC: RR-Yard )
• This is a nifty photo of where the Parks Department has it's picnic table graveyard, Terrace Park.
• Here's an interesting story about limiting or even eliminating public input;
A spate of recent outbursts and contentious exchanges has prompted the leader of the Oklahoma City School Board to consider eliminating public participation at meetings, The Oklahoman has learned.

Board Chairwoman Lynne Hardin said Thursday she also is considering whether to eliminate board member comment and plans to meet with the panel next month to discuss both options.

"To be squabbling over things that don't add to the meeting, it's not an effective use of our time," she said.

The board's next regular meeting is June 27. Hardin said she will consider whether to suspend both comment periods for that meeting, typically the longest of the year.

"If there's ever a time not to get rid of public comment it's right now because of what's happened with charters, with (former Superintendent Rob) Neu," said parent John Prough, a regular at board meetings. "This is a time where attendance is up and community involvement is up. They're involved, and they want their voices heard."
• The Sioux Falls city council is considering giving Forward Sioux Falls $400K (Item #56) for workforce development. Sometimes I think these programs are so dismal, it may be more effective just to give a group of people who are under employed the money instead.
I will leave you with a cool video from 1894.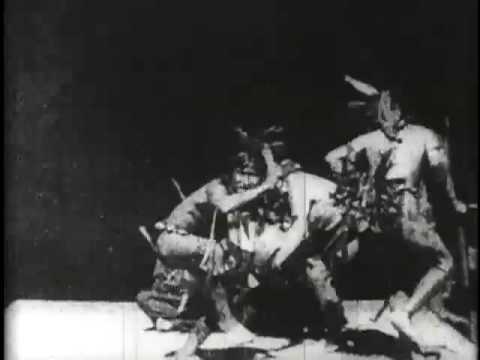 SUMMARY
According to Edison film historian C. Musser, this film and others shot on the same day (see also Sioux ghost dance) featured Native American Indian dancers from Buffalo Bill's Wild West show, and constitutes the American Indian's first appearance before a motion picture camera.
CREATED/PUBLISHED
United States : Edison Manufacturing Co., [1894]
NOTES
Copyright: no reg.
Performers: Last Horse, Parts His Hair, Hair Coat.
Camera, William Heise.
Filmed September 24, 1894, in Edison's Black Maria studio.
Sources used: Copyright catalog, motion pictures, 1894-1912; Musser, C. Edison motion pictures 1890-1900, 1997, p. 126.
Received: 5-13-1994; viewing print; preservation; Hendricks (Gordon) Collection.
I knew it wouldn't take city hall even 24 hours to try to kill the messenger when it comes to the Terrace Park kerfuffle;
The contractor for the project, which had already purchased some materials and turned down other jobs, said the city would be getting a bill.

"I'm waiting for the final word on that if it is going be terminated," said Aaron Niewald, project manager for Dakotaland Sod. "I had a contract and a notice of award from the city so I was working on submittals and getting project materials. Some of it I couldn't stop, so there's still going to be some cost to the city."
First off, this isn't the Historic Board or the residents fault. They were contacted very late in the game, in fact so late, the city had already scheduled the work before the board made it's first decision last week. Secondly, work could still go ahead. There is a lot of other work to be done before even approaching the small area where the grade has to be made and entrance redesigned to save the pathway. By the time the contractor gets to that part in the project, the re-design could be redone. As mentioned in the meeting, it's not rocket science, it's building a grade and resetting a few stones. An experienced landscape designer could have knocked out a redesign last night.
But the bigger question is why is the city and contractor trying to blame the people who saved the pathway? The city employees are the ones that clearly screwed up this project by giving the green light to the contractor to order materials and start a timeline before bringing it to the Historic Board. Protocol wasn't followed, and if this is normal protocol, something needs to change in the parks department, and a few heads need to roll instead of using the media to point fingers.
"After years of work on this project, the city team is certainly disappointed and surprised by the outcome of yesterday's meeting. We will need to regroup, and more will be communicated in the weeks to come," she said.
That's what is often frustrating with city employees that are in charge of 'planning'. They claim they have been working on a project for years, but wait until the last minute to get permission from those most important to the project, the taxpayers. This is done quite often. The Midco Aquatic Center is a prime example, and so is the RR relocation project (that probably won't relocate any rail traffic). It's irritating when city employees, especially directors think citizens are 'getting in the way' of progress. I'm all for progress, but I am all for doing things right and transparently. Sometimes that takes a little longer. Besides, this is a 100 year old park, what was the hurry to begin with?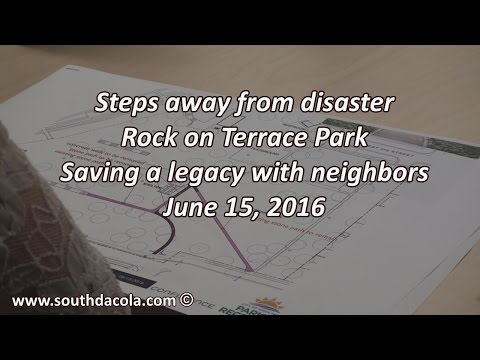 I attended the Historic Preservation Board meeting today (hope to have video up soon) in a very crowded conference room in the basement of city hall. Many citizens showed up to protest tearing out part of one of the historic quartzite paths. I basically testified that they needed to keep the entire path, because you don't tear down half of a historic building and build new onto the demolished half. I also pointed out the EC had over 2,000 change orders, change orders are common in construction projects, and this one should be no different. In fact besides the designer from Confluence who is designing the changes, no one in the meeting was for tearing out the paths. The board agreed;
"You guys gotta start over," said Tom Keller, one of seven board members who voted against the plan. "I want to make sure that it's done right, in the best way possible, and I'm (not) going to go ahead with this until I see something that doesn't harm that park a bit."

Dixie Hieb, chairwoman of the city's historic preservation board, said pushing the project around the park's 100th birthday seemed counter productive.

"It seems a little inconsistent to celebrate the history of the park by removing … a bunch of historic features," she said.
Of course now the Parks Department and city are threatening to pull the project for this year. Oh well. The park has been fine for 100 years, one more year of waiting won't hurt a bit, I'm just saying.
UPDATE: There will be a meeting addressing the changes at the old council chambers in City Hall downtown this Wednesday at 4 PM.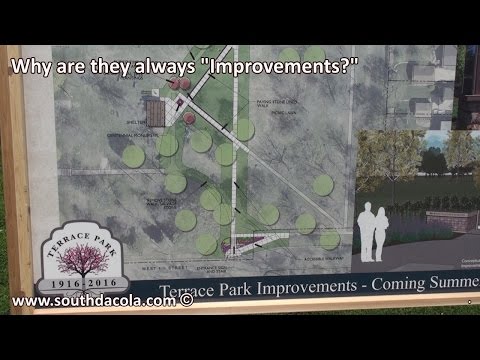 Published on Jun 13, 2016
There are several things wrong with the events leading up to the meeting at Sioux Falls' Terrace Park on Friday June 10, 2016. You will hear many of the complaints in the video but consider the plans and the outcome.
Destroying Spellerberg Park wasn't enough for this administration, now this.
The Sioux Falls Park Department is planning a major change to a historic city landmark, again. We understand updating to keep something safe but once again in the history is being forgotten or rewritten because it happened before the management took over.
Notice in the discussion how the neighbors found out about this update just hours before the destruction-construction equipment was to show up. An afterthought story in the Friday Argus Leader talking about how the Historic Preservation Board DENIED the changes. So what does the Parks Department do? Put weird pressure on the protesting neighbors until they walk away defeated.
Let's consider who was informed of the upcoming change, not the people who consider this their neighborhood park but just a small ring of "landowners" touching the park area. Instead of the Cathedral neighborhood, just 4 block landowners?
A Master Plan was drawn up by our friends at Confluence. Look at the straight line concrete path dissecting the park. It no longer is a meandering wander through the park but a let's get through there fast. Why do we have to go to a park and be in a hurry? What's the use?
Consider these paths have been treasured for 80 years. Why do we have to destroy them because a designer doesn't understand the history of the rock and our attachment to it. Why do we have to always destroy what we do not understand?
There are many things this park management could do to keep the integrity and charm of the park but these things will not be considered because Don Kearney and Mike Huether must think use of our natural stone is messy and icky.
Parks are for people and they should be safe but why must we make them sterile?
We find it fitting to be destroying this park just to have the best view of the T. Denny another monstrosity to out of control egos.
The motto of Sioux Falls Parks Department: WE MUST CONCRETE OVER EVERYTHING IN THE NAME OF PROGRESS!
Apparently the Parks Department wasn't too happy about the Historic Preservation peeps putting a kibosh on their cover everything historical with concrete plan. The Pharts Department claims that they need to become ADA compliant. Fine, build two smooth concrete sloping paths on either side of the amphitheater area and refurbish the current quartzite paths. If we can blow a couple hundred thousand on a cobble stone alley, we can fix the quartzite paths in Terrace Park without destroying them.
Want to make Terrace Park look better, tear out that stupid 12′ high ugly brown chain link fence that goes around the Japanese Gardens.
Would it be possible to initiate an Ordinance change to change the balance of board to district based as replacements are made? Wonder what the city council thinks. (Charter Doc on Parks Board:
park-board-charter
 )