Entries Tagged 'Downtown Sioux Falls' ↓
Over $20 million spent, and they can't even keep a fence from collapsing.
Guest Post Bruce Danielson
The recent story (Land ownership question hovers over $185 million Sioux Falls redevelopment plan) of Seney Island tripped a few issues long ago buried in the back of my mind. I have no dog in the show being presented in the Sioux Steel – Seney Island project, but I feel the history of the project needs to include a proper land title search being performed and then presented.
Also, the interesting bit of data in the article claims 160 acres being granted but the original 1859 clearly shows the town lot company survey had the planned layout and 1865 – 1869 maps show the Fort Sod fortification lines of the new settlement. From my research of many years ago, there would not have been a granting of homestead rights in the 1860's to land already committed to being a townsite.
The enclosed image of the original survey 1859 map of Sioux Falls, shows Seney Island and the village platting. These discrepancies have bugged me to the point where I matched the 1859 images over a current Google Earth image of Sioux Falls. Though not perfect, it does show the relationship of the Island and most of the Sioux Steel property being on Seney Island.
The 1881 drawing shows the relationship of Seney Island to the coffer dam rerouting the water for the mill.
For over 40 years I have heard from old-timers and read stories of how the west channel or oxbow of the Sioux River was used as the original community landfill until it closed it to navigation. The main channel of the Sioux had to be changed to allow for the dam to produce enough water for the mill and power plant.
The 1900 photo of the west channel shown in your story, was the result efforts to fill in the river channel. The old-timers I knew, used to tell stories of the smells coming from the rotting debris leeching to the surface until it was finally covered over. As the property is now being readied for a new purpose, opening up the land could bring back the environmental issues long ago covered up.
It passed 7-0 (Stehly absent). There of course were pie in the sky statements made, like how we are going to get huge property tax revenue from it – 20 YEARS FROM NOW! They also talked about how they could have asked for $50 million, but they didn't – how nice of them.
They also falsely stated their is NO cost to the city. Uh, yes there is. We are missing out on millions of tax revenue over the next 20 years, we are going to spend $10 million on the river greenway that fronts this development, which is beneficial to them. They also did not mention that it competes with our taxpayer funded convention center. But lastly, when big private developments get tax rebates like this, the rest of us have to supplement them. So YES their is a taxpayer expense here. You also have to remember here, in a world that constantly talks about 'Socialism' this is exactly what this is. A $21 million dollar tax rebate to a private business is 'Socialism' and developer welfare.
I still believe the Bunker Ramp was stopped from moving forward because of this TIF and development. I haven't been able to connect the dots yet, but it is highly suspicious that we stop the construction of a DT hotel then turn around and give this development a TIF. Things that make you go hmmmmm.
So now we have two parking ramps we don't need that were directly and indirectly funded by taxpayers. I knew the council would support this, and it proves what I have known for a very long time, there isn't one iota of fiscal responsibility when it comes to our city's elected official's decisions, it's just more of sticking it to the little guy. Thanks for nothing!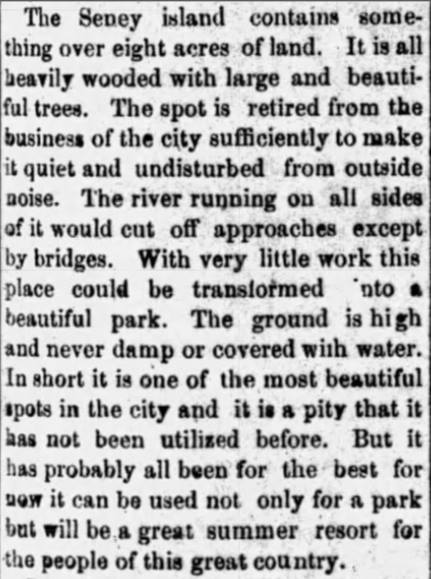 As we embark on this massive re-development of the Sioux Steel Property, let me take you back in time to when this chunk of property was like no other in this city.
Prior to 1930 – this land area was once a proud picnic area situated on the west bank of the Big Sioux River. Once known as "Seney Island" or Brookings Island prior, people used to walk along 4th Avenue, cross a little foot bridge, thuis crossing the West Channel that helped form the boundaries of the island. This was once a wooded area, with a two smaller islands off the northeastern side, a swimming beach on the southeastern side, while children once ran thru and played in the massive wooded area of Pine Trees, Elm's, and Cottonwoods, Evergreens, and Oak Trees.
During the 1930's, Sioux Steel, the St Paul and Omaha Railroad Companies purchased the land closing off the "West Channel" while turning the land into a massive Railroad Yard, Dumping Grounds, Steel & Lumber Yard, while on the northern portion of the property along Phillips you had Pitt's Steel a steel recycling center.
There is really no evidence let of the West Channel unless you know where to look and find the markers, all you need to do is find the boulders on the north end of the property, follow the water pipeline around the fence line, while 4th Street marks the apex of the West Side of the Island. This island was a "D Shaped" island.
This current development project may not be the greatest, it may not always be supported by those of us whom adore nature, but lets be honest here shall we, this is the perfect compliment to returning a piece of property back to the people. Gone is the West Channel, the Sand Beach, the Forest of Trees. That part of our history is lost in time, it exists only in our memories today. But – any project that attempts to the return the once proud property back to its glorious past, is a win in my park. Gone may be the beautiful island park, but in its place today we will have a wonderful Hotel, Retail, and Convention Complex, along with a beautiful river walk along the river. As I ponder this new found development, I wish to share a few pictures from our past, below – I provide you a few pictures that include a zoning map of the area, and an old news article of the island. In it – the dream by many was to establish a wonderful and beautiful City Park. Who knew, that nearly a century later, that dream would actually happen, just not in the way it was intended all those years ago. Instead of a nature resort as the article stated; we have a commercialized form of a resort. I present to you – Seney Island.
Sincerely, Mike Zitterich
(Sioux Falls)
Link to TIF presentation
I was disappointed to hear that this burger name was censored by DTSF;
Where did this deliciousness get its name from…. The original name was The Krusti Noem Burger. Sadly, DTSF (Downtown Sioux Falls) does not support our freedom of speech and they were not going to allow us to be part of Burger Battle 2020 if we didn't change the name. Not wanting any of you to be deprived of this mouthwatering burger we played nice and appropriately renamed it The Censored Burger [flyer posted by LoShi NayKali, Facebook, 2020.01.09].
I guess I would have been more clever and called it the Krusty Gnome, either way, it got me thinking about other burgers that could possibly be censored by DTSF (Please feel free to add to the list in the comments area)
10Haken Selfie Burger – So handsome and beautiful you'll want to take your picture with it.
The Mini-Ha-Ha Commissioner – This burger is only available at 9 AM on a Tuesday.
The McGoWOWan – marinated in whiskey, light beer and fantastic after a long drunken bike ride.
The Theresa – open face bun, almost transparent patty and made with bull meat. Tough and hard to swallow.
The ManSplainZert – You are required to eat with a fork and knife so you don't get your hands all dirty and germy. It also comes with a 4-page document from the creator explaining the burger.
The Downtowner – We are not sure what is on this burger since all of the ingredients have been censored.
The Dorfer – You can't actually physically eat this burger, you can only view a picture of it using a phone app, but it does come with a FREE bus pass to the casino (and a drink coupon).
The Ravonsburger – The only ingredients listed are 'Unconstitutional'.
The Stace – This burger is made with gun powder and angrily pounded patties.
The Mike Saburger – made with Egyptian beef and South Dakota soybeans.
The RS5 Burger – A patty the shape of the word 'YES' and pounded in darkness with a giant rubber stamp.
The Mickeyson – made with CAFO beef and only available at the SFSD cafeteria. It also comes with a yard sign, but you probably cannot afford it.
The Saudi Super Stack – Created by the SD GOP chair and made with Iowa kosher beef. You must also put down a retainer before they will cook it and only pay for it with cash.
The Powerful Pitty Patty – claims to be the best burger in the state, but kind of mysteriously tastes like fried cod.
The Ironic Johnny Thunburg – tastes like nothing and has NO dietary benefits, but the POTUS gives it a B+.
The Dusty Diner – This is the perfect burger to snack on if you are just sitting around all afternoon in a small town cafe shooting the breeze with retired farmers and bitching about Mexicans.
The Roundsburg – Made with processed beef from an EB-5 financed packing plant. Wait, didn't they all close? It also comes with a demonstration from Lora Hubbel on how to shoot a shotgun using a 3 foot branch.
The Maherburger – You'll have to quit eating it before your finished, it also costs $300 million dollars.
The Siouxie Steele – this burger comes with a rebate to be paid back to you over the next 20 years.
The McLoyd – this burger is paid for by a generous donation from the city of Sioux Falls.
The Denty – only available at the Events Center. It comes with a lopsided bun and a crooked patty that is forced down your throat by your server. This one also promises a rebate but you have to go to the SD Supreme Court to get it. It will probably win the burger battle, but only on an 'advisory' vote.
The Village River Bunker Stack – the most expensive and ugliest burger on the menu, but it's NOT available currently due to pending litigation on it's ingredients.
The Copper Burger – this one falls over on your plate before you can eat it and comes with a free LLC registration coupon.
The Big Pioux – marinated in the water of the Big Sioux River taken right below the packing plant. As a friend stated to me. 'I never thought E-Coli could taste so good?' Expect a porky, pesticide ammonia after taste to last for days.
The Levitt Liscious – the only totally FREE burger, but you have to buy a drink.
The Jazzy Festival – This burger will be discontinued next year.
The Arguliscious – only available online, occasionally, expensive and not very filling.
The Stormland Telly Burger – only good on a rainy day
The KSFDLTY Burger – includes ingredients from all the food trucks in Sioux Falls and some of Shawn Cable's hair gel.
The Brady Malliscious Pompaburger – Absolutely Fabulous Bitches!
The All of a Suddon Billie Burger – Just a half of ounce shy of a full pound of beef, but very Christian.
The DaCola – bitter and full of sh*t.
The My Man Mayor Bowlcut and Bucktooth burger – full of more sh*t than my burger, but so incredibly polished you can see your reflection in the patty.
We have heard the argument already, if we give the $21.5 million dollar TIF the property will have a tax worth of $1.6 million a year. But folks those tax payments don't occur until 20 years from now as Joe Sneve's story pointed out.
So if we give them the TIF, for the next 20 years they will be paying $56K a year. So in 20 years they will be paying a total of $1.12 million in taxes for a $185 million dollar facility. Hardly anything.
BUT, if we don't give them the TIF, the value of the project would be approximately $163.5 million (flat parking lot) with an annual tax bill that they must pay on day one of about $1.4 million a year with no rebate, a value of $28 million in collected taxes in 20 years.
Common sense would tell us that getting $28 million over the next 20 years in property taxes as opposed to $1.12 is a better deal for city coffers.
Also look at the economic impact argument. They said they would have to forgo the parking ramp if they don't get the TIF. How many jobs does a parking ramp provide? ZERO. Whether they build flat parking or a ramp, there really isn't a economic impact either way.
Not only could this project still be successful without the TIF, the property tax revenue is over 20X more if we forgo the TIF. On top of that, the owner and developer of this project could sell at the end of TIF and get all the benefits of the tax rebate without ever paying a 100% of the tax bill. It is a windfall for them, and little else.
Not sure who is doing the math at the Planning Department, but this TIF is anything but an economic impact. They will be voting on the first hurdle tonight at the 6 PM Planning meeting.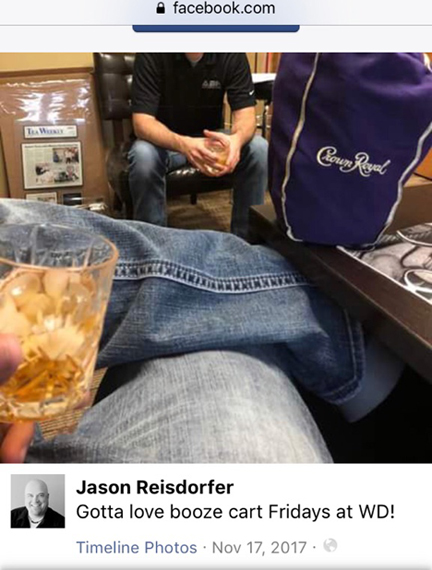 It seemed everywhere you looked in 2019 in Sioux Falls (and in South Dakota) there were quitters. Whether that was several restaurants closing or the proposed closure of the Sioux Falls Canaries Stadium and Arena, it was the year of the quitter.
Let's look at some of our local government quitters.
First, on a state level, Stace Nelson threw in the towel due to a combination of health issues and the corruption. Noem's staff has been quitting at a breakneck speed. You can tell why she is so proud of her relationship with Donald Trump because they are cut from the same cloth. Do and say stupid things and your staff quits. Go figure.
In Sioux Falls we had some communication issues. Mostly with Mayor TenHaken not figuring out how to communicate with the public or the media. His police chief also has that issue (unless he needs to implement a fee on non-profits for festivals). Speaking of that, apparently the city is no longer going to assist with these festivals for free. More quitters.
Mayor Paul has also quit plowing the streets as much and 'tried' to quit using city employees for storm cleanup (but perfectly okay to pay them to put up Christmas lights at Falls Park).
We also can't forget who has personally quit this year, with little rhyme or reason. Paula Hawks (Dem Chair), Aaron McGowan (State's Attorney), Jason Reisdorfer (Innovative Drinker), and Brian Maher (SFSD Super). Heck even Marty Jackley quit his private law practice (oh and he quit his marriage to);
On October 18, 2019, Marty and Angela were divorced citing irreconcilable differences.
This is why I am flagging 2019 as the year of the quitter. Now if we can just get our president to quit. Come on Donnie, you only have a couple more hours – do the right thing.
Dustin does a nice job of explaining the proposed TIF. While I disagree with 'editorilizing' the proposal, at least he does explain it in detail. I believe the TIF will pass 8-0. I don't think one single councilor has the appetite to vote against it. What I do hope though is they negotiate a better deal for the taxpayers. I would really like to see the parking ramp FREE 24/7 not just at nights and weekends (unless you are using a valet service from the hotel/convention center). I would also like to see a non-compete clause with the CVB when it comes to the kind of conventions they book there. We are really cutting the private developer a 'blank' check' worth well over $30 million (TIF + BID + River Greenway). I also struggle with the $25 million dollar yearly economic impact. Whether the place gets built or not, people still have other places to stay downtown, eat downtown and park downtown. That money is being spent already with or without this project. All they are saying is that money is being re-directed to their site from other competition that already exists in Sioux Falls and Downtown.

While I have no reason to argue with the data (maybe a little), what they left out of their presentation this afternoon at the informational meeting was that the supposed $25 million dollar a year economic impact doesn't come from the owners of the development, it comes from their customers, whether local or visitors. They also left out that a large amount of this 'economic impact' goes straight into their pockets. So really, what is the justification of the TIF and BID Tax rebates?
When you build a 'for profit' business in a capitalist society, you expect to make a profit. Why should you be also rewarded tax breaks? I would think a 'for profit' private business that is expecting to have a $25 million dollar impact a year, wouldn't need any handouts, breaks or rebates. I would think they would be smiling all the way to the bank and simply thanking the city for issuing the permits.
When I look at TIFs I always ask the same question, "What is the benefit to the public as a whole, you know, the ones who have to pay higher property taxes to supplement this TIF?" While I appreciate the study, the only thing it shows me is the money that it will be generating will mostly be helping them.
I would be willing to still give a BID and TIF to the development, but only for the benefit of the city. As I have suggested in the past, I think the city should gift them Kiwanis Park and grant them a TIF for the amount it would take to redevelop that part of the project and forgo the additional $10 million it is supposed to cost taxpayers to redevelop the river greenway, which really makes this a $32.6 million dollar tax break when you add it all together.
I think the city council should amend this TIF, make it a lot smaller and reduce the TIF time limit to 5 years.
After hearing the council tonight discuss the TIF, I have no doubt this will pass. And hey, if you want to support corporate welfare based on a study the developer produced (not the public) so be it, but at least ask for a study that shows the REAL benefit to the rest of us in this community who are paying 100% of their property taxes and always have. You know why they will never produce such a study? Because they won't like the results.
You also have to take into account, the study they did on economic impact is a 'prediction'. The study I have asked for is of our current TIFs and what benefit we are getting from them. This would give us REAL data to base their prediction on. Government should never base a 20 year, multi-million dollar tax break on 'predictions' of what could happen, but should base them on actual data that already exists. Will they have to courage to ask for it? Probably not.