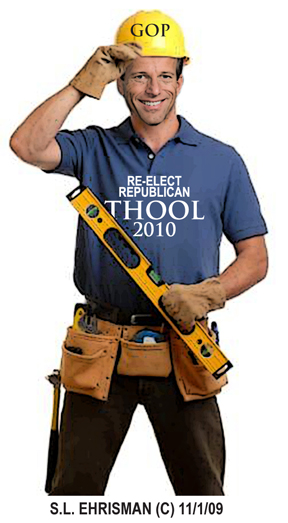 I'm amazed that our local media never picks up on this stuff;
Unimpressed by the timeline, Hewitt pressed Republicans to move faster. He compared the urgency of repeal to Congressional action in the aftermath of the 9/11 attacks and argued that people are already "dying" from the law. Thune seemed to agree with the sentiment:
HEWITT: Yeah, the reason I balk a little bit is only because I know people are out there dying under the burdens of this thing.

THUNE: Yeah.

HEWITT: And they expect, you know, the light speed for Congress is like molasses for the rest of the real world.

THUNE: Yeah.

HEWITT: And so it just seems to me that after 9/11, you guys moved fast, and I would hope it would happen again.
Like I have said in the past, I don't agree with everything in the healthcare bill, but it certainly isn't 'killing' people. That is the Republican's plan. Ironic Johnny is famous for calling the kettle black.
As Helga pointed out to me;
"Apparently people are dying right and left because of "Obamacare."  Even though it hasn't gone into effect yet, only portions have gone into effect, Thune says "yeah" people are dying. It appears, surprise, surprise, he doesn't give a shit about the people of South Dakota, the people who need healthcare the most. But why should he care, he has his healthcare."
I have often said that is the motto of rich powerful Republicans, 'F'ck U! I got mine!'