Entries Tagged 'Event Center' ↓
There have been complaints about ADA compliance, possible drugging by bartenders and even complaints about moldy buns for sandwiches being served. One wonders how many more things we have to hear about before we get solutions, or dispel these rumors;
Just like other employers in Sioux Falls, the PREMIER Center says they struggle to find enough part time staff to work these kinds of events and are always looking to hire more part time staff.
Are they using temp agencies? Is there anything wrong with using them to clean up garbage? Not at all, but they may also be using them for food and beverage preparation, security and other functions.
Let's face it, it doesn't take long to train someone how to put garbage in a bag or how to sweep a floor. But safe food and beverage preparation isn't a 2 minute course. It's time our city council starts asking some serious questions about the workforce our Events Center is using, and why they are NOT hiring more PERMANENT properly trained part-time help like the Washington Pavilion does.
After the stories and accusations I have heard over the past year, I will NOT eat or drink at any event that is being managed by SMG or OVATIONS, and several of my friends feel the same way, until I get an explanation from them about their training procedures and workforce development.
Well, I guess with the luck the Vikings have had, this shouldn't surprise us;
The $1.1 billion construction project to build the MinnestaVikings' new U.S. Bank Stadium may have hit its first major road bump. A $50 million dispute is brewing between Minneapolis-based contractor Mortenson, Dallas-based architect HKS and the Minnesota Sports Facilities Authority (MSFA), accordingRochelle Olson of the Star-Tribune.
So Mortenson screws up our siding. Then the siding contractor screws up the Corn Palace domes. Now this. I guess if you are an attorney with this company, you have job security.
This story proves why an audit of the events center is so important. I think the cost cutting on the siding job may have a little bit to do with what is going on at the Vikings Stadium.
Just like that, the siding will be fixed, just as soon as you catch me!
Is it time the SFPD comes clean on the Tuthill shooting incident?
Maybe it is time they tell us 'what' or 'if' anything happened that night.
As I have mentioned in the past, the chief of police, Doug Barthel has said that certain types of evidence wouldn't be released because he believed 'it wouldn't help solve the case.'
Guess what Doug, you haven't solved it yet, maybe it is time to release the evidence?
Let me start by saying that I think the SFPD has been very successful over this past year solving crimes. Drug busts, murders, prostitution and robberies, within a few days. Heck, they even caught a graffiti artist (and those guys are sneaky
Where I am going with this? Doesn't anyone think it is strange that the police department has been so successful solving many of these difficult crimes but they can't find the Tuthill mystery person who was shot at on the night of New Year's Day?
As I have said in the past, I do believe the officer saw 'something'. But what we don't know is 'what'. There was an internal investigation (The county sheriff's office and DCI did not investigate), NO audio was released to the public from his body audio recorder, a crime scene map has not been released to the public and a reward has been offered.
Ironically, this case is a lot like the Events Center siding issue, the public has only been given 'tidbits' but nothing concrete. Maybe the city could keep press conference costs down, they could tell us about the Tuthill cold case the same time they tell us what is going on with the siding.
Let's face it, the EC siding issue is an embarrassment to the administration and the Tuthill shooting incident is an embarrassment to the police department. They will go away, quietly in the night, no pun intended.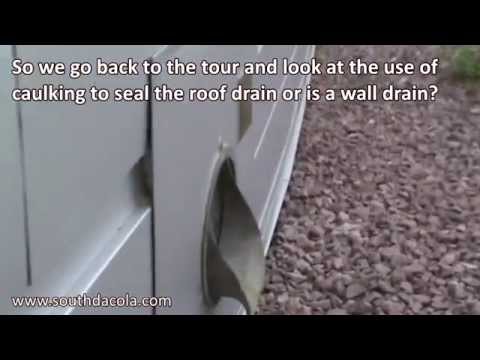 Note: This video was shot on July 3, 2015.
UPDATE: Since posting this video, some of us have been curious. Does a mediation agreement between the city and Mortenson have to gain city council approval (council must vote on and approve the final legal agreement). It will be interesting to see how this is handled.
We get to take you on our recent tour of the Denny Sanford Premier Events Center today. We've heard the rumors once again about how the city legal beagles are coming to an agreement on how the crappy siding can be ignored. Most people don't get a chance to look at building in an up close personal way based on many years of metal work experience. So we're here to help.
It's been four seasons of lies and hiding siding issues. We are now at the four season mark where the Mayor, Cotter, Fiddle Faddle and more promised to present an actual fix to the crappy siding on the Events Center.
Is the city planning a big announcement to tell us they plan to accept the bumpy, rusty siding that lets water into the wall cavity just because they can? When we have asked for answers, we've been lied to, jailed, kicked off the property and otherwise been treated wrong. What is the administration hiding in their siding decision?
How big will the press conference be announcing another special deal has been concluded? By the way, whatever happened to the mechanics lien filed against the Denny nonpayment of a bill?
The Events Center will be in the black.
Wait for it . . . . BAHAHAHAHAHAHA!
Oh, but let's just take their word for it;
As for the Denny Sanford PREMIER Center, Torkildson expects the facility to be in the black by the end of its first year.
Oh sure, you betcha! SMG will make money. Ovations will make money. The utility companies will make money. The promoters will make money. The operations will be covered.
The taxpayers, we get to make a mortgage payment.
While applaud all of these entities making money and the city getting the operations covered, the taxpayer of Sioux Falls is still stuck with the mortgage payment (and building maintenance) each year which is an almost $10 million dollar deficit to our CIP each year. Money that could be spent on roads, parks or a million other useful things in the community. So while we get to make the payments on the EC, all the contractors associated with the facility get to bask in the 'Black' while we get to swim in the 'RED'.
The mediation is almost at it's year anniversary in which the city has 12 months to figure out a solution with Mortensen on how to fix the siding.
All we have heard so far is crickets.
Over the month of July expect several posts as we plan to dig deeper into the actual problems associated with leaving the siding as is and just who is going to take it in the shorts if it gets repaired.
After reading the Stormland TV story about the supposed patron of the Events Center that got drugged by a temp employee bartender, Detroit Lewis started asking a few questions, but not about the incident itself.
I have been wondering where 'Ovations' (the contractor the city uses for the Events Center that is also used at the Pentagon and Canaries Stadium for concessions) get's their temp help AND what kind of training they receive, and if there is any liability of the city (the taxpayers) if one of these temps screw up.
So a couple of weeks ago I got tipped off of the temp agency being used by a very disgruntled temp. While I am NOT going to say who the temp agency is, let's just say it wouldn't be the first place you would think of when you are looking for people to prepare food and bartend. Let me be clear though, this agency places a lot of people for day labor on construction sites, etc., and that is wonderful. But when I found out they were being used for food service and hospitality, I got a little nervous, especially for someone who has worked in the industry on and off for 26 years.
My first issue was food safety and ADA training. According to the Ovations contract with the city training is provided;
Is everyone getting proper training? I hope city officials look into very closely.
The Washington Pavilion, with all it's faults, I will admit when I worked there in the Great Hall, all of us had to go through CPR & ADA training, amongst other programs. Even the Part-Time, Part-timers had to go through it, as well as the volunteers. It wasn't an option. I also never recall temps working there part-time (except for maybe show load ins for the stage shows).
One of the things we were promised at the Events Center was jobs. Not just construction and full-time jobs, but good part-time jobs. Now we are finding out instead of Ovations hiring permanent part-time help they seem to be just filling the cracks with temp workers anytime there is a big event (and hiding the tip jars).
To say I am surprised, well not really. But I am disappointed that yet again, we are receiving another broken promise about the Events Center due to the greed of a few.
The criminal part of this story aside, what I am concerned about is that Ovations is sub-contracting out bartending services;
Ovations Food Services General Manager Chad Stoner sent KELOLAND News a statement about the investigation. Ovations is the food and beverage vendor for the Denny Sanford PREMIER Center. Stoner writes the company is working with, "authorities as they investigate allegations" He adds the alleged suspect "was not an employee of Ovations," but hired by a third-party vendor to work that particular concert.
Questions:
1) What if someone gets ill or dies from the drugging that took place, who gets sued? The sub-contractor? Ovations? The city of Sioux Falls?
2) Are these 3rd party hospitality workers getting proper training on health, age verification, ADA compliance, etc.?
3) If the Events Center was supposed to create so many 'permanent' jobs (either part-time OR full-time) why are we sub-contracting work out to temps?
We should be very concerned we are opening the city up for civil lawsuits because Ovations is trying to operate the EC on the cheap.
As I have said 100 times, the EC was built to make a lot of people money, just not the citizens of SF, who get to foot the mortgage every year.