Entries Tagged 'Sioux Falls' ↓
The only time I wear a hat is when I'm chasing gophers on a golf course by my wife's house in Florida.
Rex Rolfing last night asked a Vietnam Marine Corp Veteran, William Mourer, to remove his MIA/POW memorial baseball cap before addressing the council during public input. The vet refused at first explaining the purpose of the hat was to memorialize veterans. Rex of course (who I believe IS NOT a veteran) brought up the death of his son while serving in Iraq (which I felt was in poor taste) in a way saying his son's sacrifice was greater than this veterans.
Very strange.
After a tit for tat, the veteran obliged, but he was NOT happy about it. When he was finished with his comments (another story about how the SFPD isn't really doing their job when it comes to detective work and investigating crime-BTW, where is the Tuthill Ghost?) he quickly put his hat back on and gave one of the dirtiest looks I have ever seen to Rex.
I was actually surprised the veteran didn't go up and, well, you know. Good thing the doggy fence is there for Rex's protection. I guess I would have responded to Rex, "Mr. Rolfing, if you want me to remove my hat, you are sure welcome to come down here and remove it yourself, otherwise, it is staying on my head."
Rex has asked me in the past to remove my hat, and I also obliged, he claims 'Decorum'. Well guess what – no such rule in Roberts Rules of Order exists, the closest thing is that the CHAIR (which in this case would be the mayor) can 'ask' someone to remove their hat if the hat is causing disorder and if they don't he can either tell them they cannot speak or not, which would be very bizarre considering NO rules are being broken and wearing a hat is hardly disorderly, especially one that memorializes veterans WORN by a veteran. If Rolfing would like someone to remove their hat, he has to get that permission from the chair. And like I said, there is still nothing stopping anyone from wearing a hat while addressing the council.
Here is a discussion about 'hat wearing' in a Roberts Rules of Order Forum;
I have read Robert Rules of order and the Board of Supervisors by-laws and I cannot find anywhere were it says you must remove your headgear in order to make a comment at the Board of Supervisors meeting.
So instead of just researching Roberts Rules, I also decided to delve into other aspects of when and where it is appropriate to wear a hat. Obviously, we are all not living in 1952 like Rex Rolfing, and etiquette has changed over the years.
Here are some 'standards' when it comes to wearing hats in public and military (or vets) wearing hats;
In Public Places: You may wear a hat indoors (yeh… even a baseball cap if you absolutely must) in public buildings, such as airports, public lobbies, and crowded public elevators.
As I view this, Carnegie Hall is a 'very' public place, and Roberts Rules aside, there is really nothing in etiquette saying you should remove your hat in a public place (except for invocation and pledge of alliegance).
People in Uniform: People in the military, Boy Scouts, police and people in other uniformed organizations keep their hats on during "full dress." Many other interesting regulations about hat wearing in the military exist, so hat etiquette is a required course in the military.
I haven't looked into this totally, but I can tell you that it is very common practice for veterans to wear hats during public events. Just have lunch at the VFW some day, you would be hard pressed to find someone NOT wearing either a uniform vet hat or memorial baseball cap.
So was councilor Rolfing wrong in asking this veteran to remove his hat? I think so. First, because nothing prohibits hat wearing in Roberts Rules, it is okay to wear hats in public places and last but not least this man was a veteran wearing a memorial hat, oh and then there is that pesky 1st Amendment.
Is an apology in order? I guess that is up to Rex, because I also couldn't find anything in Roberts Rules about elected officials apologizing to constituents after acting like a jackass.
Just got a report that I would like verified if anyone has information.
Apparently the VA lost main power yesterday for several hours and had to depend on backup generator power. True?
The power outage (if it happened) was due to either a planned or unplanned electrical work to the indoor pool. True?
Any deets would be nice.
I find it interesting that Mr. Cooper would be doing a media show in light of his recent testimony in the Walmart zoning hearings, in which Mr. Cooper is accused of doing some 'internal' zoning without the consent of 'others'. Be interesting to see if anyone asks him about the hearings.
A South DaCola Foot Soldier contacted me last night asking me to try to remember if a promise was made to us about the ice storm. He wondered if the city promised to replant some trees that were taken down due to the ice storm. I couldn't remember. I also couldn't remember how much FEMA money we received, but after checking some news stories, it looks like $4.9 million.
A city councilor contacted the city's forestry director, Duane Stahl, and he said besides the HelpLine and the Argus Leader teaming up to voluntarily replant trees, the city had no plan. So I guess the $4.9 million in FEMA money went to out of state contractors to cut down our trees but to not replace.
Well, the city council has had a brief stint of vacation for the last couple of weeks, they are jumping in full steam this next Tuesday. There should be a lot of fireworks during the public input of the council meeting. Lots of things to discuss. MMA fighting, a million bones for siding (that won't be fixed) and host of zoning issues.
Let's start with a little agenda item during the Fiscal Meeting;
Council Supplement to Finance Status Report by Dave Bixler, Budget Analyst
Looks like the council is going to be a little proactive when city hall wants to start digging in the cookie jar. I guess we will wait and see.
During the informational meeting, we get to hear about our new $10 million dollar parking ramp (that we really don't need);
Downtown Parking Ramp Update by Darrin Smith
Lets move to the always entertaining city council meeting;
Item #13, it seems someone feels they are paying too much in property taxes . . .
Items #14-15, my favorite hispanic restaurant is opening a second location! Woot! Woot!
Item #29, the administration's proposed pool rate structure officially gets killed. I have heard that the council's proposed rate structure is going to be VERY different.
Item #30, Billion Auto gets 'conditions'
Item #35, Get your fight on!
Item #36, SFPD Appropriations for WHAT!?
Item #37, apparently we don't get a PDF document ahead of time about UBER.
Item #38, Sculpture Walk and city tax dollars get in bed with the Pavilion, again. Love the Dutch Boy paint logo, BTW.
Item #39, a curious 'resolution'
Item #40. Huh?
Item #41, another annexation? On the new Veteran's Parkway.
Item #42, a construction manager at risk for a private development and parking ramp? Do I smell a fart?
Item #43, say please and thank you, Delmont.
Item #44, more favors and glad handing.
So there you have it, another fun filled night at Carnegie. Hopefully there will be lots of bathroom breaks and the mayor won't be 'under the weather' so he can attend. Better get Netflix cued up.
I usually don't blog about crimes on my blog, I have said before I believe everyone deserves their day in court and until the verdict drops, people deserve due process. Mason Buhl deserves this. But there are some interesting side stories here that the local media isn't digging into. Obviously, the first question the media needs to be asking, how and why did a 16 year old have a handgun, and what were his parents role in this. His father said this to AP;
Buhl's father told The Associated Press on Wednesday that he doesn't know what led his son to the shooting. He said his ex-wife, with whom his son lives, called to tell him that their son had been arrested following the shooting. He said his son's been quiet over the past year.

"Something's just going on inside of him and he's just mad at everybody, I think," Rodney Buhl said. "I don't know what would've made him do something like this."

He didn't say where his son got the handgun, but said that he and his son would regularly target shoot outside and that his son had taken gun safety courses. Wollman would not say where the student got the gun.
While I think it is perfectly fine to go hunting with your father, under supervision, or practice shooting, the bigger question is was Mason allowed to keep a handgun without the supervision of his parents. I think this will come up in court. There is absolutely NO REASON a parent should allow their teenage children to own a handgun and have access to it on their own.
I also see another story here, the irony of a peace rally in Sioux Falls just a few days ago;
Lauren Townsend was one of 12 students killed in the columbine massacre 16 years ago.

Since her passing, her mother, Dawn Anna, has traveled across the country speaking at events about keeping children safe from guns.

"I seriously thought that Columbine was going to be it. It had to be it. There were 13 murdered in columbine – 12 students and a teacher. The world was brought to its knees," says Anna.

She believed that a senseless act of violence like that would bring about some bigger changes – and put gun violence further in the spotlight.

"If this isn't going to promote discussion, what is?"
Who would have imagined just 4 days later this would happen in Harrisburg? I have to be truthful with you, I wasn't shocked or surprised when I heard the news, but grateful no one got seriously hurt or killed.
Until we address how easily it is for people to obtain guns in this country, this story will continue to play out in every nook and cranny of our country. Let's face it, easy access to guns isn't making us more safe, and if you believe that, you truly are an ignorant human being.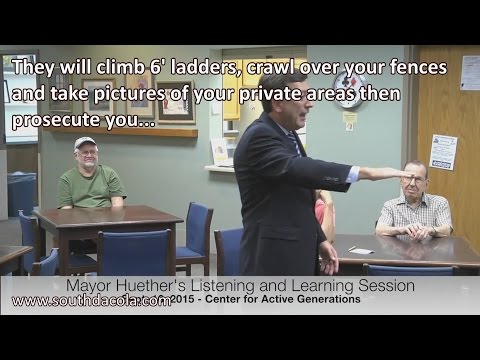 Da Mayor wants us to be snitches for his code enforcement officers. He is at Active Generations again to recruit the neighborhood snitches they need to build up the fees to pay for the new officers. The Sioux Falls administrative fine system is broken and needs a major overhaul. Our mayor wants to make it more punitive and mold Sioux Falls into his plastic over extended credit card image. Haven't we seen enough of this by now?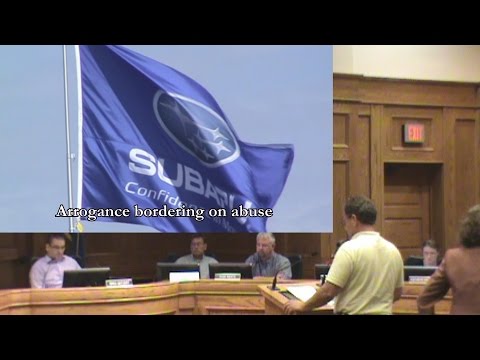 We found another Sioux Falls Zoning Board of Adjustment (BOA) meeting on Monday September 28, 2015. Cameraman Bruce was there to capture the process the board goes through to determine if property variances should be granted.
Property variances are granted if extenuating circumstances exist to make the property more usable without hurting the neighbors or neighborhood.
We witness what a broken water main can do to a business owner. A homeowner with a garage-less monster truck trying to get forgiveness, variance and building because much of the work is already done. Then we have a business owner trying to get by without following the Shape Places code rules by planting a flag with a few Subaru Foresters. What were they thinking? See if they can grow?
With as many people already questioning Shape Places and the way it has screwed up, it does have some good features. One thing we have learned, neighborhoods must be ready to fight for their rights or forever lose them.
What would think if your neighbor planted a flag and a few cars in their yard like Columbus in 1492, would you see the natives revolt? We saw a revolt caused by uncaring arrogance bordering on abuse, pushed back. It felt good.
This my voice will print in the Argus Leader tomorrow;
We are asking for a full audit of the Denny Sanford Premier Events Center — including the original contracts with the builder, their subcontractors, operation audits, financing, change orders and especially, the top secret settlement agreement just announced. Why have settlement agreements if nothing needs to be fixed?