Entries Tagged 'ALEC' ↓
September 29th, 2014 — ALEC
February 6th, 2014 — ALEC, Sioux Falls
Seems Dan Kirby has some friends in high places;
There's one main rule at the conservative donor conclaves held twice a year by Charles and David Koch at luxury resorts: What happens there stays there.

The billionaire industrialists and their political operatives strive to ensure the anonymity of the wealthy conservatives who fund their sprawling political operation—which funneled more than $400 million into the 2012 elections—and to keep their plans private.
Oops! Who lost that list?!
Dan Kirby: He's president of Sioux Falls, South Dakota-based Kirby Financial.
Glad to see him funneling all that hard earned SD money to these yahoos.
January 13th, 2014 — ALEC, Drugs, Meth, State Legislature
Hey, sounds great, right? Anything to curb people from making meth is a good thing right?
Methamphetamine. South Dakota is experiencing a significant increase in the number of meth lab incidences as well as meth arrests.

"As Attorney General, I do not support requiring a doctor's prescription for basic cold medicine.  The more reasonable approach is to utilize electronic record keeping of information already being provided in order to address inappropriate use of cold medicine for methamphetamine manufacturing," said Attorney General Jackley.  Cold medicines containing Pseudoephedrine are often utilized in the manufacturing of
methamphetamine.  South Dakota law currently provides for a written record keeping system for the
sale of Pseudoephedrine products that cannot be efficiently checked by either retailers or law enforcement.  The proposed legislation addresses the problem through electronic record keeping and further allows for a waiver if a retailer does not have these electronic capabilities.  There will be no additional cost to the retailers, consumers or taxpayers for the electronic record keeping system being funded by the industry.
Interesting stuff, especially when you connect the dots.
What are the key components of adding up these dots? Let's see, they want to implement electronic record keeping, retailers will have access to the information and lastly it will all be paid for by the 'industry'.
What industry you ask? Big Pharma. See, this legislation is model legislation through ALEC. Who gives ALEC and ALEC members (state legislators) lots of campaign donations? Big Pharma. Who has received a lot of big Pharma money in the past? AG Jackboots. Can you imagine the usefulness of this kind of information to Big Pharma? Being able to track the sales of their over the counter drugs (being sold mostly to innocent consumers not interested in making meth) right down to the actual person purchasing the product, all the while requiring retailers to train their employees to do this extra work, ultimately costing them more in labor costs.
Once again, ALEC is well on it's way to hoodwink our State Legislators and voters on this legislation.
GP will be posting an extended/closer look at this issue in the near future.
July 29th, 2013 — ALEC, Secretary of State
I wonder if Gant can serve either position if he is not re-elected?
KELO – South Dakota Secretary of State Jason Gant has been named treasurer to The National Association of Secretaries of State.

As treasurer of NASS, Gant will be a member of the executive committee and serve as President of the organization in 2015.

The organization is the oldest nonpartisan organization of public officials in the United States. The association focuses on elections and voting, state business services and digital archiving, and international relations and state securities regulation.
That last paragraph should worry us the most. Remember, Gant is a prestigious member of ALEC, and part of ALEC's agenda is voter suppression. As treasurer and then possibly chair, he will have the opportunity to spread the ALEC agenda nationally.
Hopefully State Republicans, who are sick of Jason's bungling, will put up other candidates. I know of at least three now that are considering a run against Jason in the convention. Will Jason use these positions to convince convention delegates that they can't replace him?
I actually think these appointments will hurt him. Jason will be pulled away from his duties as our SOS performing his national duties (propaganda). That guy has trouble running his own office, let alone handling a national piggy bank. As a high ranking State government employee told me recently,
 "There's always some kind of problem or mess going on in that office. I just try to avoid hearing about it as much as possible."
Besides the fact that Jason has no ethics, is an ALEC defender and will pretty much take money from the devil to help state candidates, he does a crappy job as a SOS. He had to hire Sue Roust to bail his ass out, and she didn't come cheap, after him and Whopper Jr. got caught playing internet games. Unfortunately, AG Jackboots investigated them for something he knew they would be innocent of, stealing (financially) from the state. Everyone knows the only thing Jason is good at stealing is our voter freedoms. But who cares about ethics in Pierre?
April 23rd, 2013 — ALEC, State Funding, State Legislature
The Republican-controlled legislature hiked its own budget $5,000 per lawmaker last session, and today (Tuesday) they started spending the money by voting themselves more out-of-state travel, including trips to the controversial ALEC conventions where conservative lawmakers mingle with corporate special interests.
Democrats tried to strike the $5,000/legislator funding for the trips on the final day of the legislative session, and they tried again today (Tuesday) when the legislature's executive committee expanded the travel policy.
"When we can't afford to fund our schools or cover other basics of government, we can hardly afford to turn legislators into frequent fliers," said Senator Larry Lucas of Mission, who opposed the measure as a member of the executive board.
Lucas said he and other legislators were blind-sided by the proposal to include ALEC.
"That's unconscionable, especially this year when we pushed school costs onto property taxpayers. The priorities of our Republican colleagues are hard for me to fathom today."
Rep. Bernie Hunhoff said the spending priorities of the GOP-dominated legislature are hurting South Dakotans.
"On the last day, the legislature couldn't even find $25,000 to help fund a van for disabled veterans. We couldn't find support for scholarship programs or prenatal care to the very poorest young mothers in South Dakota — let alone provide adequate school support. And yet we have the money to fly ourselves all over the country? This is not a proud day for the South Dakota legislature."
Hunhoff said the 2013 session was remarkable in its lack of partisanship, and substantive reforms were enacted.
"I'm still hopeful we can continue that spirit into 2014, but today's vote and the way it was conducted is not particularly helpful in that regard."
Sen. Jason Frerichs, the Democrats' senate leader, said spending state tax dollars on ALEC dues and trips is shocking.
"This is an organization that has raised more than $20 million over the last several years from the biggest corporate special interest groups in the world. They take great pride in promoting legislation that benefits the coffers of these large corporations, often at the expense of the average American taxpayer."
Frerichs and Hunhoff said they intend to demand that no dues monies be paid for Democratic legislators.
"We won't attend the ALEC conferences and we do not want a dime of the taxpayer's money to be used for this biased, extremist lobbying organization."
They said they'll also try to correct the executive board's decision in the 2014 legislative session.
Detroit's NOTE's; It amazes me the very organization that is meant to screw over the middle-class, is getting funded by us, thru taxpayer funds, to bend us over the barrel. I will do my best to get photos and deets on the legislators who attended this convention, on our dime.
November 4th, 2012 — ALEC, South Dakotans, State Legislature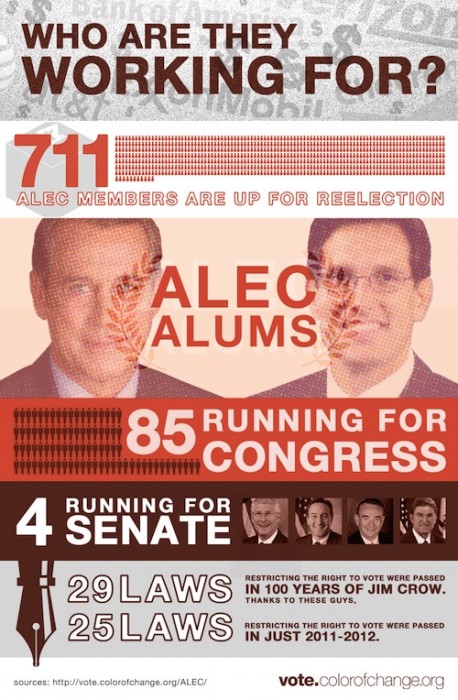 Here is a list of SD Legislators that need to go!
U.S. Rep. Kristi Noem (R-at large)
—
Rep. Kristin Conzet (R-32)
Rep. Justin Cronin (R-23)
Rep. Bob Deelstra (R-9)
Rep. Brian Gosch (R-32)
Rep. Jon Hansen (R-25)
Rep. Charles Hoffman (R-23)
Rep. Stacey Nelson (R-19)
Rep. David Novstrup (R-3)
Rep. Betty Olson (R-28B)
Rep. Fred Romkema (R-31)
Rep. Jacqueline Sly (R-33)
Rep. Roger Solum (R-5)
Rep. Manny Steele (R-12)
Rep. Hal Wick (R-12)
Rep. Mark Willadsen (R-11)
—
Sen. Corey Brown (R-23)
Sen. Al Novstrup (R-3)
Sen. Deb Peters (R-9)
Sen. Tim Rave (R-25)
Sen. Todd Schlekeway (R-11)
—
Rep. Phil Jensen (currently R-33) is running for state senate seat 33
October 28th, 2012 — ALEC, South Dakotans, State Legislature
Oh the joys of SOS Gant's elections website during the finance filing season. We still maintain this website is an example of how not to setup a public access 'open' data records system.  It takes a bit of effort to get to this list.  When your query is exported out, the data is almost unusable to the regular person trying to gain an understanding.  Here is a preliminary estimation of which SD State Senator is either owned or being 'rented' by ALEC this year.
We all remember the PAC setup up by our esteemed SOS Jason "BK" Gant to sway past elections for ALEC, Republican Senate Campaign Committee (RSCC). This year BK transferred the committee to Senators Russell Olson and Corey Brown to run.   Why is this important to us?  If elected, the listed 19 candidates plus the 2 Senator officers are going to force ALEC model legislation on our citizens.  There is no If, And, or But: the 21 senators will have to vote for any John Birch Society based measure sent to them by the Koch Brothers, Altira, Pfizer, Eli Lilly and any number of other anti-citizen financers.  This is the way the GOP runs to keep the money flowing to them.   Pay particular attention to who is not on the list and add your comments.  Note Dan Lederman is not on the list, his Rushmore PAC is also an extension of ALEC through the donations received and given to members of the following list.
According to SOS Gant's website, just for this general election, $72,000 is being invested.  This does not include the additional $2,500.00 invested for the June primary.  Where do you think the poorly written and executed Ballot measures came from?  These anti-citizen ALEC model legislation sessions our state government paid members to attend to learn how to screw us.
Of this $72,000.00 investment, the national ALEC organization through their subsidiary Republican State Leadership Committee (RSLC) directly sent $15,000.00.  We now have Mike Rounds and Todd Schlekeway using their campaign funds to team up and assist this ALEC organization.  Very brazen, very bad we now have our former governor showing how shallow he is by teaming up with the rest at the feeding trough of corrupt money.
Cory Madville also covered this today, but missed a few things.
September 29th, 2012 — ALEC
September 9th, 2012 — ALEC, Kristie Fiegen PUC
This is an interesting turn. As we work on the our ALEC funded SOS Mr. Gant, we keep turning more corners in our journey.  Now we find out how needy Ms. Fiegen has been for attention from all the wrong people and companies. As we have been digging we wondered why and then how Ms. Fiegen was receiving money from the out of state Koch Brother allies and then this showed up in our mailbox.
You see, Kristi Fiegen has been running for one office or another for several years now with a curious string of money, legislative and PUC decisions trailing behind her. Why would a keeper of the public trust, with a position to hold the utility companies feet to the 'fire', cave into every big utility companies at every turn. All you farmers, do you know what will be happening to your local REA once ALEC controlled Chris Nelson and Kristi Fiegen have their full terms? Kristi has been going to training ALEC sessions paid for by the State of South Dakota.
We find Ms. Fiegen begged the 1999 Republican led Legislative Interim Executive Board for some special funding.  According to Item #6: "The Board reviewed a letter from Representative Kristie Fiegen, state chair of ALEC, requesting that registration fees and up to $250 of travel expense be authorized for ten legislators to attend the 1999 ALEC convention." This is $2,500 plus registration fees to learn how to 'legally' rip-off the people of South Dakota.
You see, ALEC is an organization operated by the billionaire Koch Brothers for the benefit of their friends. These brothers are the sons of one of the founding financiers of the John Birch Society, an organization known for advocating some very non-Christian, anti-South Dakota, anti-family farmer, small business positions.
Kristi Fiegen was asking, in her position as the South Dakota ALEC Leader, to have the State of South Dakota pay the trip expenses and registration fees for a select group of legislators to the next training sessions. These training sessions teach "our" representatives how to rape and pillage the treasury, resources and people of the State of South Dakota in creative ways.  As a side benefit, these representatives get to learn how to be good ALEC members in order to receive money in the form of campaign contributions. If the ALEC members are really nice to the out of state money changers, money will come their way.  This will give them the ability to run for bigger and better offices. Governmental offices like SOS, PUC, judgeships, legislative leadership, Attorney General, Congress and more become available if the game is played right. If you are ambitious with low standards, ethics or morals, sign up to be an ALEC member and rip-off your neighbors.
When you look at the finance records of your GOP legislators and consider this question, "What part of their souls did they have to sell to get the out of state money contributions?"
Kristie has also been busy with some other 'projects'
Cosponsored legislation to eliminate the one-year ban on lobbying by former state employees:
Voted to raise gas taxes in 1997: