Entries Tagged 'State Legislature' ↓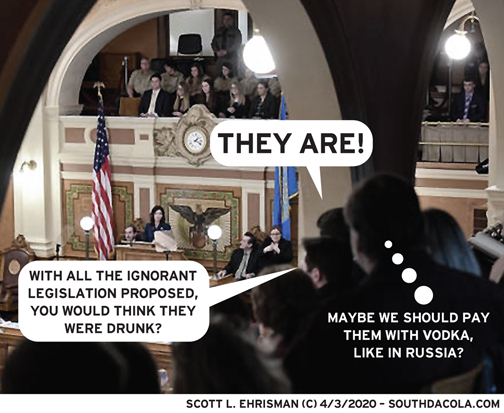 The legislature is leaning towards a bill that will set the municipal elections in June during the scheduled primary election. It also looks that absentee voting would start on March 30th and be available for the next two months.
I look at this a couple of ways, I think it would have been virtually impossible to hold the election in a couple of weeks. I also think that two months of absentee voting is good, and safer. But I also think that many people are not thinking about a city election right now, and hopefully this clears by the end of May so there can be a little concentration on the election and the candidates.
Also, I have been thwarted by several folks over the past few days that the city council doesn't have the legal authority to change the election date. I believe they do, and I think it is as simple as practicing their right to change city ordinance under the Home Rule Charter. I also look at this as something the courts could weigh in on. How could the city possibly hold a public city election at the height of a dangerous pandemic with NO poll workers? Well, Sherlock they couldn't, and I think a judge would agree that gives them the legal authority to change ordinance on the fly. Remember, law isn't what is written on paper, it is what the courts and judges decide, it is all fluid. And if a governmental body is unable to hold an election, that body has the legal right to remedy the situation, and I don't think there is a judge in the land that would side on endangering the public because the legislature said a city MUST have an election on a certain date come Hell or highwater. Maybe what we are really saying is if the election can't be held on April 14th, there is no election, and candidates Neitzert, Mickelson and Stehly get to remain in their seats automatically for the next term? I have a feeling the same arguing against me would argue against that scenario also. Funny how that works.
The SD State Legislature decided to meet electronically for veto day, which is a good. It is also more proof that the municipal and school board elections across the state should be postponed, or at least give communities the option to decide. That is what Minnehaha County Auditor said during yesterday's County Commission meeting. Basically if the Legislature makes a decision on the election, they would pass a bill that would allow communities to decide for themselves if they wanted to hold the election on April 14th, which I think is a great idea. There are roughly 70 communities that are planning a April 14th election across the state. Litz basically said in smaller, less populated cities, they would probably be okay with holding an election, but bigger cities like Sioux Falls may have issues with it. Bob also said that he could easily combine the city/school election ballot with a 2-sided primary ballot.
I'm still on the fence about it. I think we need to see where we are at with the Corona Virus in couple of weeks before we decide. We also don't know what it will be like in June. I think if communities are given the option to decide for themselves, they should do it on April 6th.
While our Mayor, Health Director and City Attorney continue to tell us they don't have the legal authority to close businesses (even though it is clearly spelled out in our charter that they can close businesses based on threats to public health) there seems to be another strange conspiracy brewing.
It seems the governor is pointing fingers at the SOS and they both are pointing fingers at the legislature while the legislature is pointing fingers back at them while our city clerk is trying to scrounge up boy scouts to run the polls.
I have argued all along, if we can't find poll workers to work the April election, we can't have an election. Who cares about state law?
But there's a funny rumor being spread around by Republican lawmakers; they fear moving the municipal elections to the June primaries would give advantages to Democrats running for office.
Huh?!
First off, most, if not all municipal elections and school board elections are non-partisan. What Democrats would have an advantage? I also think Biden will already be the nominee before June, so there really wouldn't be a reason for Dems to show up in June accept for a handful of Democratic primaries. If anything, I think Dems would have a bigger advantage voting in April. But either way, I have heard some pretty goofy things from the majority party in SD, but this one takes the cake.
Do the right thing, postpone the elections until June. You will have a higher voter turnout, save taxpayers money, and most importantly keep people safe while voting. Why does everything have to be political with Republicans in our state? This is about public safety and not politics.
Pat passed away this week of natural causes. I have known Pat over the past few years meeting him at the 'Anti-Forum' Friday lunches at the former Lil Colinga. Pat had a big heart and would help anyone. One of his pastimes was delivering absentee ballots to shut-ins and the elderly who couldn't get out to vote in person. From Pat's WIKI page;
At the Legislative Coffee today, Representative Barthel (Former SF Police Chief) said this;
"In spite of what you hear on the news about a lot of the controversial bills, and things that are introduced, frankly a lot that stuff never even makes it the Governor's desk. But a key part of that is because of the feed back that we get from the constituents and people we work for that's how a lot of that stuff dies. And sometimes without that input we may not know what the feelings are of the people of the state."
First off, maybe you would know what people actually want you to do if you hold some coffees, forums and townhalls BEFORE session instead of in the middle of session. Of maybe knocking on doors and talking to constituents face to face in the off season when the weather is nice.
While it is nice to know that Doug actually listens to constituents, these bills should never be written to begin with, and if they are, the LRC should be rejecting them based on the unconstitutional nature of them. Isn't that their job? To 'research' the viability of these bills? To make sure they are 'legal'?
Secondly to Barthel's comment, everyday people have to take time out of their busy lives to drive to the barren wasteland of Pierre and testify against these ridiculous bills in committee hearings, wasting valuable time, energy and personal capital. If the legislature and LRC were doing their jobs, these bills wouldn't see the light of day. So yes Doug, we do criticize the legislature for these moronic proposals, even if some of them are killed.
UPDATE II: I went and talked to the equalization department today. After reviewing the increase, they explained to me that 90% of the increase is land value, in which is formulated different now. We also calculated that my taxes will probably go up $250 dollars next year, which is NOT $2 a month, just for the record.
UPDATE: I decided to go back and look at the records I could find
From 2008-2009 the value of my home went up 1.8%
From 2009-2012 the value of my home went up 0%
From 2012-2016 the value of my home went up 10% (aprox 2.5% per year)
From 2016-2017 the value of my home went up 1.8%
From 2017-2018 the value of my home went up 1.8%
From 2018-2019 the value of my home went up 2.3%
From 2019-2020 the value of my home went up 21.9%
As I predicted and warned people, the school bond, the new county jail and the multiple TIFs we hand out are going to catch up with us. The $2 a month boloney they pitched us was a farce, because I knew they were going to make hay with the assessments. And sure enough they did.
My increased assessments year after year have been steady, but reasonable. I have owned my home for 17+ years and my property taxes have doubled in that time.
I have done little upgrades to my home, except replacing windows, doors, adding new rain gutters a privacy fence and re-shingling after storm damage. I have done NO upgrades to the interior of my house.
So imagine my surprise when I got this in the mail yesterday;
Well, I was NOT surprised, I saw this coming like a freight train. We can't keep borrowing money in Sioux Falls and not have a way to pay those bonds, so they bleed it out of us through back door tricks like assessments. Can I afford a 21.9% increase in my assessed value? I suppose, but it also means a lot less money in my pocket.
It was interesting listening to the State Legislators talk yesterday at the legislative coffee about state funding of education. Two Republicans made great points;
• The state gives the districts money and the districts decide how that money is spent (salaries, etc.).
• Administrator pay in SD ranks at 15th while teacher pay is at 49th. I haven't checked that stat, but I know at one time in was around 22nd. There is a obvious disparity.
• Low voter turnout at school elections. The past school bond and school board elections both had around a 4% turnout. Basically the legislator was saying, if you want to have a say on how your local district is being funded, maybe you should show up and vote in these elections. AMEN Brother! But I also have to add their is voter suppression when you use super precincts, no precincts in the northern part of our city and have district finance department employees 'hand count' votes, while the business director puts those counts into the system without oversight.
Who knew that owning a house that was built in 1889 could increase in value by almost 22% in one year? Not bad for a home that is 131 years old. What a joke.
FF this video to 30:00
After watching this presentation on school funding, I came away even more confused. The comparison to funding on what is spent per student, and showing the average salaries of teachers while avoiding what we pay administrators actually muddies the waters even more. I'm not sure who is showing us the actual numbers – maybe both are wrong.
Maybe some of my readers can make sense of it, because it was all Greek to me.
In a quick search today I found that school principal pay in South Dakota ranks 25th in the nation. Administrators as a whole we rank around 39th (this is support and office staff). They danced around these numbers in the above presentation. I'm not sure why it is so difficult to just show what the SFSD is paying administrators, compare it to statewide statistics and national statistics. It's similar to when I have tried to find the total SFSD debt. I ran in circles for about an hour and eventually gave up.
On a more positive note, this bill is currently going through the state legislature;
House Bill 1177 moves to the House floor of the South Dakota Legislature today.  

The bill would move school board elections to the November general election ballot.
Finally some common sense in Pierre. I fully support this, and I think municipal elections should also be held at the same time. The biggest beef I have had with school elections is that they seem to be organized around voter suppression. Often held by themselves with questionable super precinct locations and hand counted by district employees. I hope this bill passes.
While funding of education, my ever rising property taxes, the disparity in teacher pay to administrator pay and voter suppression are concerns I have, my biggest concern when it comes to the SFSD is the lack of openness and transparency, it is the core rot that leads to my mistrust of the district.
Somethings just make you shake your friggin' head;
Yet on the same day that the Senate State Affairs Committee votes 6–3 to force open South Dakota counties for more CAFO business, the House State Affairs Committee votes 9–4 to kill an opportunity to open South Dakota for far more diverse business.
As you read the story, you will see that North Dakota is kicking our butts almost 2 to 1 in non-oil exports. Why? Because they have an office in state government that promotes direct business with international clients (since 2004), and here is the other kicker, it isn't funded by taxpayers.
This was certainly killed because of partisan politics. Saba, a Democrat, has already been successful bringing one of many trade delegations. Shouldn't our state government be supporting his efforts? The stupidity in Pierre is so immense they should rename the town to Ft. Putz.
I voted on this survey Friday afternoon on Dakotanewsnow.com and took this screenshot. I knew the 'NO' percentage would be high, but I about fell out of my chair. 92% -WOW! Obviously this is unscientific and not sure how many votes were cast, but still astonishing. The problem is people continue to vote for the 'R' instead of the candidate. I tell people, research your candidates. We keep electing the same clowns and wonder why surveys end up like this.