Entries Tagged 'Democrats' ↓
I think Kooper was channeling JC Crawford
Pete was the headliner at McGovern Day dinner. We were fortunate to interview his before the dinner.
What an amazing afternoon and night. Bruce and I had the honor to be granted press passes for the event. And besides KSFY showing up for a 5 minute interview with Mayor Buttigieg and Dana Ferguson from the Argus covering it old school style, SouthDaCola got extended interviews and videos from the event. We will be posting soon speeches from dinner (Loetscher redeems herself) and the noon luncheon. We also got exclusive interviews with Mayor Pete, Tim Bjorkman, Billie Sutton and Cory Heidelberger. Stay tuned!
I also gotta give a shout out to my West River Bud, Joe Lowe for giving me his best Donald Trump impersonations. God I love that guy. Joe, not Donald.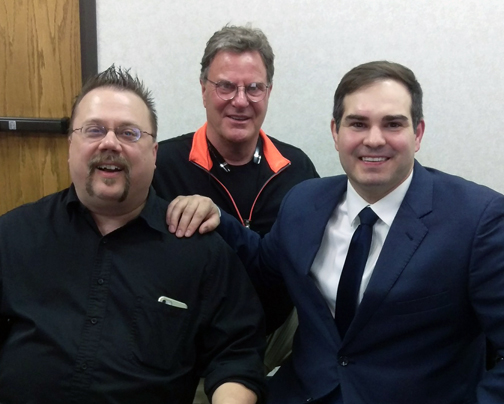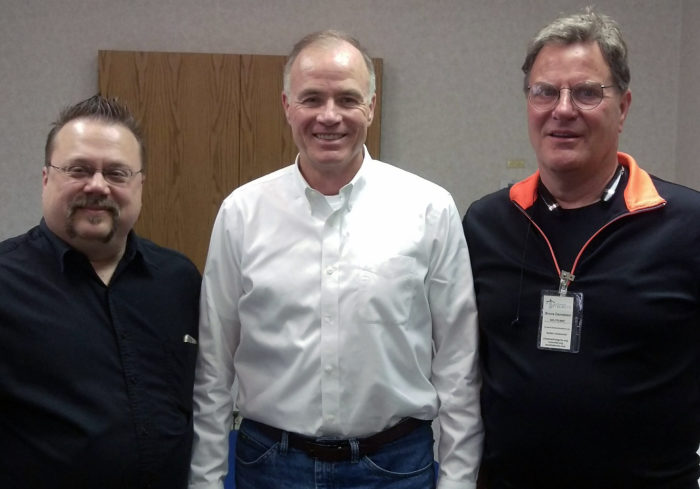 Nothing like posing with the future president of the United States 🙂
From Drinking Liberally . . .
In South Dakota: The South Dakota Democratic Party (SDDP) holds its annual McGovern Day celebration in Sioux Falls on April 28th. Lately, they have been congratulating themselves for fielding candidates for all 105 State Senate and House seats this year. This is the first time either party has fielded a complete candidate slate in anyone's memory. They are rightly proud of their recruiting success and they hope it will lead to greater electoral success. After all, they argue, with Trump as the face of the Republican Party, it should be a good year for Democrats. At least they hope so.
Unfortunately and objectively, the South Dakota Secretary of State's latest voter registration numbers do not support this Democratic optimism. Once again in March, as it has in almost every month since Ann Tornberg became SDDP Chair in December, 2014, the Republicans increased their voter registration advantage over Democrats, gaining 608 new registrants against a Democratic registration decline of 628 voters. Independent and other party registration rose by 459 voters in March. In South Dakota's 35 legislative districts Republican candidates now enjoy an average registration advantage over their Democratic opponents of 2526 voters. I wish all Democratic candidates well but an electoral advantage this large is difficult to overcome.
For the record: Since Ann Tornberg became SDDP Chair in December, 2014, Democratic voter registration has declined by 22,118 voters, from 175,748 to 157,630, while Republican registration has increased by 5,004, from 241,044 to 246,048. Independents and Other Parties increased by 15,021 voters to 120,829 during the same period. Democratic voter registration now stands at 29.9% of the electorate. I do not remember it ever falling below 30% before. In December 2014, 33.3% of the voters were registered Democrats. It appears Ann and the rural dominated SDDP she represents can recruit candidates. Whether or not they can build a winning coalition remains to be seen. The evidence suggests otherwise.
Good luck Democrats.
From Drinking Liberally;
Unfortunately, in South Dakota, the Democratic Party has shown little ability to take advantage of Trump's unpopularity. Democrats continue to lose the Voter Registration battle to Republicans. According to the South Dakota Secretary of State's website, Democrats lost another 449 registered voters in February while Republican registration increased by 325 voters. In all the Republican advantage over Democrats increased by 774 voters in February. Overall, it now stands at 87,112 voters or, to put it another way, by an average of 2489 voters in each of South Dakota's 35 Legislative Districts. That is a big deficit for a Candidate to overcome and a big hole the SDDP needs to climb out of.
A year ago the South Dakota Democratic Party (SDDP) announced a big voter registration drive. It even got a $10,000.00 grant from the DNC to conduct registration drives on Indian Reservations. The SDDP doesn't have much to show for its effort. Since last April Democratic voter registration statewide has dropped by 11,360 voters, from 169,688 to 158,328 or 6.7%. I encourage the SDDP to rethink what they are doing. I don't know what it is but it obviously is not working.
I think it is time for ALL NEW leadership.
The Sioux Falls Democratic Forum's regular Friday get together at the Sioux Falls VFW brought in District 15 Sen. Reynold Nesiba and Rep Jamie Smith. The February 16, 2018 talk brought the appreciative crowd up to date on the events in Pierre this legislative session.
* FOR IMMEDIATE RELEASE *
Sioux Falls Area Chamber of Commerce won't allow Minnehaha County Democrats to sponsor annual legislative coffees
January 15, 2018
On Thursday, January tenth the Minnehaha County Democratic Party (MCDP) was notified they won't be allowed to sponsor the Sioux Falls Area Chamber of Commerce (SFACC) Legislative Coffees as they have for years.
The Minnehaha County Republican Party (MCRP), the Minnehaha-Lincoln Republican Women, and Americans for Prosperity all pulled their sponsorship from the SFACC Legislative Coffees for 2018. Speculation is the conservative organizations didn't like a recent article (Argus Leader, Sept. 20, 2017) in which SFACC President and CEO, Jason Ball expressed concern over events that are "antagonistic to immigrants and new demographic groups in Sioux Falls," and "legislation and policies that negatively target specific populations …"
"We believe the Republicans are trying to punish the Chamber for a stance that they don't agree with. Unfortunately, that resulted in the Chamber trying to smooth things over by removing us, the opposition party, from the event," said Heather Halverson, Minnehaha County Democratic Party Chairwoman "We see this as an effort to appease the Republicans, while removing our voice. From our perspective, this is undemocratic."
This year's events will be held at the Holiday Inn City Centre from 10:00 am to 11:45 am on February 3rd, 10th, and 24th. The SFACC Legislative Coffees include legislators from area districts and allow the public to ask timely questions related to the 2018 legislative session. The Republican legislators that attend the coffees outnumber the Democrats twenty-six to four.
"We have been a longtime sponsor of the Legislative Coffees. As the minority party in the state, it is very important for us to have a table at the event, and allow local residents to stop by and ask us questions about our platform, legislative matters and our upcoming events," said Halverson. "We aren't the party that picked up our ball and went home because we didn't like the way the game was going."
Heather Halverson, Chair
Minnehaha County Democratic Party
SouthDaCola Notes; While I could care less what either party is up to in our state, I think this is pretty crappy to treat the MCDP this way because the Republicans are a bunch of whiny crybabies that want to continue to push their racist and homophobic views on the rest of us. The sad part is that the Chamber should NOT have to apologize for Jason's comments, he is right, being a racist is bad for business.
South Dakota lost a friend and leader, Roger McKellips on August 18, 2017. A simple remembrance of his South Dakota and Alcester leadership is given on August 25, 2017 at the Sioux Falls Democratic Forum.
We will also have video of Jeff Barth who spoke at Forum on Friday.
Unlike Huether, this guy actually knows how to put a cowboy hat on.
I know! I know! Sutton is running for governor. I have known for months. Ever since Suzie Pranger quit the SDDP to run his campaign months ago. It was such a badly kept secret I was surprised anyone showed up to the flat bed announcement today. Many in the party questioned Pranger quitting the party's executive branch to run a governor campaign. What confidence can Sutton have with Pranger running his campaign when she did so badly running the party?
Of course everyone blames Tornberg. Is Pranger that thin-skinned that she couldn't stand up to Tornberg? Or was it Tornberg's idea to move Pranger?
Who knows, who cares. The only positive thing I can say about the whole thing is that if Sutton gets the nomination, he will get more votes than Wismer. Remember her?
Speaking of the nomination, there is another candidate waiting in the wings. Due to personal obligations they are waiting to make an announcement, if they do at all. Let's just say they are a more 'polished' candidate than Sutton, but like Sutton has a great amount of compassion for South Dakotans. Personally I would like to see this person run for AG. Their chances are better and on top of that, no matter who becomes governor, they would make a fantastic and fair AG, mainly because they have compassion.
Not sure what the Dems ultimate plans are if they have two candidates running for governor. At this point, not sure if they have any plans at all. They certainly can't go back to 2016's playbook. That's bloody obvious.