Entries Tagged 'Snowgates' ↓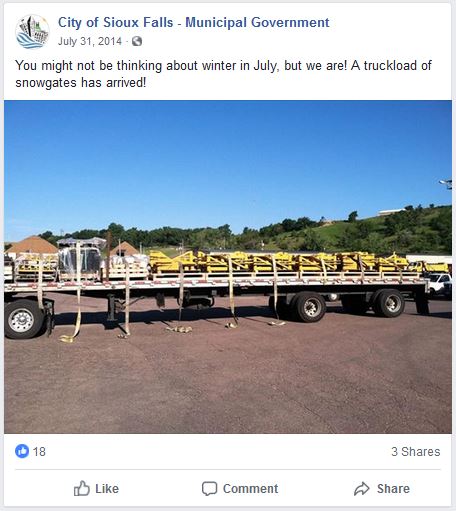 To plow is one thing but being able to see snowgates is what we voted for.
Sioux Falls voted to have graders with snowgates clearing all the streets. in the wee hours of Tuesday, February 20, 2018 we had some more white stuff called snow. The stuff snowgates were made to keep from filling our driveways.
It has finally been added to the books;
96.127  SNOW GATES.

The City of Sioux Falls shall use snow gates or other devices to prevent snow, in an amount that prevents usual access, from being plowed or placed into driveways or their openings to public streets from and after November 1, 2013.  This section shall cover City employees and contract employees.  Snow gates are discretionary upon the declaration of a snow emergency on routes that have been declared snow emergency routes.

(Ord. IM01-14, approved by the voters on 4-8-2014)
It might seem petty but some of us worked hard a few years ago to see snowgates keeping the white stuff out of our driveways.
I heard the plow drive quickly past my house so I knew it was not the usual grader pair with a snowgate, so I sent the following email to Councilor Theresa Stehly:
Theresa,
I love snow gates. We worked hard to get them and I have been very happy with their use. The city employees have been very cooperative and friendly in helping the property owners. The work we did to promote them has paid off well for the entire town, until this week.
On Monday, February 20, 2018 at 7:01 am, a Sioux Falls snowplow truck drove through my west 9th street neighborhood between Valley View and LaMesa at about 30mph clearing the street. When I went out to get in my truck, there was chucks of ice and snow in the grill. Thrown there by the force combination of speed and the lack of snow gates. My truck's headlights could have been broken with the way this truck zoomed past throwing up the debris mixed with ice and snow.
I have problems with this week's street cleaning,
the lack of snow gate use,
the speed of the truck sent to clean our street,
the fact my truck was pelted with street crap.
How do I know this truck was used and the speed? I have the video. The photo I have enclosed is from the video.
*********
I sent a photo and then decided to post this video do to the size and story.
While I'm at it, there is another issue I'd like addressed. Why are certain streets in Sioux Falls which never get snowgate service in the southeast section of town. How come? – Bruce
Dacola Note: While we are on the pissy parade, I will say this about the snowgate use; certain operators are picking and choosing when to use them. For example I hear from people in the SE part of town that 'sometimes they are used, and sometimes they are not'. I live in central by Avera on a straight street, and that was the case last winter. This winter they have never missed, and in fact, have left next to nothing in my driveway. I think it is certain operators that choose not to use them.
I have liked Stehly's idea of having a large display number on the back of snowplows so you can report drivers who are skirting their duties.
While I'm at it I have a personal message I would like to send to the maintenance crew at Avera (along Cliff Ave) and Lincoln HS. STOP THROWING SNOW INTO THE STREET! ESPECIALLY WHEN PEOPLE ARE DRIVING BY! YOU DIRT FOOLS! Not only is it against ordinance to throw it into a plowed street, you almost caused me to ram into the back of someone this morning because the city had the genius idea to put a crosswalk light at the bottom of a steep hill – you know – for the safety of the children.
Isn't it funny after a city councilor and the media point out the absence of an ordinance in our bylaws, they have a moment of pause;
City Attorney Dave Pfeifle said in an email Friday no formal action is required by the Council to meet Stehly's request and the City Clerk would be submitting it for publication in in the coming weeks.

"The city has the option to codify it and it will be placed in the code book in the near future," he wrote. "Again, the code book is for the court's convenience for those ordinances that are most likely to be enforced against the public at large through the court system."
They also should be put on the books for the courts to protect the public from it's government when they are NOT doing their job. I will say that Councilor Stehly told me after this last snowfall she has gotten dozens of compliments about how the city used snow gates in the past couple of days. BRAVO. See, it's really not that hard to push a button.
Councilor Stehly offers her help when it comes to getting snow gate service properly;
I reached out to our Public Works Director Mark Cotter, and he assured me that his department is 100 percent committed to using snow gates citywide. We must understand that these gates are not meant to remove all the snow, but to help alleviate the majority of snow left behind.

Director Cotter and I would like to encourage you to reach out to us if there are problems with your service in the future. Councilor Theresa Stehly, 929-8783 and Public Works at 367-8255.

Let's keep working together to keep Sioux Falls a great place for all people to live.
With a winter storm expected this next Friday, the phones should be busy.
There was something else in the letter I found interesting;
Snow gates are mandated to be used in all residential areas according to a voter approved city ordinance in 2014. Just as we have an ordinance requiring citizens to remove snow from their sidewalks, the city has an obligation to provide snow gate service.
Well, not really. As we found out this past week, the city legal team of crack attorneys at Sioux Falls city hall seem to have this policy of not putting those kind of things on the books, only when they want to harass you about doing something like scooping sidewalks or trimming trees (GAWD I HATE PROJECT TRIM). But it seems Sioux Falls may be the exception when a municipality doesn't want to follow their own rules. In Bismarck, ND they actually take responsibility for laws passed by citizens;
Ordinance

10-02-05. Snow Removal. Notwithstanding the authority contained in Section 10-02-03, whenever, in the opinion of the director of public works, accumulated snow and/or ice creates hazardous road conditions or is likely to create hazardous road conditions which impede or are likely to impede the free movement of fire, health, police, emergency or other vehicular traffic or threaten the health, safety or welfare of the community, the director of public works may take the following actions in order to open and maintain the streets:

1. Post certain streets in need of snow removal for no parking. The signs must be posted at the times specified in Section 12-13-23(2)(l) before the snow removal is to occur. Any vehicles parked in violation of the posting shall be towed to facilitate snow removal.

2. When necessary to maintain the streets in good and safe driving conditions, goods and services may be purchased without complying with chapter 7-01 of this code. The board must be informed of any such purchases at the next following city commission meeting.

3. When necessary to maintain the streets in good and safe driving condition, temporary snow removal personnel may be hired. The board must be informed of any such hiring at the next following city commission meeting.

The City of Bismarck shall use snow gates or other devices to prevent snow, in an amount that prevents usual access, from being plowed or placed into driveways or their openings to public streets. This section shall cover City employees and contract employees. Any additional costs caused by this ordinance shall be paid by the City Sales Tax of the City of Bismarck. This ordinance shall not apply in the event of a snowfall of such magnitude that a snow emergency is declared.

(Ord. 4588, 03-15-94; Ord. 4644, 10-25-94; Ord. 5294, 06-13-00, Initiated Ordinance).
Imagine that, when citizens actually pass an ordinance, the city's legal team does the legal thing, put it on the books.
I have suggested that the city purposely doesn't put the snow gates on the books in Sioux Falls so citizens can't sue the city if they don't use them. While that is clever, it is also very sneaky.
UPDATE II: The Argus has an update from the city attorney's office on this topic. Funny how if we need to stick it to the citizenry, we write it down, but if the city is supposed to do something, it's just a suggestion. WOW!
With all of the discussion over the last couple of years about snow gates and there hit and miss usage lately some have been wondering why the city doesn't follow it's own ordinances? There are plenty of rules on the books about mowing your grass and scooping your sidewalk so shouldn't the city follow the ordinance requiring snow gate use? Sure, if there was one.
BALLOT LANGUAGE

WE, THE UNDERSIGNED qualified voters of the municipality of Sioux Falls, the state of South Dakota, petition that the following ordinance be submitted to the voters of that municipality for their approval or rejection pursuant to law. The proposed ordinance in proper form is as follows: AN ORDINANCE OF THE CITY OF SIOUX FALLS, SOUTH DAKOTA TO MANDATE THE USE OF SNOW GATES FOR REMOVING SNOW FROM PUBLIC STREETS: BE IT ORDAINED BY THE CITY OF SIOUX FALLS, SOUTH DAKOTA: The City of Sioux Falls shall use snow gates or other devices to prevent snow, in an amount that prevents usual access, from being plowed or placed into driveways or their openings to public streets from and after November 1, 2013. This section shall cover city employees and contract employees. Snow gates are discretionary upon the declaration of a snow emergency on routes that have been declared snow emergency routes.
I did a search of the city charter (start at 96.120) and I couldn't find the ordinance that requires the city to use them. When it was on the ballot, it said they would NOT be used on emergency snow routes AND the city had the discretion to NOT use them in deep or heavy snows, but the ordinance was clear, the city had to use them in all other cases.
So if the citizens passed this ordinance, why isn't it on the books? This question has been asked of city officials, and apparently there has been some 'scrambling' to answer said question, but it seems law may NOT be on their side. As you can see below, when an ordinance is passed by the citizens, by charter, it needs to go on the books;
Section 8.03  Adoption of amendment.
But for the sake of the argument, let's say the city IS supposed to be following ordinance (even if it is mysteriously absent from charter). Why is the city and certain snow plow operators picking and choosing when they use them? I will admit, since the vote, they have used them on my block every time they plowed, and unless you are blind, it is pretty obvious when they are used. It usually only leaves about 1/3 of the snow of what used to left before there usage.
One of the ideas councilor Stehly has come up with is painting large numbers on the snow gate maintainers and a hotline that you can call in if Plow #__ did not use the gate.
Once again, the city is practicing 'do as I say, not as I do.' It's time to follow their own ordinances, that is if they even bothered to add it to the city charter. Maybe this was a plan all along to have an 'out' in case a driveway is missed. In other communities that use them and have them in charter, if a driveway is missed, the city will come out and fix it. Could it be by NOT having this in ordinance the city can skirt it's duties?
It will be interesting to hear the city attorney 'Fiddle Faddle' his way out of this one.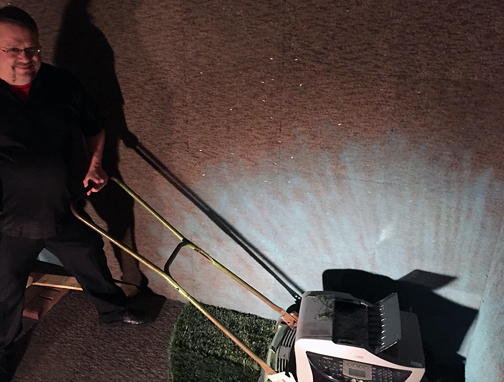 ArtMaze, one of the better parts of Sioux Falls life in 2016
2016 has been a rough year for citizen activism. While it has been up and down here in Sioux Falls with many successes and failures to boot, it seems Washington DC has gone into full collapse as we allowed racist, sexist, hillbillies to elect our president.
But locally there were three things that stood out;
• Governor Daugaard claiming that voters were 'hoodwinked' into voting for IM 22, then getting the Pierre (in)justice system to go along with it. Funny how for over 40 years voters have been voting his party into power, and no word about 'hoodwinking' but once that corrupt power will be challenged, all the voters are idiots. As one official told me that used to work for Dennis, it's not the public that are idiots, it's Dennis. And his idiocy has been shining through.
• The South Dakota Democratic Party's bottom completely fell out, and the people in charge patted themselves on the back. Insanity I tell you! Insanity!
• But one of the greatest achievements of the year is the Sioux Falls City Council's change of power. The four new councilors have been flexing their muscles with a little help from Councilor Erickson, and while they have had a few missteps to start out, they have been learning from the battle scars. While 'leadership' of the council (Rolfing and Kiley) seem to be on a two man mission to rubberstamp all things Huether, shut down public input, and concoct false ethics charges against a fellow councilor (until they got caught lying like the snakes they are) they are becoming more and more in check. The city council has many big plans for 2017, and I have a feeling their agenda will push through easily as our lame duck mayor melts.
Let's take a look at some the finer high and low points of 2016;
• The Huether Tennis center continues to block parking from other event attendees at the Sanford Sports complex though they basically stole $500K from taxpayers for the facility. Throughout the year there was several reports on cones and signs blocking the lot with not cars in it. But hey Mike's Bride won an award this year and seemed surprised she did, without commenting that her check to the organization that gave the award wasn't returned.
• The Sioux Falls City Council leadership and mayor's HR department pulled a military retiree out of their asses for city clerk, a person who will be in charge of our city elections and hasn't been registered to vote for years. He also proved his knowledge of official stamps when he stamped a petition without even bothering to read it. While Mr. Greco has gotten better over the year, the city clerk position should not be a $80K+ a year job as an apprentice, sadly being trained by one of his assistant clerks who has ten times the qualifications and applied for the position but was turned down. I'm sure it had nothing to do with the council chair's view of women in the work place.
• Speaking of letting the mayor's HR department and Leadership's Mutt and Jeff pick the next internal auditor, the council barked loud enough that they did not want another 'Greco' pick. Not sure if the barking worked, but the person who was set to take the job saw the writing on the wall and turned it down. Hopefully the person who ultimately gets the position won't be turned down because they shave their legs.
• The city continues to blow money on the Winter Wonderland Display, but the way the mayor has been cutting budgets these days, I expect next year's display to be a couple of homeless barrel fire pits, sponsored by the Dudley House of course.
• After posting about the ridiculous corporate like raises the mayor has been giving to his management team, he turns around and still screws the minions with dismal raises again this year. I think in a special note to the city employees on their Christmas paystub he wrote, "I don't care."
• The city continues the FREE condom distribution program at area bars, and for some reason Monk's is always emptied the quickest. Coincidence that is also a favorite watering hole of city managers . . .
• The Tuthill shooting case becomes 'inactive' and a tree branch shadow gets off scott free.
• The Erp wrongfully calls out local massage therapists as prejudice because they pointed out the 'shower massages' that were taking place around town. Apparently someone got a bad fortune cookie that day.
• The car rental tax and BID tax grabby-grabby fails in Sioux Falls, but the state legislature passes one of the most idiotic tax increases ever so our teachers are now just tied for last instead of dead last in pay. Out hoodwinking governor already has plans to rob the pot only one year after its passage.
• Hartford's city government was in a state of collapse. Who really cares?
• The Levitt Pavilion is moving forward in Sioux Falls. It will be nice watching outdoor concerts sitting in the grass while battery acid is boiling beneath our asses.
• The Boulevard ordinance changes went into effect. Now stop worrying about rocks and plant a garden.
• The Washington Pavilion got a change of leadership after Darrin Smith takes over as President. So far he has only eliminated one director, but I hear the blood-letting has just begun. Now let's throw another couple of million at the place to fix the poor construction to begin with. That will never happen with the Events Center . . .
• The Events Center cracks down on outside snacks and guns at events. We are all now safe from cheap fat people shooting us, but not in the parking lot.
• The Pottie Room war starts in Pierre and is guaranteed to return in 2017.
• A state legislator calls transgender people 'twisted'. Now I'm struggling with what word to use describing our state legislators?
• A city council candidate throws a hissy fit over a post I wrote about his wife's involvement with the Jesus plows and after threats to my employer I pull the post. He ends up taking last place in the at-large race. How's Jesus working out for you now?
• Due to health reasons, Kermit Staggers decides not to run for a 4th term on the city council. His endorsement of Stehly puts her over the top.
• One of the youngest candidates in city history runs for city council. I apologize to Briggs for all the shitty things I said about him during the campaign.
• The Argus Leader sues the city for the details in the secret events center siding settlement. The Argus loses the first round but it is headed to the SD Supreme Court.
• On a similar note, the SON neighborhood is also awaiting a judgement in their Walmart suit with the SD Supreme Court.
• While our Sioux Falls City Council approves the DAPL through Sioux Falls, it takes thousands of protesters in ND to actually stop it. Too bad our city council chair doesn't understand how to vote.
• The Mayor and Q-Tip Smith screwup the DT parking ramp development by flapping their traps to soon, and the council later on in the year returns the favor and defunds the ramp all together for 2017. I still think the fiasco is what got Smith to seek refuge at the Pavilion.
• City officials throw a hissy-fit over Bruce's camera at a city meeting we were invited to by then city councilor Kenny Anderson. Looking back on it now, I just chuckle.
• Former city councilor Dean Karsky and now commissioner elect has become the official endorser in Sioux Falls.
• Bruce and I do a presentation on voter turnout in Sioux Falls at Democratic Forum and one of the mayor's buddy developers in Sioux Falls tries to shut us down. When he fails, he walks out. Another casualty to transparency.
Here we go again, the onslaught of stories saying snow gates don't work. As I talked about last year, they do work, and it depends on the operator. If you talk to any snowplow operator with the city, they will admit some drivers know how to use them better then others (learning curve). Last year with snow fall amounts under 6″, the snowgates were not used properly in my neighborhood. This year with two snow falls well over 6″ they used them in my neighborhood and I had barely anything in my driveway. In fact, during the first event, there was virtually NOTHING in my driveway.
But even if just a little crud is left, people are still OK with their use;
Not everyone is upset by the snow gates' performance. Deb Billion has been living in Sioux Falls for several years, and says this year is much better than past winters.

"I vote a resounding yes on continuing using the snow gates," said Billion.
Deb is the wife of former lawmaker Dr. Jack Billion. But there were some commenters that could not resist to piss all over them;
Its a rip off. Save the tax money wasted on these worthelss things and shovel you dang driveway. Thanks teressa Stehle for wasting our taxes. If you want the snow removed form your drivaway, then you should pay for it.
First off, I think my tax dollars were improperly used on your public education, but I won't go there. Snow gates are simply an extension of a service the city already provides. It's not some gigantic expenditure.
Speaking of snow removal expenditures, watch the video below (H/T MM);
The South Dacola foot soldier who sent me that vid asked if there was a better way to do this. I wonder if the snow scooper machines could just take the snow from the curb instead of wasting all this time and energy pushing it to the middle of the street and screwing up traffic flow?
Theresa Stehly (co-chair of the snow gate petition) recently had a letter published in the Argus Leader about identifying snow gate plows;
Snow Gate Service:  WINNERS AND LOSERS
Our citizens voted a year ago to make it mandatory that the city use snow gates to clear the driveways in Sioux Falls. As the co-chair of the group that brought this issue to a vote, I have received many comments, both positive and negative about the quality of service provided during snow events. Our members have surveyed different neighborhoods after the snow plows have come through, and have discovered vast differences of efficiency in clearing the driveways with snow gates.  There are snow gate operators out there who are doing a fantastic job.  However, I have been told by the city street department that many drivers are still learning how to use the gates. We certainly understand that there are factors that could hinder the process like inexperience, attitude and fatigue.
We would like to see more accountability in the process.  One area of assistance would be to have a large marking on each snow plow. Galen Huber, the street supervisor, told me that the plows already have a number assigned to them. Using that same number, enlarging it in black letters and placing it on each side of the plow, would give the citizens the information needed to help the drivers do a better job.  Also, there could be an incentive for the drivers who had the most positive comments.  Many of us have seen the markings on the back of semi-trucks that say "How is my driving ?  Along with a phone number."   This inspires the person behind the wheel to do their best at all times. The same would hold true for our snow gate operators. Using information called in by the citizens, the street department could work with those drivers who are having a difficult time getting the job done.  The manufacturer of our snow gates is willing to come and train drivers on the proper technique to clean all driveways within a neighborhood.
Along with an identifying number on each plow, the city needs to develop a SNOW GATE hotline.  We have a POT-HOLE hotline, and the city sends out flyers with contact numbers to file complaints about neighbors who violate city codes.   These numbers are frequently published and people are encouraged to call about their concerns.  The same energy needs to go into the snow gate program. The city needs to   include the snow gate hot line phone number in all mailings and media programs.
The snow gates have been a wonderful addition to the amenities offered by our city government. With some additional effort, we can create a winning experience next winter for all the citizens of Sioux Falls.
Theresa Stehly Showed up to the Sioux Falls City Council to talk Snowgates on April 7, 2015.
Theresa talked about the need of having visible large vinyl lettering signage on the snowplows with snowgates and a possible phone number (similar to 'How is my Driving'). She pointed out the city is always putting out water bill inserts about how to turn in your neighbor with code enforcement, so why not a hotline to report unsatisfactory snow removal?