September 15th, 2019 — Kristi Noem
Maybe this is why Noem hasn't talked about FEMA assistance for Sioux Falls.
September 14th, 2019 — Sioux Falls
City Council Informational • 4 PM
There will be a presentation on a Pre-Annexation plan. I'm not sure if the property owners requested this or the city is proposing it. As you know, annexation into the city can be very expensive for individual property owners.
Brekke and Stehly will be doing a presentation on their beekeeping ordinance.
City Council Regular Meeting • 7 PM
Item #6, Contracts/Agreements, you can see how much we are paying for private contractors to clean up city. What I find amazing is that the city IS spending money for cleanup, so why not just clean it all up? This is a great economic impact for our local contractors who will circulate their earnings throughout our city's economy. While the city will be spending our taxdollars, that money will stay local.
Item #7, Change orders, A $121K expenditure to the bunker ramp for utility changes. The hits keep coming folks for this fraudulent mistake by two mayors and several city councilors. Makes me sick to my stomach.
Item #19, Sanford's new wedding barn is asking for a retail liquor license. Still wondering why a hospital needs a wedding barn?
Item #41, Councilor Man-Child is asking for money for the bike trail while asking volunteers to clean up a natural disaster.
Item #42, Property Tax increase, this will pass unfortunately. But what will be fun to watch is how they will tell us we need to keep reserves then turn around and deny those reserves in cleaning up the city. I wonder if they know how stupid they look?
Item #43, The city is buying property from the Soukup family in the tune of $2.6 million. Not sure what this is for. As you know the family donated land to the city for family park.
Item #47, CIP budget approval.
#52, NEW BUSINESS, Stehly and Starr are proposing the city cleanup all rubbish placed in boulevard from the storm.
MORE INFO COMING
September 14th, 2019 — Sioux Falls, T.J. Nelson
You would think the city's chief information officer, TJ TypeOver (Nelson) would have better things to do with his time then go on FB and mock people who are commenting about the storm cleanup. Crazy that TJ has time to comment in between all his volunteering and cleaning up the city. Maybe you should concentrate on giving CLEAR information and reading dictionaries.
BTW, TJ, you really SHOULD be wearing a baseball cap, because that Trump-Like thing you got going on isn't working for you.
September 14th, 2019 — Julian Beaudion, SF City Council, Sioux Falls
I was pretty surprised when I watched this video and saw Michaels endorsing and introducing Julian (who is a Democrat).
If I was Julian, I would remind voters every single day that as a former law enforcement officer, he would never vote to go into a private/public partnership with a bunch of criminals like Greg did with the bunker ramp. I would make Greg own it every single frickin' day.
September 14th, 2019 — Sioux Falls
After the ice storm there was a discussion about passing an ordinance that prohibits anyone from planting new or replacement trees in the boulevard. Besides the obvious mess it creates if we have windy storms, boulevard trees often cause damage to taller vehicles like trucks and snowplow maintainers. The roots also wreak havoc on utilities.
Before the ash borer the city would remove a tree in the boulevard at no cost to the homeowner. The top two reasons were it was either dead or messing with utilities.
It's at least time to discuss the matter and do some serious research on the possibility. There are also many arguments for them. I think you could have it both ways, by maybe limiting density, etc. You could also have homeowners plant trees on the private property side of the city sidewalk.
September 14th, 2019 — Sioux Falls
Since Tuesday's disaster I have been waiting for a government official representing Sioux Falls and South Dakota to say the FEMA word. No one has until yesterday when Rounds finally talked about FEMA assistance. But he clarified that would be up to Noem to ask for that assistance. So Donita Trump Noem. Are you? How about you Paul? As I said to someone today, watching the city's 'political' response this week is like watching 1st Graders run city government for a class experiment.
September 14th, 2019 — SF City Council, Sioux Falls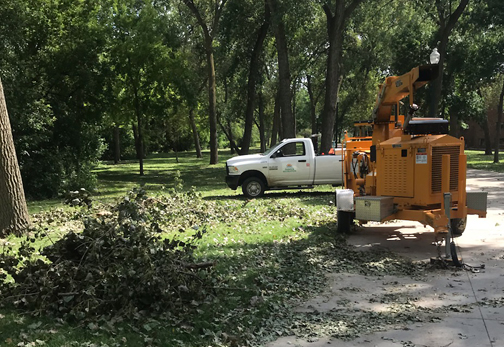 So we hire private contractors to clean up residential areas while city employees are cleaning up the bike trail?! There was 4 of them. While I do know that cleaning up the bike trail is important and has to be done eventually, shouldn't the priority be the residential neighborhoods first?
And apparently NOW the city says they 'could' pick up your stuff if you cannot;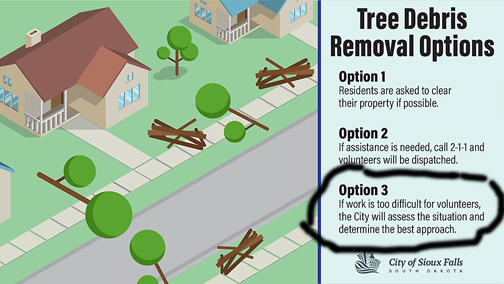 Funny, as I predicted, TenHaken had a change of heart after Stehly and Starr put a motion forward. Heck, Neitzert's FB post from below even disappeared. I wonder why? But the bigger issue is the mixed messages out there, citizens are confused why the city is picking up stuff when they said they would not. Many people have told me that the private contractors have been picking up all waste in the boulevard and have been asking NO questions about where it came from. So are they NOT following orders? Who knows? I guess one resident said that Councilor Kiley told some people to stop putting their private property waste in the boulevard, they ignored him and guess what? They picked it up. So I'm telling people, just drag it out there, they will probably pick it up.
Somebody asked me if I volunteered? I did not. Nobody asked me for help, in fact one of my friends asked ME if I needed help, I told him NO.
You will see that Neitzert calls the motion a political stunt. Greg can say some pretty ridiculous things (probably why he took it down). When a natural disaster occurs you have to have a multiple tiered approach. They definately should include volunteers, and I commend people for that. But it also should include a government response with assistance in cleanup. All people are asking for is that the rubbish be removed from the boulevard, they will do the work to get it out there. Why is this so complicated?
I will say it again, we pay taxes and maintain a reserve fund for these kind of events. This is NOT a handout, we will be paying for it. Not sure why the mayor is acting like the city doesn't have two nickels to rub together.
The only political stunt occurring is the mayor and some city councilors acting like they know how to lead, because they are failing miserably.
September 14th, 2019 — Media
Koch talking about the environment is like Trump giving us advice on climate change. Oh, and why are we using Tornados to grind trees, I think they did enough damage. Or do they mean they are going as fast as tornados?
September 14th, 2019 — Elections, Sioux Falls
COMMON GROUNDS INDIVISIBLE
Sioux Falls, SD
Press Release Contact: Joan McMillin
Phone: 605-331-0037
Email: commongroundssd@gmail.com
Secure Our Election Rally
When: Tuesday, September 17, 10:00 a.m.
Where: Office of Senator John Thune, 5015 S, Bur Oak Place, Sioux Falls
Why: Our elections are under attack. We have been warned by Robert Mueller, by FBI Director Christopher Wray, by the bipartisan Senate Intelligence Committee, and by all our intelligence agencies that our elections in 2020 will be under even greater attack by Russia and other nations.
Yet legislation which would dedicate $600 million to update vulnerable election systems and ensure all votes are backed up by paper ballots sits languishing on the desk of Senate Leader Mitch McConnell..
We are rallying to urge Senator Thune to use his influence as the second ranking Republican in the Senate to bring this legislation to a vote. It has bipartisan support.
What is more important to our democracy than that our elections are secure?
September 13th, 2019 — SF City Council, Sioux Falls
At Tuesday's meeting a resolution will be proposed to help with storm cleanup. Many residents throughout the city have been reaching out to councilors about picking up branches from private property 'IF' left in the boulevard by the curb like they did with the ice storm.
Even though the RS5 normally votes against these things, I have a feeling this will get the support of all 8 councilors. I would go even one step forward and guess PTH made have a change of heart over the weekend and implement this himself on Monday or before.
The rumor is that the administration is calling this a 'HANDOUT' instead of a handup. I guess filling potholes, building streets, clean water and educating little Johnny is a 'HANDOUT' to. Cleaning up after natural disasters is a duty of our government, this is what we pay taxes for.