Entries Tagged 'Janet Brekke' ↓
As councilor Stehly points out, let's join the fight to save the bees.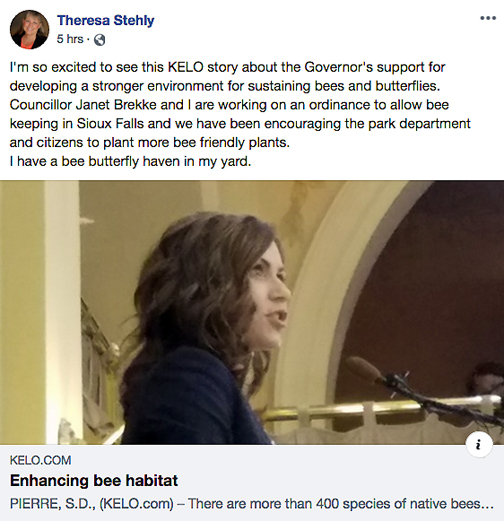 Janet Brekke and I are the featured guests!
During Tuesday night's city council meeting Mayor TenHaken asked councilor Brekke to 'Whip the Vote' (FF: 1:02). It didn't go over well with Brekke. She made it clear to him that's not how things work (in municipal government). The council has the right to bring legislation forward before the meeting or to ask for a reconsideration during the meeting. Brekke had already talked to her fellow councilors about the plurality ordinance in advance, when it failed she tried to amend it. This happens on the fly.
While it is a positive thing that PTH realized he was in the wrong and apologized to Brekke (I guess in a public setting) it still doesn't change the fact that we have a very partisan City Administrator. City government doesn't work like Washington, there are distinct differences. It is a non-partisan form of government set up to serve all involved, the taxpayers of our city. We don't want them to vote on 'party lines' because there isn't any, but seems for the last several years the councilors belong to either the Developer Class Party or the Citizen Party – a terrible divide.
This goes back to the mayor not knowing his roles and duties under charter. He is the city administrator in charge of making sure the city operates smoothly within the budget set forth. In other words, he is the employee manager. It is NOT his job to set policy. He should not even have voted on the ordinance. It should have just failed on a tie. I think if the mayor wants to get involved in policy votes he needs to explain his vote. He knew well in advance that he might have to break the tie, he also expressed to the media he would probably vote NO if the opportunity did arise. So tell us why? I don't think he knew why, because it was just another vengeance vote with the other 4 councilors. A horrible way to set policy, I'm sorry to say.
Crazy who you run into at the Flea Market. Old Cartoonist friend Tim Benson and Representative Saba. You can still talk to Stehly & Brekke at the Flea Market today.
Stehly also wanted me to tell you she will be attending an upcoming meeting for Bee-Keeping within city limits. I support this. I hear from a lot of people that we don't have as many bees as before in Sioux Falls, and they help with personal food production. I think you could limit the size of the hives so you don't have a massive population at one specific spot, but bees are good, and they are our friends.
I also think any city ordinance that is proposed needs to be tied into with how we spray for skeeters. It has been proven time and time again that spraying is very harmful to ALL beneficial insects, just not bees. The residue left on gardens and vegetables is also harmful especially to small children. We need to take a more natural approach to limiting skeeters in the city.
Councilor Brekke talks the topics of the day including electric cars and transport. It was also interesting that Janet brought up that communities along the Big Sioux River watershed ALL need to be responsible when it comes to cleaning up our waterways. Tell that to the state and Madison who brought TruShrimp in (due to the lack of strict discharge regulations that Minnesota has). She also brings up that the City Council should be setting the policy for the city, (NOT the mayor's office).
City Councilors Brekke, Stehly and Starr will have a meet and greet at the 26th & Marion Rd HyVee tomorrow, Dec 8 from 9:30 to 11:30 AM. You can bring your concerns and have a chat about city business.
(FF: 31:00) The County Commissioners each are appointed to different departments. One of departments under Barth's direction is Emergency Management. There has been a behind the scenes movement to move Emergency Management to a different location in which Barth had no knowledge of. Listen to Commissioner Beninga try to dig himself out of a hole.
LEGISLATIVE PRIORITIES
As you may have saw a few weeks ago, Sioux Falls City Councilor Brekke was troubled about how the council came up with their legislative priorities. Commissioner Barth has also expressed that he wasn't to happy about the fact that Council Chair Erickson and Commission Chair Heiberger cooked this up together without input from other councilors and commissioners. Seems leadership is going to some people's heads pretty quick.
Janet's video has been removed from the city's YouTube channel. Not sure why. But we saved it on our channel;
Janet Brekke set a new standard for Sioux Falls City Council thought provoking discussion on June 19, 2018. During the discussion of the fake Public Input control ordinance Brekke had to remind the proponents and everyone else what goes into proper process. We must remember, there is nothing lost if everything is in the open following proper process.
The Selberg / Kiley fake Public Input ordinance controversy never had to happen. It was a brain dead proposal to shut off voices they did not want to hear, interfering in proposals they appeared to want hidden from us, the owners and customers of our city government.
To help everyone understand, the city of Sioux Falls is technically a public corporation run through by-laws (A.K.A. Home Rule Charter). The Home Rule Charter gives the administrators certain responsibilities and are answerable to us, the stockholders. We citizens are the stockholders of the corporation, not the special interests who pay money to have more influence or pay platting fees.
The last few years we have been teaching the public how and when they should redress their issues and concerns. This fake issue was shot down by the people, those who showed up and those who couldn't. It appeared for the time being, the elected board of directors heard the message.
On July 3rd we will need everyone to show up again to make sure the message was received and the Council does the right thing by getting rid of the fake problem. There is other work to be done.
POWER to the PEOPLE