Entries Tagged 'Theresa Stehly' ↓
Belfrage is having a cow, over nothing, once again;
In every single one of the interviews or talks that I've given with Todd, he has always made it clear that the sirens are for outdoor use only.
This is absolutely TRUE, but Greg decides to spin it, like him and his Trumpster ilk like to do;
In my opinion, Councilor Stehly jeopardizes lives when she spreads such blatant misinformation.
As you will see in a FB comment below, the only one jeopardizing lives was the people who failed to turn on the sirens to begin with. While it is true they are for outdoor use only, it doesn't change the fact that someone really screwed the pooch, and just blowing it off as 'human error' and it really doesn't matter (because apparently people are not outside during storms) is hogwash. Stehly should be concerned the sirens didn't alarm, whether they are for outside, inside or for the moon.
There has been a rumor circulating that Stehly is considering a run for District 14 Senate. Deb Soholt will be term limited so Stehly could run for that seat in 2020.
As we both know, Stehly hasn't decided to run for re-election on the city council, so maybe a run for the state legislature is more appealing to her. Even though Theresa would most likely run as a Republican, you can be sure she would work across the aisle to do the people's work.
As I told Alex last night when I ran into him, I'm not sure if Theresa is running for a second term. But I what I did not tell him is, she is unbeatable, no matter how much money you spend. The only thing that could make Stehly vulnerable is if several people jump into that race (I do think there will be others). But in a head to head challenge between Alex, or anybody else, she can't be beat. I am so confident of that, I would advice Stehly to raise NO money and spend NO money if she decided to run for re-election. It would be an amazing sticking point to prove money in local politics corrupts the system.
While I don't agree with Theresa on many things (trust me, we have a lot of disagreements, and I also argue with her about her 'style' and 'form' sometimes) but the one thing that makes her extremely re-electable is that she listens to the people, and is their voice when NO one else on the council will speak for them, and for this, she will be impossible to beat if she runs.
Oh, the irony of former chief bullsh*tter having a press conference about his 123 page book (that I presume has been extremely edited, or should we say 'polished') the same day Councilor 'Mama's Boy' Neitzert makes his re-election bid;
"We need an honest, informed and principled leadership more than ever to address the many challenges and opportunities as our city continues to grow. I believe I have proven to be that type of leader."
I'll let the honesty and principled statements slide for now, we will have plenty of time to talk about those, but I hate to remind Greg that if he were truly 'informed' he would have NEVER fought for the Bunker Ramp, in fact, any city official (elected or not) that helped to push that thru was anything but 'informed' and maybe just a little bit 'dishonest'. And let's continue with that theme;
'update annexation policies to foster more neighborhood cooperation'
The annexation task force did a quick 180 after Theresa Stehly used her own resources and time to notify NON-RESIDENTS of the potential annexation efforts by the city of Sioux Falls. She certainly did not have to do that, but because of her efforts the task force members, including Neitzert and Kiley found out what a pitchfork up their rears feels like.
And speaking of Theresa, she still hasn't decided if she will run or not. But the rumor around the South of 57th street water cooler is that councilor Erickson and Mayor Paul are helping her potential opponent, Alex Jensen, with fundraising and organization. I also heard Neitzert's potential opponent is getting a little assistance from a former mayoral candidate, no worries, it's NOT the zombie guy.
August 26, 2019
Dear Business owners, Board members of the Bishop Dudley house, St. Francis house, Banquet staff and Whittier Neighborhood Citizens, 
As we move forward in our discussion about safety, economic vitality and social services in the Handyman/Whittier neighborhood area, I wanted to let you know what my plans are as your At-Large City Council member. 
First, let me assure you that I have been a strong advocate for helping those in need in our community. Through the years, I have personally contributed to the St. Francis House, The Union Gospel Mission, The Salvation Army , The Family Connection, The Vincent De Paul store and The Good Shepherd Center . I have supported City funding for the Bishop Dudley house even when the previous mayor had recommended that it be cut from the budget. I spent a night last fall sleeping in the Bishop Dudley Parking lot as an advocate for that facility. I have served at the Banquet, and I have housed a homeless person in my own home.
The challenge we are currently facing in our community is to find solutions to ensure that homeowners, business owners and people in need are all provided for in our City.
These past weeks, I have been blessed to have conversations with many of the stakeholders involved in this issue. From those conversations, I have developed a list of tangible goals/priorities that I would like to work on with all of you. My goal would be to implement these in the next year, and then do a reassessment. I welcome your feedback.
1. Designate stronger police presence in the Neighborhood. We currently staff our schools with approximately 15 school resource officers. I recommend that we designate a resource officer for this area of town.
2. Add additional foot patrol officers to rotate in the residential areas and businesses. 24/7
3. Add a small precinct in the new development where the Chinese restaurant was. If this area does not get developed then put the precinct in another building in the immediate area.
4. Place restroom or porta potie facilities on public land and open spaces in the area.
5. Develop more stringent vagrancy /loitering ordinances.
6. Develop new parameters of Liquor establishments near homeless shelter.
7. Aid in forming a neighborhood /business association in the Handyman/Whittier area.
8. Develop a tax incentive program to assist homeowners and small businesses in fixing up their property.
As I mentioned above, I welcome your feedback. I look forward to working with the Mayor's office and my Council Colleagues as we find solutions for our citizens. Having a yearly checkup on the progress /needs and frequent communication by all involved, will be imperative to protecting the economic opportunities and safety concerns for our community.
Best Regards, Theresa Stehly
City Councilor-At Large
Phone: 605-367-8806, Cell: 605-929-8783
Email: tstehly@siouxfalls.org
I warned Theresa that she may raise the most money for the day. I believe this is Saturday at the Barrel House.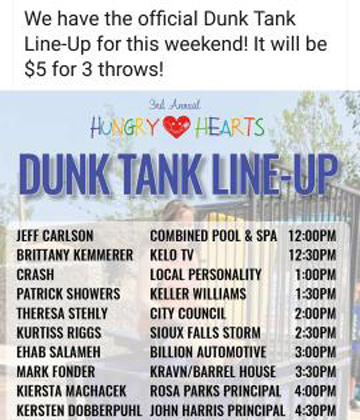 As councilor Stehly points out, let's join the fight to save the bees.