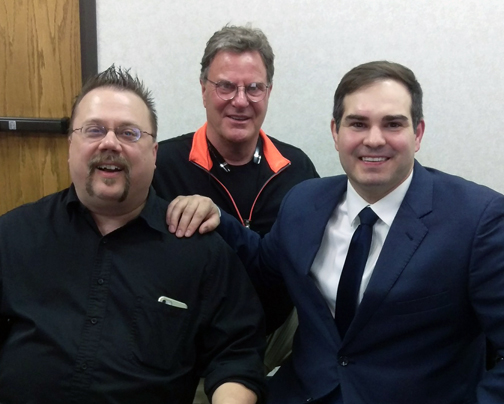 My only interview with Sutton. Afterwards I told people, "He is one sharp cookie!"
Well, if I were a betting man, I would still give the win to Noem, but a lot can change in a month.
First the negatives. Billie has an uphill battle on several fronts;
• He's a Democrat. Though he tries to bill himself as a conservative Republican loving moderate independent, he still has a 'D' behind his name, and in governor races that hasn't worked well in almost 50 years. He also has a HUGE gap to close. I believe by last counts there are 97,000 more registered Republicans in the state than Democrats. He also will have to work with a mostly Republican majority in the legislature (even though I think the Dems will pick up more seats in the mid terms). I also think that Seilor has a good chance of winning AG (that one is tight to) if they BOTH can pull it off and Republican voters also have similar confidence in that team, it can close the gap.
• He's a tax raising Democrat. Not true at all. While Billie did vote for the half-penny tax increase for supposed teacher pay, it wasn't his idea at all. It was the Governor's with the help of Republican legislators. I actually railed on Billie for supporting it because he had a better idea and should have pushed it. It would have raised sales taxes a full penny, but here's the kicker; it would have included eliminating a lot of exemptions special interest groups now have with sales taxes, it would have included a massive property tax cut, it would have eliminated the food tax AND it would have been written into law that the money HAS to go to teacher pay and NOTHING else. While I am disappointed in Billie for voting for the Republican tax increase, it really wasn't his plan or idea. That tax increase can only be attributed to Republicans who have slowly chipped away at it taking money from teacher pay increases. (Side note; this is why you should vote NO on IM 25, it is not dedicated to tech schools, just a suggestion.)
But let's look at Noem's negatives, she has quite a few, ironically NOT much of it is her fault;
• She's a woman, and say what you will about that, there has NEVER been a woman for governor in SD. I'm not saying the fine pigs in the Republican party will vote for Sutton because of this, I just think they won't vote at all. I also believe that to be the case of people who supported Jackley. If Sutton can garner a large majority of independents and have a lot of under votes from Republicans he could squeak by.
But let's look at Noem's obvious problem, she is a do nothing legislator. She did nothing in Pierre and hardly anything in DC. And by not debating Sutton at all so far she is proving she has NO record to fight on.
While I still think the 'Republican Light' strategy Sutton is using is silly, at the end of the day it may work. But if he does win, it won't be because of that strategy but because a lot of Republicans really don't care for Noem.
GO BILLIE!