Entries Tagged 'Art' ↓
I got an email from a foot soldier a few weeks ago, but didn't think much of it;
I received a mailer about something called "Shen Yun: China before Communisim". This is a stage shown produced by the Falun Gong religious movement, who is more well known for their pro-Trump rag The Epoch Times. They are going to put on one of these Shen Yun performances at the Washington Pavilion on January 26th. I wonder if this is worthy of a blog post as a SF government organization is allowing a pro-Trump religious movement to host a show at the Pavilion.
I responded;
I get it, and would agree this is a POS show, but the Pavilion is ran by a private non-profit even if it does get subsidies from the city they can basically put on any governmental or religious show and have over the years. You also have to realize the place is ran by a person who only cares about cashing in and making money.
As I mentioned above, there is little stopping the Washington Bazillion from putting on the show, and Holy Sh!t it is expensive. I guess cults don't get money from trees.
If you don't know much about the Falun Dafa Cult they seem to revel in being anti-socialism, anti-gay, anti-atheist, anti-premarital sex and and anti-science all rolled into a big old barrel of monkeys. Wait, I think I just described our governor's agenda.
Secretly I am actually thinking about going just so I can laugh at the end when the Karl Marx character ruins all the fun. But I am also NOT a fan of putting my money in a burn barrel.
I encourage anyone thinking about going to NOT go and if you already have purchased tickets to ask for a refund siting you don't wish to support a cult. I sometimes wonder whoever is booking the shows over there even bothers to do a little research. It reminds of how they didn't book Lucinda Williams (about a month before she won a Grammy) because they didn't think they could fill the seats or how they canceled negotiations with Hank the III because he wouldn't promise to do all old timey music sets.
But a Chinese cult ballet for $180 a ticket? That's A okay.
While I understand peeps frustration in Stapleton cancelling his show last night (he really could have done it earlier in the day) I really think this could be a lesson in local economic impact. As we know, the Denty hasn't really helped the economy in Sioux Falls that much, in fact it is a drain of over $10 million a year to taxpayers, money that could be spent on needed infrastructure instead. As I have said before, besides the little bit of tax revenue we draw from the place each year, almost 100% of the money that is spent at the facility goes straight down the highway. The promoters, management companies (beverage and food included) and the artists get the lion's share and take it straight out of town. Very little gets recirculated in the community.
But last night, I saw something amazing in DTSF. The streets were filled with flannel wearing, boot scootin' concert goers that were stuck in town for the night without a show to go to. They were spending the money they intended to throw away at the Denty in our town at local businesses instead of to a corporate giant.
It would be interesting to see what the sales tax boost to the city was from last night.
One of the main reasons I opposed the Denty, wasn't because of the price tag, it was because it would not benefit local business. When people are dropping $400 per person in one night (tickets, beverages, taxi, hotel, etc.) basically in one place, they have blown their entertainment budget for several months and not spending it locally.
I remember a time around 10-15 years ago when you had oodles of options to see live music and entertainment at a host of different venues. And not just local yocals but National and Regional acts. The money spent got recirculated in our community.
Let us learn from this incident.
Love this program. I will confess I had friends who participated and are in the exhibit encourage me to be in it and I think I said, 'Meh' and some other dirty words. That doesn't mean I don't like it. Good stuff;
(FF: 16:40)
So this happened at the informational meeting on Tuesday, and I didn't think much of the drama until people started nagging me about it;
Erickson said the Playhouse, formerly known as the Sioux Empire Community Theatre until August, currently owes $66,000 in debt to the city. She questioned why the debt had not been settled after it received $418,739 between several COVID-19 relief programs, including the Paycheck Protection Program and the Shuttered Venue Operators Grant.
First, let's put some things in perspective. The Sioux Empire Community Theatre incurred this debt, not the current group and SMG let it grow to level it should not have. Once the Orpheum changed hands to the Pavilion's management a payment program was set up. But in all reality, the city should have just wrote off the debt due to SMG and the previous theatre company no longer being in play. That would be the 'logical' thing to do
Some have asked me, "While Erickson has voted to give millions in TIF tax rebates to wealthy developers and voted for a failed $26 million dollar bunker ramp debacle why does she give a sh!t about this $60K debt?"
Well folks, this isn't about the amount of debt it's about who is being held hostage for the debt. The NEW organization's president is no other than Mr. Rick Weiland, and this is an obvious attack on him politically as a prominent Democrat in our state and Christine's cozy relationship with SD GOP leadership. It's petty, and honestly the reason I didn't say anything on Tuesday after witnessing her driveling. But par for course for the dirt bags that run that institution (out of Iowa).
Besides, if we really want to question the abuse of tax dollars by an arts org in Sioux Falls, we only have to look to the Washington Pavilion who is rumored to pay their director around or over $200K a year and has ravaged the entertainment tax year after year for millions in maintenance for a $19 million dollar building that cost us $50 million plus to complete and continues to drain us. Why doesn't the city council just have a resolution that renames the tax the 'Pavilion maintenance tax'? Let's call it what it really is. And when are we going to get a financial report from them? Isn't the director a Democrat?
Exhibit runs from 5 to 9 pm
Friday, September 3, 2021
120 N. Phillips
Downtown Sioux Falls (across the street to the east from the Wells Fargo parking ramp)
To say I am a 'little excited' is an understatement. In 2019 the one thing that made it bearable to live in Sioux Falls was the concert series, I think I attended almost every concert and only skipped out early on a couple of them. This is an enormous gift to our community and I encourage everyone to attend as often as possible. The concerts are FREE to the public (that is what makes them special) and present award winning and national and international talent. I am a bit bias as a visual artist I have often been jealous of musicians and love live music. Besides the bike trail, the Levitt is truly a gem in our city. Come join the fun Friday where Ranky Tanky will open the concert series, and many thanks to local director Nancy Halverson, her crew and volunteers for giving us the true gift of art.
Okay, just kidding, but one wonders what is going on.
If you nose around on the local dockets you will see there has not been any set court dates to handle the pending lawsuit with the city and the proposed developer. In other words it seems the city is no further along then they were when this whole fiasco was exposed.
Also, parking revenues are down, so it will be interesting to see how the bonds will be paid for an overbuilt parking ramp that no one has used. I have often suggested they build several floors of studio apartments on the site.
Also, why weren't there any proposals on decorating the Chernobyl like building?
But lastly, I'm still waiting to hear a formal apology from current and past mayors and councilors who put this fraudulent disaster into motion even after they were warned multiple times that this would turn out to be a pile of poo poo.
If there is one thing city government in Sioux Falls is getting better at it is spending large amounts of our tax dollars on failures. As for necessary infrastructure maintenance, we call on church volunteers.
The one thing that has always made me proud of our city is the local art scene. We really are lucky. I can't wait to see this full feature.
Guest post by Bruce Danielson (edited by publisher)
In the middle of a pandemic we're going to spend more money on the bunker ramp to cover up the mistake and the error.
A request for proposals issued today calls for submittals involving community art and site enhancements at the new Mall Avenue parking ramp at 110 S. Mall Ave.

Proposers should "consider opportunities to positively impact the experiences of all who may encounter their project, including visitors, residents and employees," the RFP said.
This is what a colorblind graphic artist does for leadership. How about, we cut a deal and fix the problem?
The downtown business people are so pissed off with how ugly this thing is, the color blind are now looking for sponsors to buy a big old huge tube of lipstick.
Will it be pink, purple or rogue? The optics are very interesting. What sponsors are going to do this and put their names on it?
We have people losing their homes, being food insecure and our administration decides we're going to find sponsors to put lipstick on a pig. There are only limited dollars in the community and once again we're having businesses line up at the cosmetics counter at Macys to see if there is enough stock.
Didn't anybody with a brain get the memo?
Apparently it got to the code enforcement office and this is why they're trying to change the mural ordinance? Can you imagine after the SouthDaCola story and Cameraman Bruce's recent City Council comments and photos about the parking ramp somebody in City Hall said "Let's find a way to paint or install murals on the bunker I mean, blunder, oops I mean, parking ramp and maybe we can hide it?"
Then an over anxious code enforcer reminded the color blinded "Our ordinance won't let us do it, we'll have to give the mayor a violation." Then he added, "Do we just put his ticket in a blue Shopping News plastic bag and tie it to the Mayor's Office door? Whose going to do tie it and then pay it?"
The brainiacs in City Hall got working, real hard, because it takes a lot to put lipstick on a pig. We should know by now, this town's administrations do not do anything without an ulterior motive. They are making it look like times are a changing finally but in fact they are dreaming of a pig wearing rogue lipstick while forgetting about the stink permeating around it.
This makes one think of the Dolly Parton line, "It costs a lot of money to look this cheap."
Once again Sioux Falls is using art to cover-up a disaster, 6 months at a time. BTW, where do we get lipstick by the gallon?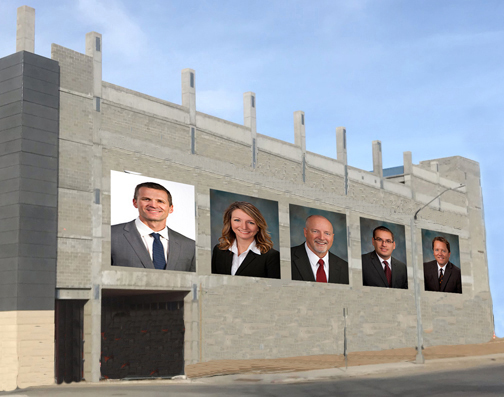 Publisher's note, I found this little tidbit interesting in the RFP;
• Evoking positivity and exemplifying a One Sioux Falls spirit.
I have been an artist and graphic designer for over 25 years, and over that time I have many people request irrational crap like this. I often just tell clients or commissioners, 'No really, what do you want it to look like?' 'Feelings' and 'Emotions' mean different things to different people. Use Rothko's work as an example. Many people think it is ugly, boring or meaningless while others look at it and have deep emotions.
And BTW, what does One Sioux Falls even mean? I am still baffled by this initiative that seems like something TenHaken cooked up after taking a Dale Carnegie course and listening to old broadcasts of Norman Vincent Peale. When will our local officials stop trying to sell us stuff?