Entries Tagged 'Cartoon' ↓
December 2nd, 2019 — Cartoon, Mayor TenHaken, Thune
November 22nd, 2019 — Cartoon, Meth, Republicans, South Dakotans
November 20th, 2019 — Alex Jensen, Cartoon, Greg Neitzert, Marshall Selberg, SF City Council, Sioux Falls
October 6th, 2019 — Cartoon
I found this toon from 2008, ironically, not much has changed.
September 12th, 2019 — Cartoon, Mayor TenHaken, Sioux Falls
Paul said this to city councilors in an email last night;
I hope you've had a chance to follow communications shared by the administration during the two media briefings today and the information shared on the City's social media channels. During a crisis, I can't stress enough the importance of sharing information responsibly. As a reminder, the administration is charged with leading the public information efforts. Deviation from this messaging could lead to confusion with the public and mistrust of yourself. I would recommend you copy and paste the exact messaging we are providing, or share the City's media posts. I would also urge you not to conduct any media interviews regarding response and recovery. Again, we want to avoid confusion. Trained emergency responders and public information officers carefully craft our messages and deviation can be troublesome.
September 1st, 2019 — Cartoon, Kristi Noem, Mary Jane
June 29th, 2019 — Cartoon, SF City Council, Sioux Falls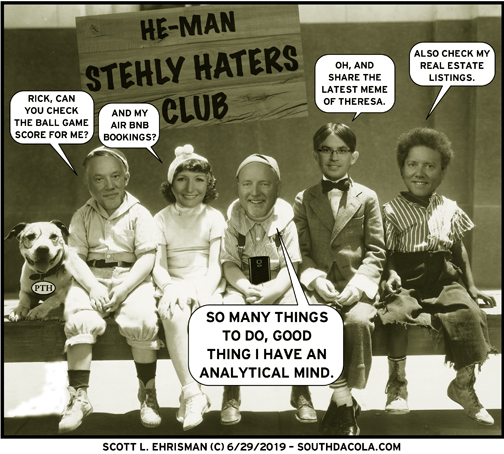 June 13th, 2019 — Cartoon, Greg Neitzert, SF City Council, Sioux Falls
UPDATE: City Councilor Stehly is proposing a cell phone ban at the council meeting. She is likely basing it on the Rapid City ordinance. She will do a presentation on the proposal at the Tuesday Informational.
June 6th, 2019 — Cartoon, Kristi Noem
May 18th, 2019 — Cartoon, Downtown Sioux Falls