Entries Tagged 'Janklow' ↓
February 27th, 2021 — Cartoon, Humor, Janklow, Jason Ravnsborg, Parody
March 23rd, 2014 — Janklow, Mayor Hubris, Mayor Subprime Mike Huether, Mike Huether, SF City Council, Sioux Falls
South Dakota's original A-Hole politician
Scathing. I told a person this afternoon that I haven't read a column like this in the Argus since Randell Beck wrote the Dan Scott parody (and they had to settle out of court on that one).
Amazingly, while I have known Mr. Ellis for several years, we don't exactly 'hang' but I was surprised by some of the same observations we have, this one particularly got my gander up;
He isn't the first politician in South Dakota to exercise politics with brute force. Another guy was Bill Janklow. They come from different backgrounds, but they share similar governing styles. Get in their way, and you're going to be a victim of blunt force.
It's something I have coined as the 'Janklow Complex' I often tell people that Huether possesses it. It's this notion that it is okay to treat 50% of the public like dirt as an elected official as long as you are charitable to the other 50%.
It's the policy of a person weak at heart. Someone who must justify their bad behavior by being good to others. Don't get me wrong, I'm not perfect. But this isn't about me, it is about those asked to serve the public.
Don't believe this most obvious comparison? Take Huether's financial interests in local development, then think Janklow. Isn't it amazing how a person (Billy Bob Janks) who worked in public service most of his life became a millionaire? In SOUTH DAKOTA!
Wow. Huether is 2 for 2 in the last couple of days being compared to corrupt Republican politicians. First Mundt, now Janklow.
But let's get on to the finer points of the article;
It took a little more than a year for Huether to lead a successful effort to build a $115 million events center. It took the council just as long or longer to decide how many chickens residents should be allowed to own.
I busted out laughing on this one, just yesterday at the Listening and Learning session I told people in attendance that our city council was more concerned about chickens then barking dogs, and it took them a year to figure out how many we can own. To which Huether agreed, saying, "That's true."
I would not be surprised to one day see a picture of Huether screaming at street crews at a construction site to move a pile of dirt,
Just to note, there is a video floating around of Huether dropping F-Bombs at a street crew on 6th street. Trust me, Detroit Lewis has tried to obtain this elusive video, but no success yet. but I hear it competes with the original South Park movie, except no one is screwing any uncles.
July 16th, 2012 — Cartoon, Janklow
I was going thru my massive collage stockpile yesterday and found this drawing. It was of Janklow after his speeding tickets scandal.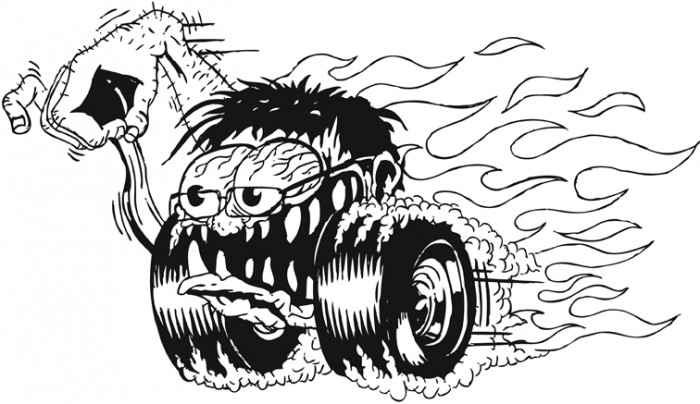 January 22nd, 2012 — Janklow
January 13th, 2012 — Janklow
I guess I really don't have to give my two-cents about Bill. Other media sources will fill your breakfast bowl on that. While I have many things to say about Bill (good and bad) I choose not to.
I will say this though. I have had the pleasure of knowing one of Bill's best friends and one of his children for several years. Both wonderful, intelligent, amazing people who have both been honest with me over the years about Bill, and I appreciate that.
Just like the rest of us, Bill will have to meet his maker, and only they can decide whether Bill was 'all that' and a bag of chips. But it is interesting to watch STORMLAND drool all over themselves telling Wild Bill stories. I walked by the studios this afternoon and almost fell on my ass. Where is code enforcement when you need them?
August 9th, 2011 — Janklow
August 8th, 2011 — Janklow
This guy is like a bad joke that people keep telling;
"Why did the chicken cross the road? To get to the other side before Bill drives by!"
Janklow, 72, was cited in late June and later paid a $59 fine and court costs, The Daily Republic reported. Janklow told The Associated Press today that he was trying to get to a hospital to say goodbye to a dying friend, and didn't make it in time.
Let's pretend for a moment that Janks was telling the truth 🙂 How much time could he really shave off by going 15 mph faster? 5-10 minutes? Ironically the time it probably took to write him a ticket. And as for his (imaginary) dying friend, would they appreciate Bill endangering his life and other people's lives coming to say goodbye to someone who is dying? Sorry Bill, your shit doesn't add up once again.
Just read this statement;
Janklow said he no longer considers himself a public figure.
Yet he was the first to march in front of TV cameras to complain about the Army CORPS. Kinda sounds like you are still in the public eye, Billy Bob.
December 22nd, 2010 — Janklow
It's not over yet. The trial was scheduled to begin on December 7 but was postponed. Dan Scott's lawyer, Bill Janklow and the Argus Endorser's lawyer, Sanford are still negoitiating, 3 years later. I would love to see this go to trial, but I have a feeling Mr. Scott will probably get a settlement in the end.
The Saga continues.
Here's some South DaCola refreshers;
August 5th, 2010 — Janklow
While I agree that Mr. Kelly deserves compensation for the misidentification, I find his choice of representation suspicious at best. Also, I didn't know Rory before the mistake, and I still don't know him. So what;
Associated Press – August 4, 2010 7:05 PM ET

SIOUX FALLS, S.D. (AP) – The part owner of a South Dakota cell phone business has filed a libel lawsuit against the Sioux Falls Argus Leader, claiming his reputation was damaged when the newspaper reported incorrectly that he had been arrested following a domestic disturbance.

The lawsuit filed by Rory Randal Kelly of Sioux Falls seeks unspecified damages in a jury trial.

Bill Janklow, the former governor and congressman, is representing Kelly. Janklow said Wednesday that the businessman deserves to be compensated for the misidentification.

The Argus Leader did not immediately return a phone call for comment.

The police department initially listed 33-year-old Rory Randal Kelly as the person arrested July 14, but later corrected the ID to 24-year-old Rory Patrick Kelley.
October 1st, 2008 — Janklow, Media, Unruh
I agree 100% with Scott on this one. I'm always baffled why the local media lets local politicians, convicted felons and whack jobs push them around?
Reminds me of an email exchange I had with a news director at KELO-TV recently. Inside KELOLAND which is produced once a week and airs twice on Sunday had a program a couple of weeks ago about the Sales Tax increase. The first half featured Munson, Brown and Staggers the second half featured two developers, but no citizens (you know the ones who are affected by the tax increase). I emailed the news director about it, and she told me that they featured Munson, Brown and Staggers instead because they are elected by the people and represent the citizens (insert laughter here). I had a pretty long rant I was going to send her about journalistic integrity, etc. etc. but instead I replied "Yes, Staggers did a fine job representing the citizens."