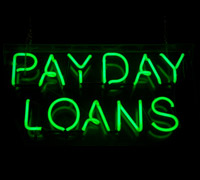 We should do this in South Dakota;
If you are sick of living in an area crammed with payday lenders on every corner, maybe Arkansas is the right place for you.

On August 11, 2009, the final payday lending storefront shuttered its doors in Little Rock, Arkansas. Though the Arkansas Constitution limits interest on loans to 17%, a decade-old law enabled payday lenders to dodge the issue and charge triple-digit interest on loans.

Needless to say, the law had many vocal opponents. And, in an example of the judicial system at its best, the Arkansas Supreme Court found the law unconstitutional in 2008.